The following content is supported by one of Athletic Business's advertising partners. To learn more about sponsored content, click here.
---
The booming hotel and casino business along the Mississippi Gulf Coast in the late 1990s and early 2000s propelled Paradise Pools & Spas from a major player in the high-end residential market to an in-demand commercial builder. But the large freeform pool at Mississippi's Hard Rock Hotel & Casino Biloxi — situated mere yards from the warm, enticing waters of the Gulf of Mexico — challenged Paradise owner Earl Hardouin and his Metairie, La.-based team in ways unimaginable.
The week Hard Rock Biloxi was scheduled for a soft open in late August 2005, Hurricane Katrina pummeled the Gulf Coast. The Category 5 storm wreaked catastrophic damage in Mississippi, Louisiana, Florida and Alabama, setting the region's tourism industry back for years.
"That area of the coast had a surge of 20 to 25 feet of water," Hardouin remembers. "That eliminated the hotel's first floor and pretty much cleaned out the entire pool area. The waves came up and literally blew out all the pool equipment. It was horrendous."
The inside of the pool "became a garbage can" for debris, he adds, while pieces of pool equipment morphed into projectiles.
"We found a couple of our large filters near the beach road — which was several hundred yards away — and still full of sand, by the way," Hardouin says. "But we never did find our 1.2. billion-BTU heater, which was probably the size of a small Volkswagen van."
It took about six months for Paradise crews to get back on the job site and begin the renovation process. Before that, damage needed to be assessed, insurance reports filed, new contracts signed and the scope of work reestablished.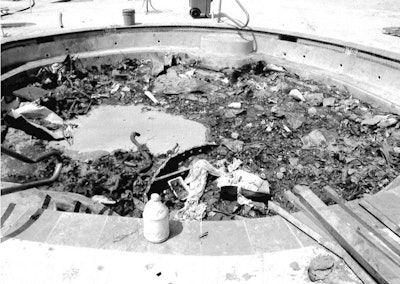 The rebuilding began by clearing the site, and the fact that the pool's structure remained sound proved advantageous. "We knew enough about the bones of the structure," Hardouin adds. "The hardest part was flushing out all of our plumbing and making sure it was leak free and could pressure up."
The hotel and casino officially opened in June 2007, and today the rebuilt pool looks just about the same as it did that opening week before Katrina's arrival, Hardouin says.
Modeled after the pool at the renowned Hard Rock Hotel & Casino Las Vegas, the curvy beach-themed pool in Biloxi offers 7,000 square feet of surface area, with a spacious beach entry that gives way to a maximum depth of three feet throughout much of the pool. Deeper depths are only at the far end of the pool, opposite the beach entry.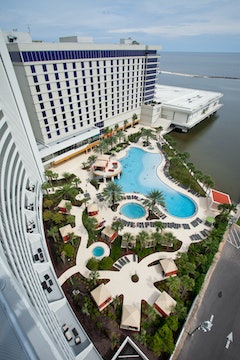 The pool is surrounded by more than a dozen outdoor cabanas, a round 400-square-foot spa and two round smaller spas, and the ample deck space frequently fills up — especially when entertainment acts are performing on an elevated deck that covers the sunken bar and in-pool stools.
'It's held up extremely well'
Hardouin says that no major pieces of equipment have failed since the rebuilt pool opened — a fact he attributes both to the daily diligence of Hard Rock's pool maintenance staff and the long-term reliability of Pentair products.
"For being so close to the Gulf of Mexico, and with all the elements it's been exposed to, it's held up extremely well," he says.
Key pieces of Pentair equipment used on this project include one 36-inch Triton® side mount sand filter and two 30-inch Triton® side mount sand filters, as well as AmerBrite® LED lights, two WhisperFloXF® commercial pumps and three EQ Series® commercial pumps.
"Pentair is my go-to," Hardouin says. "Between 75 percent and 80 percent of my equipment sets are all Pentair, and I'm happy with both their commercial and residential equipment. I've been very happy using their products over the years. They have an excellent service record, and when we do have a problem, they've always stood behind everything they've built."
He also stresses the value provided by Pentair's technical support staff, which assists when necessary for questions about water hydraulics and "other information that is not readily available."
The long-term result of Paradise Pools & Spas' ongoing partnership with Pentair has paid dividends for the pool, which Hardouin calls a major focal point of Hard Rock Biloxi. The hotel and casino attracts tourists, as well as young adults and families from the region looking for an affordable weekend getaway.
"That pool gets more traffic than any of our other projects," he says. "And it probably got us two or three other new projects that were not quite as large but still significant."
A Lasting Legacy
The hotel and casino building boom slowed down in the aftermath of Hurricane Katrina. The storm also changed how municipalities approved commercial pool projects, significantly reducing the number of structures built so close to the Gulf shore. Although such restrictions have been relaxed over time, Hardouin says, Katrina's impact can still be felt.
"It was such a long time ago, but the memories are still very vivid," he admits. "But now we can joke that we enjoyed building the pool so much the first time that we built it a second time."
Some of Paradise Pools & Spas' residential customers still complement Hardouin on the Hard Rock Biloxi project and share with him stories about the good times they continue to experience there.
"For me, it's one of the projects that I'm most proud of, because we had to go and do it all over again," Hardouin says. "We built a lot of personal relationships during that project, and we met a lot of people that were affected by the storm. So now to see people enjoying it and making memories around it so many years later has been a wonderful thing. It justifies everything we went through at that point in time."