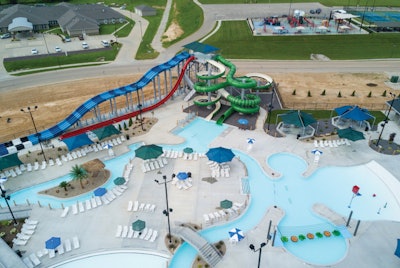 Let's talk about concrete. Because it is the substrate for virtually all flooring systems in commercial construction and often is left exposed rather than covered, concrete is an easy choice for pool deck material — especially outdoors.
In contrast to indoor pool decks, outdoor decks are used seasonally (which means less traffic wear) and are subject to natural weathering. This tends to induce uniform aging and surface grit. Indoor pool decks, on the other hand, are used all year long and never really have the opportunity to dry out fully. Indoor decks also tend to develop smoothed wear patterns where they are the least desirable — in high traffic areas. These worn areas also tend to pond first, exacerbating the problem.
Concrete is an extremely durable material, but it is far more porous than most people realize. Indoor concrete decks should be specified with a hardener/densifier to extend life. Only penetrating sealers that don't affect the surface texture should be used, because topical sealers can create a slippery surface. Sealers need to be re-applied on a schedule as recommended by the manufacturer. By the time one notices that a sealer is failing, whatever damage that has been done cannot be undone.
Concrete is inexpensive but extremely reliant on the installers, whose work can range widely from elegant to shoddy, even from crew to crew within the same company. Typically, the contractor placing the concrete floor slab provides limited choices in finishing. The most common standard concrete finishes either are troweled, broomed/brushed, or some combination of the two. Various textures — including stamping, salt finishing or light blasting — can be applied during or shortly after the slab is floated and cured.
Concrete floor finishing — done most often after the structural slab is complete — is an industry unto itself. Staining, sealing, grinding, polishing and combinations thereof provide almost limitless possibilities for concrete appearances and textures. This is most frequently done on top of the raw structural slab.
After the concrete has cured, there are many ways that various sealers, grinding methods and polishes can be applied to dramatically affect the surface's appearance and slip resistance — for better or worse. When it comes to slip resistance (and just as it does with appearance), all concrete finishes rely upon the craftsmanship of their installer and should be mocked up and tested for approval before setting the contractor loose on the whole deck. Step and turn on them with wet feet to test performance. Sometimes this elicits a "really?" from the client, but a real-life test is important.
Surface finishing is less costly than providing a recess and secondary topping slab for finishing. However, the latter provides a great deal more control of quality. In this approach, the topping slab is installed by a specialty contractor and is truly a flooring material. The topping slab provides the opportunity to control aggregate appearance, integral colors and patterning — all of which simply are not practical with structural concrete.
A word about cracking
Be aware that, as sure as death and taxes, all concrete cracks. Unless cracks produce wide gaps or are vertically out of plane, they typically are not a structural concern or a flaw. As concrete cures, it shrinks slightly and creates thin cracks. Shrinkage cracking can be mitigated by scoring joints into the surface at regular intervals and strategic locations before it is completely cured, essentially creating "designed-in cracks" to relieve the stress of normal shrinkage. Even the best treatments will have some cracking. If a pristine finish is your goal, a concrete surface may not be the way to go.
Concrete might seem like the most obvious choice for several areas of your facility, but it's always a good idea to dig a little deeper to make sure you're making the best surface decision.