Any time an organization looks at garnering support and funds for a major facilities project, all options are carefully considered. Every potential site and/or solution needs to be evaluated for how it addresses cost savings and sustainability concerns, and how it will impact the surrounding community and the people the facility aims to serve. Sometimes the best way forward is a creative reimagining of an existing space.
Scott Hester, president of Counsilman-Hunsaker, says that repurposing a building as an aquatics facility has its challenges and isn't necessarily the norm. But when it works, it can be an impressive feat.
"As far as repurposing a space, we do see that done from time to time, but the challenge with that is that a natatorium, or an indoor pool, is such a unique environment in terms of selection of materials, conditioning of the space," Hester says. "The cost involved in reconditioning that space becomes so significant at times that the long-term cost might tip toward building something new."
However, Hester says there are times when an existing structure lends itself to being repurposed. In 2005, Counsilman-Hunsaker was able to turn a defunct gymnasium at the University of Missouri into a natatorium as part of the school's student rec center.
"The indoor rec pool was built within an old gymnasium," Hester says, "so that's an example of where we used an old existing building, it was a fitness gymnasium, and they expanded that and turned it into the current natatorium within the rec center."
While perhaps the exception to the rule, those cases in which a space has been repurposed for use as an aquatics facility can create a continuity with the past and an eye toward the future. That was the case with each of the following projects, which resulted in unique spaces that fit the operators' needs and surpassed expectations.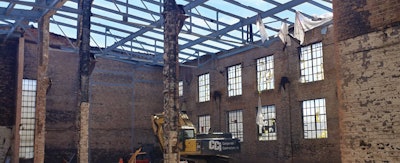 Coal to competition
The old coal-burning Blackhawk Generating Station, which sat on the banks of the Rock River, served Beloit, Wis., for many years. After it was decommissioned in 2009, nearby Beloit College was looking for a way to fill a need for a new hybrid rec center — one that would eventually include a student union, rec center and competitive natatorium.
"The Blackhawk Generating Station had been providing power to the Beloit, Wis., area since 1913," says Dan Schooff, Beloit College chief of staff and project manager for The Powerhouse at Beloit College. "The City of Beloit and Alliant Energy thought a creative reuse by a world-class college in a town that has seen a post-industrial renaissance was worth a deep exploration."
The $38 million project was completed in 2019 and managed to fill all of Beloit College's needs.
"Converting this fixer-upper-on-the-river was not for the faint of heart," Schoof says, recognizing the project's many challenges. "This also is what makes the project so magical. We had to figure out how to build combined student union, athletic, academic, and recreation spaces in this building. To complicate things, the building was built in three stages — in 1913, 1927 and 1945. We added a 2020 vintage addition by attaching our 140-by-130-foot turf fieldhouse. It would be accurate to say this was like building a new building in three old buildings, and adding a fourth."
To top it off, the whole building actually sits in the Rock River, which designers have leveraged as a geothermal heating source.
In all, the 120,000-square-foot Powerhouse includes an indoor track, a theater/lecture hall, a competitive pool, a café, a fieldhouse with synthetic turf, a conference center, multiple fitness areas, and a health and wellness center. But it was also the first facility to activate Beloit's riverfront property.
The competitive natatorium is true to its origins, with a massive north wall of exposed brick from the original Blackhawk Generating Center that features windows that look down from the center's fitness floor into the pool area. The natatorium houses a 25-yard, 8-lane competition pool, as well as 1- and 3-meter diving boards. The space's east wall features bleacher seating for spectators, while the west wall includes plenty of windows for natural light and a view of the Rock River. The south wall is emblazoned with a striking outsized Beloit College logo.
Winner of the World Architecture Festival's Re-Use award, judges of that competition were impressed not only with the repurposing of the Blackhawk Generating Center's "cavernous industrial spaces," but also with how the project maximizes its riverfront location, "utilizing river water to manage the temperature of the building whilst also significantly minimizing total energy use."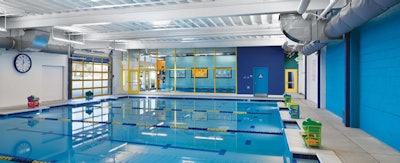 Parts to pool
The decision to turn a 1920s-era auto maintenance garage in Walnut Creek, Calif., into a colorful and well-lit swim school might seem like a head-scratcher, but in this case all the pieces were there for a successful remodel.
The majority of the original building was service bay work space with minimal office, which Justin Caron, architect at Aquatic Design Group, says was good for the swim school, as it allowed space for a spectator area and bathroom, as well equipment storage. The existing parking lot could also be reused.
Moreover, the building's materials were well-suited for an aquatics facility.
"The building was a concrete masonry block wall building, which was perfect for a natatorium," says Caron. "The roll-up doors were re-used, albeit upgraded, to allow for natural ventilation when weather permits."
Aside from the structural elements of the building, owners of Splash Swim School had prioritized finding a good location to serve the prospective clientele in the area.
"In certain areas, available property may be limited, so you take what you can get," Caron says. "In this case, the site was a perfect central location for the business."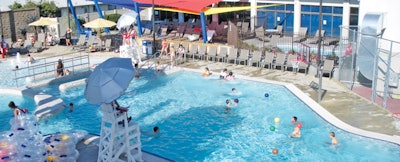 Courts to cove
The Tri City Court Club in Kennewick, Wash., opened in 1979 as the area's elite tennis club. Janelle Klashcke, the club's owner, always wanted to stay ahead of her competition, and in 2011 she'd begun contemplating adding an aquatic element that wasn't offered by other area clubs. As part of the plan, Klashke knew that she wanted to serve multiple age groups and attract and retain family memberships, including the six-month to 14-year-old demographic.
An internal audit of its amenities showed that the club's two outdoor tennis courts were rarely used during the hot summer months. An idea was floated to abandon those outdoor courts in favor of turning the 14,000-square-foot space into a new aquatic center. The investment would require pools, decks, mechanical spaces, new dressing rooms, and concessions.
An analysis of the tradeoffs looked at whether it was worth sacrificing the club's two outdoor tennis courts for substantial and risky waterpark investment. In its analysis, TCCC took into account the number of users the same space would see per hour (tennis courts versus projected bather load), the number of actual users per square foot, construction costs and ROI, as well as the potential increase or drop in membership and revenue.
In the end, TCCC favored the benefits of eliminating the tennis court's small, low-density space and converting it into a more popular venue that would be enjoyed by a larger cross section of the club's members.
Doug Whiteaker, president of Water Technology Inc., says TCCC's planning was appreciated by the design team.
"It was refreshing to work with owners and management teams that have a good idea of what their vision is and help them achieve that vision to meet their financial and programmatic goals," Whiteaker says.
The $2 million SplashDown Cove waterpark was completed in just four months, and nearly 500 people tried out the waterpark each day of the grand opening weekend. The completed facility includes a twisting water slide, a zero-entry pool for toddlers, a lazy river, a splashpad with play structure for kids, and a deeper pool for general swimming and play. There are also separate locker rooms for the water park, a lounge area, and concessions.
In the case of SplashDown Cove, it wasn't just the facility that got a makeover. The new waterpark resulted in a rebranding of TCCC, from elite tennis club to a place for family fun.
---
This article originally appeared in the May 2020 issue of Athletic Business with the title "Aquatics facilities that defy expectations ." Athletic Business is a free magazine for professionals in the athletic, fitness and recreation industry. Click here to subscribe.