Athletics, fitness and recreation professionals are always looking for ways to make their facilities stand out, including what equipment to put in them. Aquatics facilities are no different.
"Bringing new and fun attractions has reignited the excitement for people to head to the local pool for rec swim," says Shirley Gustafson, a competitive swim specialist with Spectrum Aquatics. "It has also offered a differentiator for facilities competing for patronage."
Factors such as key audiences and cost will come into play in any area of a facility, but facility managers should keep in mind a unique set of criteria when adding new aquatics recreation equipment.
While one-size-fits-all equipment solutions are few and far between, the following considerations could help turn your pool into an attraction that visitors can't resist.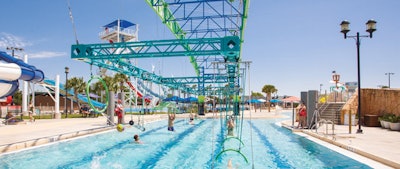 Versatility and customization
The Provo Recreation Center in Provo, Utah, offers the city a number of attractive amenities — among them, a 25-meter competition pool; an indoor aquatic center with slides, rock cliffs, waterfall rock walls and lazy rivers; and an outdoor aquatic center with a wave pool, waterslides and a kids' play area.
According to Provo Parks and Recreation director Scott Henderson, more than 20 percent of the city's population has an active membership at the facility — including some 4,000 seniors and 3,000 students from local universities.
Even with such a robust and active membership, the competition pool wasn't in-use around the clock, so the facility is installing a drop-down obstacle frame from NINJACROSS Systems.
"Fifteen hours per day, that water will still be used for lap swimming, swim teams, et cetera," Henderson says. "But we'll be able to drop the NINJACROSS System in evenings, weekends and summer afternoons for leisure swim.
"We've got years of data that suggest giving up four lanes to install a leisure amenity during our slower times is a great trade off."
Any piece of recreation equipment should introduce an element of versatility to a body of water, limiting downtime and attracting patrons who weren't already using the pool as currently constituted.
"Our idea is, boost downtime, boost profitability," says Kyle Rieger, vice president of sales with NINJACROSS Systems, whose frames hover over a pool for easy push-button deployment. "Activate your pool, bring in people that are teenagers, 20s, 30s, active adults — bring them back to the pool."
Gustafson says that equipment, such as Kersplash Climbing Walls offered by Spectrum Aquatics, can be deployed in a variety of different facilities for a wide array of functions.
"At recreational pools, these are primarily used for carefree fun and lowkey competitions to see who can get to the top the fastest," Gustafson says. "At competitive natatoriums, they are also being used by the swim teams as a fun part of their training — like dryland exercise over the pool. At military bases, they are being utilized to increase comfort in various water scenarios while adding strength and conditioning."
Leslie Amico, sales manager with aquatic climbing wall manufacturer AquaClimb, says that the ability to adjust an amenity can be helpful in creating a pool environment capable of hosting many different kinds of events.
"They are modular," she says of AquaClimb's products. "If it's an indoor pool, they can actually remove the climbing wall if they have a big swim meet."
Located in Carmel, Ind., the Monon Community Center adjoins a five-acre water park that features a lap pool, a kiddie pool, waterslides, a lazy river and an AquaClimb climbing wall. According to Eric Mehl, the center's recreation and facilities director, the facilities operate at a 100 percent cost-recovery mandate, despite being a government-run agency, so deciding which amenities to offer is important.
When the facility opted to replace an aging diving board, it received public requests for more "adventure" amenities, leading to the climbing wall purchase.
"Since we were replacing the diving board, but leaving the plunge slide in that pool, we wanted to be sure we could maximize our investment while maintaining safety standards," Mehl says. "We were able to install a wall wide enough to allow two guests to climb simultaneously, and tall enough to excite youths and adults."
Apart from introducing versatility and flexibility to a particular body of water, individual pieces of aquatics recreation equipment can bring their own customization options to the equation.
Michael Garland, executive vice president of Recreonics, which sells WIBIT brand inflatable play systems, says that these products' modular nature puts a lot of power in operators' hands. "You can continue to add or change out WIBIT modular components so as to provide new and exciting challenges," Garland says.
AquaClimb products are likewise changeable. "On any of our offerings, you can move around those handholds to change it up," Amico says. "If a facility is closing the pool down for maintenance purposes, they can move those handholds around, sometimes the panels. Change it up so that when they reopen, the customer may not know that new pumps were put in or something like that, because to them, they don't see it, but they're like, 'Oh, the climbing wall's been updated, so let's go climb on it again and try it out!' "
According to Rieger, NINJACROSS Systems use three different connection types, which are key to customization, allowing operators to alter the course as they see fit.
"What that allows you to do is change up your obstacles every season," he says. "It's very modular and everything is interchangeable, because we're using the same three connection types."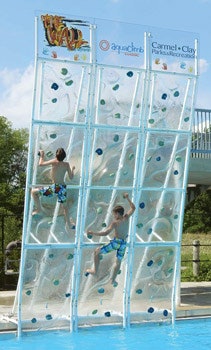 Programming and throughput
Amico says that new equipment can result in new programming possibilities and, in turn, new revenue streams.
"You might see camps want to come to your pool, different clubs and organizations, also for birthday party programming it can be really fun," she says. "Just kind of adding more value for members."
Depending on the unique business goals of a facility, operators may choose to target different user groups with programming intended just for them.
Jenna Stevenson, aquatics superintendent with Baytown Parks and Recreation in Texas, oversees two aquatics facilities: Calypso Cove, which is targeted toward children, and Pirates Bay, which installed the first NINJACROSS System in North America.
While the pandemic disrupted their plans — the facilities were open briefly this summer, but shut down again after 11 days — Stevenson says the idea was to open the system up for general use to gauge and generate interest, and occasionally rent out the equipment for private events or birthday parties. Looking ahead to next year, however, Stevenson has bigger ideas.
"The plan for next summer is NINJACROSS fitness classes," she says. "So we'll have a fitness series where you can come in and work out on the equipment, and then it will be open to the general public during our operating hours. We also plan on doing some 'Learn-to-be-a-Ninja' for younger kids. They could come out and try the course and learn how to go through it from our staff, and then do competitions with that."
Indeed, Rieger imagines that the system can be used for everything from high-intensity interval training classes to competitive leagues. "We are catering to everybody," he says. "Fitness, recreation, competition — game on."
Fitness is an area uniquely ripe for programming a pool with aquatic recreational equipment. Amico says that many users incorporate climbing into their fitness routines — with or without a specific program calling for it. "At the rec center near me in Lafayette, Colo., where I'm based, I've even seen folks in their 50s just do laps on the wall. They'll climb up it, they'll climb down, they'll climb up it, they'll climb down, up and then back down."
Amico adds that the modular nature of her firm's products allows for facilities to add onto them as budgets and programming ambitions grow. "They're kind of like Legos, in the sense that you could stack them," she says. "And let's say next year, or two years down the road, you've got a little bit more funding, they understand the value of the climbing wall, you can add in a second wall, or a third wall, and make it a bigger, wider wall."
Key to any programming decision is the issue of throughput. The capability of a piece of equipment to engage a high number of patrons can increase that equipment's impact. Rieger compares NINJACROSS Systems to waterslides. "They're waiting in line a lot on the slide tower, getting sunburnt, getting hot," he says. "But my highlight point is we have great throughput. You can put 10 people on our system, five per lane."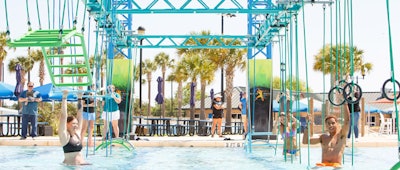 Physical limitations
For existing facilities, the physical dimensions of decks and pools can dictate the kinds of equipment that can be added. Pools that are too shallow, or that don't provide adequate deck space for mounted equipment, may not be able to accommodate all pieces of aquatic recreation equipment. Luckily, vendors are aware of this and design their products accordingly.
"I know deck space can be precious, so we don't take up a lot of that — leaving that for tables, lounge chairs or whatever they may need," says Amico. "The climbing wall is pretty minimal on the deck."
Depending on how high the wall goes, AquaClimb recommends a minimum depth of 6 to 9 feet — though its AquaZip'N product can be used over bodies of water just 4 feet deep. Four feet is also the recommended pool depth for NINJACROSS deployments, but Rieger adds that they can go as shallow as 3 feet, 6 inches by eliminating certain obstacles.
In addition to pool depth, the water's surface area can be a factor. Some equipment is best deployed with a buffer zone between the edge of the equipment and the pool wall. "The typical WIBIT installation locates the play products in the pool so that there is at least 10 feet of open water space around the entire perimeter," says Recreonics's Garland.
NINJACROSS Systems come in three standard sizes — 64 feet, 54 feet and 43 feet — but can also be engineered longer or shorter. "We want to keep people 8 feet from pool walls at all times," Rieger says. "If you have a 25-meter pool, you can get away with our longest course, because when you start and stop you're still 8 feet from the pool wall. Now, if you have a 25-yard pool, which are very common, we'd really recommend our 54-foot course, because the 64 just gets you too close to the pool wall at each end."
Indoor facilities contemplating a NINJACROSS have an additional consideration — the ceiling. Facilities can have different categorizations based on factors ranging from their initial budgets to regional factors, such as whether their roofs need to be rated for snow loads. "We can look at photos and drawings and kind of categorize an indoor facility as a category 1, 2 or 3," Rieger says. "That's the degree to which we think we need to frame, brace and support the NINJACROSS System across our connections."
Gustafson adds that, while general guidelines can be helpful, any local requirements must always be kept top of mind, stating, "It is important for the end user to check the local codes for deck space and pool depth requirements in order to ensure the installation is up to code."

Between the possibility of engaging current members, attracting new ones and introducing new and exciting programs to everyone, aquatics facilities have much to gain by adding the right recreation equipment to their space.
"We've posted some videos and photos of the system on our Instagram and Facebook pages, and there's been a lot of exciting buzz," Provo Recreation Center manager Bryce Merrill says of the facility's NINJACROSS System. "And once people see the installation — a big, boldly colored structure in the middle of our competition pool and highly visible from the upstairs fitness mezzanine — we think the natural curiosity will lead people down to try it out."
Still a place for the classics
While many manufacturers and facilities are considering newer aquatic recreation products, Elliot Ball, commercial product manager with S.R.Smith, says there's still room for more old-school amenities such as diving boards.
"I know it's a product that most people don't think about, they just kind of expect it to be there, but it's definitely been the bread and butter for us for almost 90 years," Ball says of the longevity of diving boards.
Ball argues that diving boards — and other small additions such as pool basketball and volleyball games — accomplish many of the goals of flashier aquatics recreation equipment by adding diversity of programming to a body of water and appealing to a broad audience.
"Any way you cannot have dead spots in the day and create an enticement to come liven the pool up in the off hours — and play hours — are a huge advantage," he says. "It's adding that extra draw and trying to create excitement for extra programming, so that you can fill your whole day with options and reasons to get the kids in."
---
This article originally appeared in the October 2020 issue of Athletic Business with the title "Finding the right aquatic recreation equipment solution for your facility." Athletic Business is a free magazine for professionals in the athletic, fitness and recreation industry. Click here to subscribe.