When most people think of a swimming pool, they naturally think of water. Facility architects and operators think about a lot more to ensure that the people who use the pool don't have to worry about much else.
That's where the facility's deck comes into play, as the dryland areas surrounding a pool play a key role in users' enjoyment of the space. Do operators fill the area with lounge chairs? Shade? Ancillary activities? And how do they do this in a way that's safe as competitors and recreational swimmers alike move around the facility?
The first step in putting together an aquatic deck is determining the size of the space and the needs of the pool.
"One of the most critical pieces is the programming stage in any project. Those beginning few steps are critical for us so we can truly understand who the users are for the facility and what their needs are," Water Technology Inc. business development leader Jen Gerber says. "There's a big difference between needing to get some swim lessons accomplished and every fourth-grader in the district needs to get through this pool. That's going to drastically change how we design and prepare the space."
A competitive pool must have space for fans, timers and athletes to move efficiently. A pool that plans to host aqua aerobics classes must plan deck space for the instructor to stand, and recreational pools must offer deck space for people to relax, have fun and observe the pool area.
"There's a lot of reasons it's important to be thinking of deck space," says Water Technology principal Steve Crocker, the firm's director of sport swimming. "Typically, if you've got 4,000 square feet of water at a recreational pool, you're going to have approximately that much in deck area.
"For the type of pools I focus on, the competition pools, the deck dimensions are crucial for how a pool can be used and a lot of things related to code. It's critical to size the deck appropriately on all four sides — the spectator side is critical for sight lines especially. It can be very frustrating if a spectator can't see all of the closest lane. And we really focus a lot on athlete seating. We have to size the decks so that we have room for the bleachers, room for people sitting in the front row of the bleachers, room for the pathway of the athletes to get to the bleachers and room for the officials to walk along the poolside. Those are critical considerations in sizing a pool deck."


Laying the surface
Once the dimensions and offerings are established, facilities can begin outfitting the deck space. When surfacing a pool deck, Crocker says aquatics operators are seeking a balance between cost, cleanability and safety. On the deck of a pool, safety is offered in the form of slip resistance.
"For outdoor, almost 100 percent of the time it's a broom-finished concrete," Crocker says. "It's inexpensive, it's safe, it's easy to clean and durable. That's really common, and it's also used indoor. But indoor facilities often see things like all tile — 1-by-1-inch or 2-by-2-inch small-format tiles, with the grout lines providing good slip resistance. Commonly it's unglazed tile for slip resistance. It's really bright and attractive. Another method that's used quite frequently are toppings that go on top of the concrete, like an epoxy or an acrylic. It's a nice clean look and it has good slip resistance. That material can go right into the locker room and shower areas, as well."
RenoSys, an Indianapolis-based aquatic renovation and construction company, offers one such deck surface. "It has some specific features that are relevant to what we need under foot when customers are walking," RenoSys's Aaron Darcy says of RecDeck. "It can be applied to the pool deck or the locker rooms, really anywhere that needs a slip-resistant surface. It can be used indoors or outdoors.
"The material we use is PVC. There's a lot of reasons why that material works so well for applications like this. When it comes to slip resistance, what it means is we can actually emboss a texture directly into the surface. That means it doesn't wear down and it doesn't wash away. That's very important in a commercial pool, where you're dealing with some harsh chemicals and high traffic."
While many deck-surfacing materials have been in existence for years, products like Life Floor have become increasingly popular in aquatic facilities, especially in highly mobile spaces like splash pads or water parks. Life Floor produces tiles in a variety of shapes and textures intended to mitigate slips and provide a soft cushion in the event they happen. The texture can also be placed under the water, which has made Life Floor common in zero-depth-entry pools.
"Life Floor is a 24-by-24-inch tile-type material, a rubberized material that can be placed on pool decks," Crocker says. "It's incredibly slip resistant and it has a little bit of bounce to it, so if a kid slips and falls there's some safety associated with that. You can put it in water as well as on the deck. A lot of the big water parks have really bought into that and are using that for a lot of their deck surfaces.
"Outdoors, you have to think about temperature, as well. If you did just a broom-finished concrete deck in Phoenix, it would be so hot you could barely use it. So they do a lot of that deck material, a topping that stays cool in sunny applications like that."
While weather can play a factor, foot traffic is the main threat to the longevity of any aquatic deck surface.
"The tread patterns we use on the material hold up incredibly well and don't wear down," Darcy says. "Specifically on the deck, one common surface solution is to use paint, sometimes with a mix of sand or other materials that will add some traction, but they'll wear down quickly, especially in high-traffic areas, and it becomes more dangerous. That specific resistance material will wear away and then you're left with a smooth, wet surface. We often find that we're replacing a system like that with ours that will hold up to that kind of traffic.
"Typically what our customers are most focused on is finding a solution that they know will last. They don't want to have to resurface the pool every season, or really every second season. They want to make sure that they've got a solution that's going to extend the life of the pool and not need to be revisited every season. That's what's made our product so popular. It comes with a 10-year warranty and has a life expectancy of 15 to 20 years, depending on the conditions. It is a long-term solution."
Most decks will require some maintenance to reach their full life expectancy.
"I would say broom-finished concrete is probably the one most people would claim doesn't, but even that surface can become a little slippery in really high-traffic areas," Crocker says. "Everything requires some maintenance. Tile decks are gorgeous, but there's some maintenance to keep them clean. The grout can get especially dirty, but most facilities have a tile-cleaning machine, and they use that every week or so to kind of scrub and vacuum the tile finish and keep it looking good."

Welcoming people in
A comfortable surface can go a long way in determining where people want to spend time in the facility. Outdoor pools typically offer more of this open space, as money goes further in a facility that doesn't include walls and ceilings.
"Because you're not paying a lot to put a roof over, outdoor pools can have a lot more generous deck space," Crocker says. "And also because people use outdoor pools differently. They're going to spend time sunning and things like that, so it's important to think about that, as well as having shaded areas."
Space for visitors is also crucial at indoor pools, which are typically used more for competition.
"The ideal situation is that the spectators are in an elevated gallery on top of offices, locker rooms and things like that," Crocker says. "They can't be too close because the sight lines won't work and they won't be able to see much of the pool. As far as the tip-and-roll bleachers or the deck seating, they need to be about 8 feet away from the pool edge so that they can have an adequate walkway for the officials and a walkway to and from the tip-and-roll bleachers."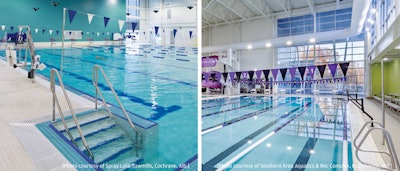 Essential components
There are certain pool components that have to be allocated room on the deck. ADA-compliant lifts, lifeguard chairs and platforms, rails, ladders, pool covers and storage, lane lines and reels, diving stands, diving boards and filtration systems are all essential deck equipment in a facility looking to host events.
They also can't just be put anywhere within the facility's walls. There must be at least 4 square feet of walkway space behind diving boards, while there also must be space behind starting blocks to host officials, timers and relay athletes. Furthermore, these essential items must be outfitted in a way that meet regulations.
"ADA accessories are the most essential items needed on every pool deck and include: ADA lifts, grab rails and ladders," says Nabil Khaled, Spectrum Aquatics' vice president of marketing and sales. "Spectrum's highest priority is to help facilities achieve inclusion and compliant equipment, including rails. There are national building codes and ADA standards for rails that our engineers and designers work with to ensure safety and compliance.
"In 2010, the federal government approved into law the 2010 ADA Standards, requiring all commercial pools and spas to have an ADA-approved means of access. We began manufacturing ADA pool lifts in 1974, and now offer more than 20 different pool lift options all with proprietary, robust operating systems."
While these items are required, there are still options to weigh when outfitting a facility.
"Aquatic facilities obviously come in all shapes and sizes," says Elliot Ball, commercial product manager at S.R. Smith, a manufacturer of pool deck equipment. "In the same way, outfitting rails on the pools consists of varying degrees of standard versus custom-built ladders and rails, and there exist plenty of options in terms of the texture and appearance of the rail itself. The design scheme may suit polished stainless rail goods on the lap or competitive pool, but the rec pool or lazy river might be better suited with powder coated and Artisan-shaped designs."
Equipment like starting blocks and diving boards continue to develop as the aquatic landscape shifts. Pentair offers starting platforms with a side-to-side adjustable backplate that allows users to adjust the positioning.
"Starting blocks have changed over the years, with new technology advancements such as non-slip tops, the track start wedge, integrated relay judging technology and more. The most significant change is our patented expansion post system that allows customers to retrofit our blocks into their existing anchors and eliminate the wobble that we sometimes see in the blocks," Khaled says. "Diving boards haven't changed much over the years, but we've refreshed their look by offering our Solarian design, which has an elegant impression rather than institutional. Many diving stands are being removed to make space for the more modern climbing walls and slides."
Crocker says that diving boards are traditionally placed on a metal stand, but there are increasingly more concrete pedestals being used to support the board.
"That's a little bit more durable, a little more long-lasting and requires less maintenance than the metal stand," Crocker says. "That's a trend, and I'd say to go with a concrete stand. For a 3-meter board, which is common in high schools even though they don't compete in it, we really try to avoid metal stands if that board will ever be used recreationally. The reason why is that a vertical ladder going up to a metal stand in our opinion offers some safety concerns, especially with young kids using the board."
There have even been advancements in lifeguard chairs, which are intended to raise the lifeguards above the water to give them the best angle for observing the swimmers, as well as room to sit, stand and move around.
"Old pools always had these lifeguard chairs that were fixed, right by the pool deck, they were stuck in that one spot for eternity," Crocker says. "Very few facilities built today have those. Almost every facility is using portable lifeguard chairs. There are several different types, but they typically have wheels. The lifeguards can move those to different parts of the pool depending on the activity that's taking place. It gives people a lot more flexibility."

Ancillary options
Flexibility is becoming more essential as pool visitors seek to get more out of their chosen facility. While the water is the main draw, aquatics facilities can attract more interest and age groups by adding items such as climbing walls, slides, water polo goals and basketball hoops onto their deck space.
"These aquatic facilities often times need to diversify their programming options to increase revenue and provide greater flexibility," Ball says. "Many facilities will add a bulkhead or SwimWall to the pool to not only vary the racing lengths, but also to separate lap swim from water polo practice or open swim. Another simple way to increase programming options with deck equipment while competitive swimming is not happening is to install or utilize existing anchors to set up volleyball and basketball games.
"We are seeing more and more facilities incorporating features targeted toward tweens to keep them engaged and stay longer. Basketball hoops are very popular, and we are now seeing an uptick in features like climbing walls, zip lines, obstacle courses, Key Log Rolling, to name a few.
"Lastly, one cannot forget diving boards and slides as hallmark ways to let people recreate and enjoy these aquatic facilities."
The options are getting increasingly adventurous. AquaClimb's products include ziplines, obstacle courses and climbing walls ranging from 9 to 23 feet high.
"The Aquatic Adventure Zone products are a great way to convert unused areas of a pool into an attractive recreation space for customers, including tweens and children of all ages," Khaled says. "The products are designed to build courageous kids for life's great adventure. They enhance the pool and create new opportunities to diversify from standard aquatic elements, programming and themes. Pools can operate these low-maintenance adventure zones at a reasonable price point and allow facility operators to market new spaces and challenges.
"The climbing walls are popular at facilities because they are modular and can be constructed to span the pool deck, and some only require a minimum water depth of 6 feet."
S.R. Smith is also offering the SlideAway, a removable slide that doesn't have to be fixed to the deck. And the ancillary opportunities aren't just for kids or adventure seekers, as S.R. Smith has seen an increased demand in removable in-pool products such as lounge chairs and sun-shelf tables that can fit within umbrella anchors.
These advancements have allowed pool decks to be more customizable than ever before, and have encouraged pool operators to fit their space with exactly what customers need.
Says S.R. Smith professional trade marketing manager Stephanie Hartgraves, "Together, these elements more fully leverage the pool investment by helping increase functionality and improve performance in ways that make the swimming pool more fun for everyone."
---
This article originally appeared in the May 2021 issue of Athletic Business with the title "Building the deck: to fit an aquatic facility's needs." Athletic Business is a free magazine for professionals in the athletic, fitness and recreation industry. Click here to subscribe.