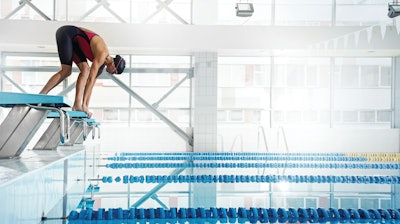 Every year, new competition pools open in cities as diverse as Bend, Ore.; Marion, Iowa; and Toronto, Ont. Each one seems like a minor miracle, considering all of the strategic efforts that go into it.
"Aquatic facilities are one of the most expensive types of sports and recreation facilities to construct, operate and maintain," says Doug Whiteaker, a principal at Water Technology Inc., an aquatic planning, design and engineering firm with offices in Beaver Dam, Wis., and Fort Worth, Texas. "Fortunately, they're also one of the most desirable venues for a lot of users."
That means building a pool facility that serves as many people as possible should be a top priority, and that's why many of the competition pools featured in the Athletic Business 2022 Aquatic Design Portfolio also include dedicated space for lazy rivers, water slides and other recreational elements.
"Funds are limited, and communities want to provide their taxpayers with a facility everyone can use — not just one or two groups," says Maddie Monroe, an aquatic engineer and consultant for aquatic design, planning and operations company Counsilman-Hunsaker, which has offices in St. Louis, Dallas, Denver and San Diego. "We want to make the pool as flexible as possible. Not only do we want to program the pool for the competitive user, but we also want anybody and everybody to be able to learn to swim and enjoy the natatorium. The goal is to always provide maximum flexibility of the facility."
This shift toward getting the most splash for your cash has been accelerated by more school districts adding swim lessons to their physical education curriculum and public officials striving to better meet the water-based needs of their communities.
What follows are the stories of two natatoriums that attempt to offer something for everyone, as well as an outdoor facility with the same mission.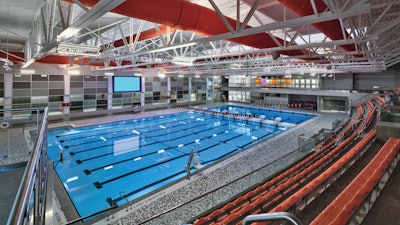 Churchville-Chili Central School District Pool
This $21.3 million capital improvement project in Churchville, N.Y., which replaced an aging aquatic facility, features multiple bodies of water — including a competitive pool with both shallow and deep ends that can be separated by a 6-foot-wide bulkhead to maximize programming. Water volleyball and water basketball features also are provided, as well as a large stair entry to appeal to noncompetitive users.
From a competition perspective, the pool provides course layouts for both 25-yard and 25-meter swimming, two 1-meter diving boards and chairback bleacher seating for almost 350 spectators. There also are timing and scoring rooms, ample deck space, coaches' offices and strategic use of school colors throughout.
The facility opened in September 2020, but planning began in 2016. The longer timeline was mostly due to the value engineering required to bring the project back to within its original budget, according to Monroe, who was Counsilman-Hunsaker's project manager on the facility.
"The pool itself did not change," she says. "But in the original design, the mechanical room that houses all the filtration systems was in the basement, and we actually had to take that basement out of the project. We reduced the spectator seating slightly and created a mechanical room up on the first floor in the corner."
That cost-cutting move, however, did not force the elimination of programming space or decrease opportunities to expand programming to as many residents as possible. Monroe and her team made sure of that.
"We have on our staff a lot of former competitive swimmers and former facility operators who have extensive knowledge of how swim meets are run," says Monroe, who swam for the University of Arkansas. "We bring life experience to our projects and explain that, 'Hey, you may not want to take out five feet from around the deck to save money, because you're not only going to have stroke judges walking up and down the length of the pool, but you're also going to need space for kids to talk to their coaches."
In many cases, local officials may never have even attended a swim meet, or might only have watched competitive swimming at the highest levels on television during the U.S. Olympic Swimming Trials or Summer Olympics. So it's important, Monroe adds, for facility operators to approach a new natatorium project with an open mind and seek a better understanding of how competitive swimming events work.
"We're going to give them all the options and let them know that if they're looking for cost savings, they might want to consider this or not consider that," she says. "And then they can make the decision from there."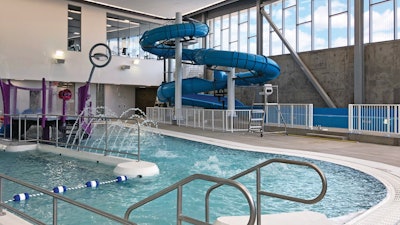 Longbridge Aquatics & Fitness Center
Only by coincidence is the word "long" part of this facility's name. But with the earliest discussions about the $60 million Longbridge Aquatics & Fitness Center that opened in August 2021 dating back to 2004, Whiteaker calls it a true "legacy project."
Voters in Arlington, Va., finally approved the center in a 2012 bond referendum, but the construction bid came in too high in 2014, and the project was put on hold until 2016. Following robust community engagement, a new plan was approved by local officials, and funding was secured.
The competition area features a 50-meter pool with two moveable bulkheads and 3- and 5-meter diving boards, while a recreation water facility includes a leisure pool with four lap lanes, a winding lazy river, a splash pad and a waterslide.
"The competitive swimming portion of the project stayed consistent throughout, with the intent of having a world-class facility for swimming, water polo, synchronized swimming and diving," says Whiteaker. "But one of the other goals that was very consistent was wanting to make sure that the facility provided pristine water and air quality, to offer great user experiences for both athletes and spectators."
Water Technology officials took a multifaceted approach to accomplish that, starting with effective water circulation and filtration, as well as using both primary and secondary disinfection solutions to eliminate chloramines from the water. "Even then, you're going to get off-gassing of the chloramines, the residue left over from the byproducts of sanitation," Whiteaker says. "We used a source-capture system to remove chloramines that were air-bound out of the pool. That requires very significant coordination between the aquatic design, the HVAC design and the architectural elements in the building. It's a collaborative effort. That priority was maintained throughout the process, even when there were budget shortcomings in other areas."
Those shortcomings were addressed by making modifications to other parts of the facility, particularly related to gymnasiums and workout rooms in the project's fitness center portion. The competition and recreational pools are on separate sides of the building — one to the left as users and guests enter and the other to the right — with locker rooms designed to serve all user groups.
Additionally, according to Whiteaker, the Longbridge Aquatics & Fitness Center is "probably one of the most complex sites in the country." He cites property covenants specific to the Washington, D.C., area. Additionally, the building's proximity to the Pentagon and Reagan National Airport, which operates with close oversight by the federal government, prompted consideration of additional security-related restrictions, he says.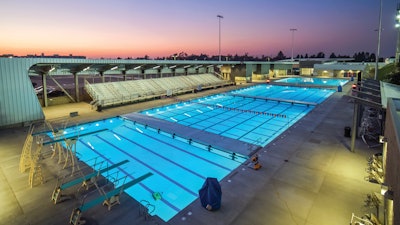 Orange Coast College Aquatic Pavilion
The $6.3 million outdoor Orange Coast College Aquatic Pavilion, which opened in June 2020 and replaced an aging pool on the Costa Mesa, Calif., campus, supports a wide range of community uses. The 65-meter-by-25-yard competition pool boasts two moveable bulkheads and 1- and 3-meter diving boards. It is home to the college's men's and women's swimming, diving and water polo programs, as well as competitive community clubs.
The instructional pool, meanwhile, serves several groups, including the college kinesiology department's adaptive swim programs. It also offers warm-up and cool-down areas for athletes at swimming and diving meets. Because community outreach programs are part of the facility's mission, the instructional pool provides 10 25-yard lanes with pool depths ranging from 3 feet, 6 inches to 5 feet, plus stairs that run the entire length of the pool.
"All of these programs had to be accommodated in one aquatic center with shared support spaces to make the project economically feasible," says Justin Caron, project manager and the principal in charge of this project for Carlsbad, Calif.-based Aquatic Design Group. "As many of these programs cohabitate and overlap in terms of times of day the programs are offered, two pools were created to support the disparate needs of the offered programs."
Those pools include different gutter profiles, varying depths and temperatures, and different modes of ingress and egress.
Caron also notes several differences between indoor and outdoor competition facilities that should be considered by facility operators. They include adjacencies and support spaces; the building around the pool typically costs more than the pool itself. Indoor pools also tend to have tighter decks and require a focus on maximizing surrounding spaces. Indoor pool decks, hallways and support spaces also require non-slip surfaces. Outdoor pools, meanwhile, need to provide shaded areas and require added attention to finishes. UV rays from the sun and inclement weather can wear down pool decks and other surfaces (not to mention the pool shell itself) faster than the controlled environment of a natatorium.
In regions with seasonal climates, Caron suggests it might be more feasible to sequence construction by digging the pool shell, covering it, and then constructing the building around it. "Come back in and finish the pool later," he says. "It may also make sense to focus on building the building first and leave a knockout to allow for the pool to be built at a later date."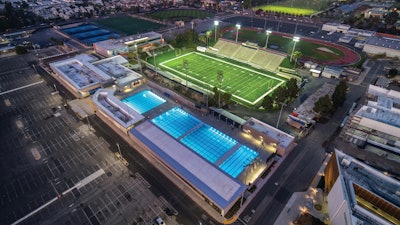 'Prioritize how much facility you really need'
Regardless of whether the competition pool is indoors or outdoors, Caron, Whiteaker and Monroe recommend facility operators talk to other operators with similar facilities, meet with stakeholders likely to be involved in the future facility (from existing staff members to local swim team representatives) and do a thorough evaluation of needs versus wants.
"This type of project only comes around once or twice in a generation," Caron says. "Get your priorities — including budgetary or other parameters and constraints — in order early."
"You have to prioritize how much facility you really need, based on demand and what the community will financially support," Whiteaker adds. "It's really about establishing a budget, looking at what you can prioritize to have in the project, and then looking at the things you would like to have if you receive favorable pricing or grants along the way. I think establishing an adequate budget in advance and reaching out to people in the industry who do this day in and day out can help you market-test that budget."
He also suggests estimating maintenance and operation costs, and determining the revenue required to maintain financial sustainability. Not every community will be able to support a 50-meter pool (financially or operationally), but a 25-meter pool could provide a wave of new programming options while fulfilling multiple community needs and proving fiscally responsible.
Monroe agrees. "A lot of times we get school districts that say, 'We want a 50-meter pool.' Well, sometimes you don't need a 50-meter pool. Sometimes, a stretch 25-yard pool like what's at Churchville is going to do everything and anything you want," she says. "And it's going to save you a ton of money."
She recommends local officials involved with the development of a new pool facility engage in a feasibility study to help further determine a community's aquatic needs and its ability to meet them. Such studies, depending on the firm conducting them, also can include economic impact projections.
"I think that's a good extra step to ensure that you're not only building the right pool, but also a pool that you can sustain," Monroe adds. "A lot of times when we do a feasibility study, those facilities become our most successful ones."