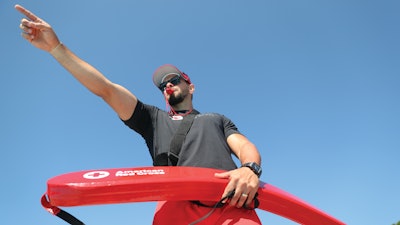 More than new recreation tools and protocols, the one constant that improves safety is effectively trained staff who have the confidence to act when moments matter.
Staff at fitness centers, recreation facilities and athletic complexes must not only know the latest and most advanced rescue skills, but also understand their own personal importance as frontline responders. With evolving laws, regulations and policies seeking to provide ever-safer workplaces and recreation facilities, training must become a priority that never gets outmoded.
So how can a busy athletic or aquatics facility help ensure the professionalism, performance and accountability of these critical responders? Consider the example of Washington State University, a NIRSA member.
Keeping college rec programs safe
With three on-campus pools and indoor/outdoor recreation complexes, Washington State University serves its 30,000-plus on-campus population in Pullman, Wash., as well as the surrounding community. From aquatics programming to student athletics, the university's Recreation Department holds responsibility for ensuring the safety and performance of its instructors, lifeguards and other employees.
Central to WSU's training is its audit process. Employees are audited up to three times annually and required to demonstrate CPR/AED or choking skills on an adult, child or infant. The university developed a weighted scoring system that requires employees to receive a score of 80 (out of 100) to pass. If the employee fails, they must meet with the instructor, review the materials and complete another audit with the graduate assistant of safety education for WSU. Every year, WSU conducts more than 750 audits, 96 percent of which are successfully passed the first time.
These audits help department staff identify areas on which they need to spend extra training time, such as the initial on-scene assessment or CPR/AED skills. Thanks to the audits and the ability to focus training, WSU is also seeing better retention from the instruction.
Every recreation staff member has reported using the skills learned in a Red Cross course either on or off the job, particularly in the areas of recognition and prevention training. WSU believes its employees avert problems before they occur, especially in drowning prevention, because they are taught to observe situations and take actions to avoid potential trouble.
"We do such a good job teaching people the skills of early recognition of potential issues that we don't need to respond to a life-threatening emergency very often," says Jared Lindorfer, the coordinator of Aquatics & Safety Education for WSU.
Underpin safety with science
The science of safety is at the heart of any responder training program, whether it is the first aid/CPR/AED component of a basic certification course or a specialty class for a particular water environment.
Because of its underpinnings as an academic institution, WSU has an interest in why the instructors teach what they do. WSU wants to know not only how to do a specific task, but also the why behind it, in the belief that this helps motivate staff members and encourages them to maintain their skills and knowledge.
That's one reason WSU closely follows the activities of the Red Cross Scientific Advisory Council, a committee of experts and practitioners that studies the evolving science so that it is incorporated into all Red Cross training. Members of the council include leaders in the field of collegiate intramural sports and recreation.
The WSU staff applied lessons from the council's scientific reviews to help develop its own internal evaluation tool used in the on-the-job audit program. The university also incorporates science updates into its in-service training to help ensure that staff are knowledgeable as they practice and are ready to provide the best lifesaving techniques science can offer.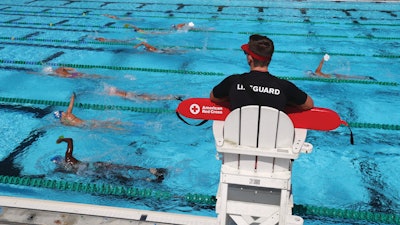 Model good behavior
Training is only one component of safety management, and nowhere is that clearer than in the aquatics community. No federal regulatory agency is responsible for water facilities in the United States, so aquatic providers must learn and follow their state and local regulations.
In an effort to assist these regulatory bodies and organizations offering aquatics activities, the Centers for Disease Control and Prevention aligned with public health organizations, industry (including the Red Cross), and academic partners to develop a set of guidelines called the Model Aquatic Health Code (MAHC).
MAHC guidelines are all-inclusive and address the needs of public aquatic facilities, be they design, construction, operation, management or maintenance. This code also covers the prevention of drowning, injuries and the spread of recreational water illnesses.
The MAHC is updated based on the latest science and best practices, making it the ideal blueprint to help ensure healthy and safe experiences in public pools, hot tubs and water playgrounds (such as those at apartment complexes, hotels, gyms and waterparks).
Health jurisdictions can voluntarily use all or parts of the MAHC to create or update their codes to reduce risk for outbreaks, drowning and pool-chemical injuries. Aquatics sector leaders can also use the MAHC guidelines in their facilities even if the jurisdiction has not yet adopted the MAHC.
Reimagining ways to learn and teach
You've considered the science and followed available guidance. The next step in your accountability journey is examining how your organization approaches training. Is it using the latest and best methodologies?
Consider active learning, an educational model that gained popularity during the COVID-19 pandemic as a way to engage students as opposed to them passively taking in information. Studies show that students actively participating in the learning process deepens understanding and produces more effective learning.
The Red Cross First Aid/CPR/AED course, for example, allows each student to take turns simulating the role of an active lifesaver, a coach and an observer, which reinforces easy-to-remember lifesaving actions. The use of active learning also gives instructors a competitive advantage in classroom management, as it enhances their role, allowing for more focused, personalized training and student evaluation.
Still, people lose knowledge and skills quickly unless they are refreshed and repeated at regular intervals, and recreation staff are no exception. When the goal is readiness to save lives, it is essential that trained responders engage in regular, in-service training where the core principals of basic training are continually repeated, revisited and applied within the workplace.
Programs such as the Red Cross Lifeguard Management Course and the Aquatic Examiner Service (AES) assist pool managers in structuring an in-service training program for lifeguards. The AES includes the vital feature of unannounced site visits by Red Cross personnel who provide feedback, including lifeguarding observations and skills evaluations. Following a surprise inspection, examiners provide an immediate assessment that includes recommendations and goals for improvement. The Lifeguard Management Course will help lifeguard supervisors to conduct ongoing assessments of the lifeguards on a daily basis.
Finally, when considering a training provider, ask whether students will have access to easy-to-reference eBooks and apps. These digital tools put lifesaving information at students' fingertips so that they can find and navigate course content and live-action videos if and when it is needed.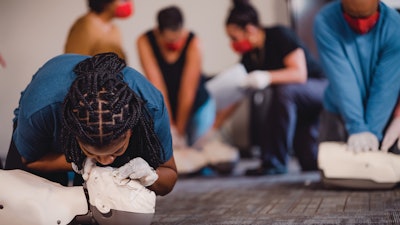 Train for the moments that matter
Athletic facility staffers, be they equipment handlers or lifeguards, will spend hours watching patrons participating in athletic endeavors and perhaps only a very few minutes actually responding to an emergency. It is imperative that when those few minutes do arrive, team members are ready to put their training into action.
The YMCA of Greenwich, in Connecticut, experienced an incident last year in which a 98-year-old man suffered a cardiac emergency while exercising on a recumbent bicycle. The recreation facility cross-trains its aquatics staff so they can respond whenever and wherever their skills are required. On this day, lifeguards Lauren Chiappetta and Thomas Massam responded, assessed the situation, directed someone to call 911 and administered oxygen to the semiconscious man, who was struggling to breathe and barely had a pulse. The team simultaneously calmed the man's family until he was ready to be transported to the hospital by paramedics.
"Here at the YMCA, the health and safety of our members and guests is our top priority, and our lifeguards take their responsibility seriously," says Matthew Skaarup, chief executive officer for the YMCA of Greenwich. "Their quick actions and teamwork gave a man the opportunity to return home to his family."
For their actions, the Red Cross presented Massam and Chiappetta with the Lifesaving Award for Professional Responders. The pair will tell you, though, that the best reward was seeing the patient celebrate his 99th birthday this year.
Serious injury or even death at fitness centers and recreation facilities can occur in seconds, making effective training for staff a paramount public health necessity. Thus, the ability to transition training into rapid action becomes the ultimate risk management mitigation strategy.
---
Stephanie Shook is a Certified Park and Recreation Professional and the senior product manager of aquatics and instructors for the American Red Cross.