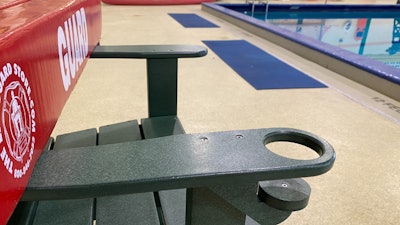 Athletic Business file photo
Many schools across the United States have started summer break already, but the nation's youth might not be able to take to community swimming pools as the third year of the lifeguard shortage continues.
In St. Louis Park, Minn., KARE-TV reported that the city's Aquatic Park welcomed back families Friday with discounted admission and concession deals, but says some changes were required this year before the younger kids arrived.
"We've been running with less stands open," Lead lifeguard Harris Keekley told the news station. "We had to close off the deep end for a lot of this past week because we haven't had enough staff."
The pool is fully operational now that some high school students are able to work, not being in school, but recreation superintendent Nikki Friederich said another 10 lifeguards are needed to be fully staffed this summer.
"We are offering a new lifeguard training class here," Friederich said. "June 16 and 17, so we're promoting that right now and still taking applications for the season."
Meanwhile, metro YMCAs are offering a $1,000 sign-on bonus for new lifeguards.
More than half of the country's 309,000 public pools are reducing hours or closing due to a lifeguard shortage this year, according to the American Lifeguard Association and as reported by KARE-TV. One factor is that the industry has relied on thousands of Eastern Europeans to work as lifeguards in the U.S. but their visas were paused during the pandemic. The ban was lifted in 2021, but the pipeline hasn't caught up yet.
ALA recommends checking lifeguard staffing at pools and beaches before you visit and to provide constant supervision of swimmers, especially children, if there isn't a lifeguard on duty.
For example, Eagan's Schulze Lake Beach did not have a lifeguard on duty when it reopened Friday after temporarily closing due to a possible waterborne viral outbreak a few days prior. A couple of dozen people swam in the lake that Friday afternoon.
Back at the Aquatic Park, Harris told KARE-TV that he expects some progress in hiring now that Hennepin County has awarded St. Louis Park and three nearby cities a three-year grant to increase their collective lifeguard pool.