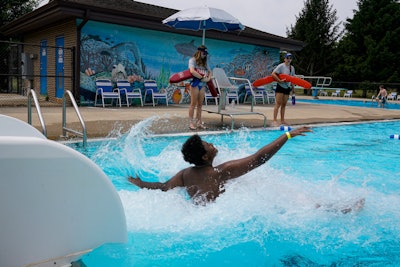 Michael Conroy, The AP, via Stateline.org
July 31, 2023
Lifeguard shortages closed thousands of pools and beaches during the COVID-19 pandemic, when social distancing requirements disrupted training and rising wages lured some workers to other summer jobs.
Now, some states and cities say they're back in the swim of things, thanks to major changes in how they train, recruit and compensate lifeguards.
Several states, including Connecticut and New York, lowered their minimum lifeguard age to 15 years old this summer. Dozens of cities raised lifeguard pay and offered eye-popping bonuses. In San Antonio, Texas — where all but one municipal pool opened this summer, after three years of closures and delays — the Parks and Recreation Department even decked out a parade float, complete with live plants and light-up butterflies, to promote an aggressive recruitment campaign.
"We had digital billboards on highways, we had graphics up at bus shelters, we had radio ads and street banners," said Shanea Allen, the San Antonio parks and recreation manager who oversees the aquatics program. "We were everywhere. If you were in San Antonio this spring, you couldn't miss us."
In many ways, the push represents what some government and industry officials call an overdue reappraisal of lifeguarding — an iconic and critical public safety job that has nonetheless been relegated, in many places, to low-paid students on summer break. Periodic shortages have plagued American pools and beaches for decades, forcing some communities to reduce hours or close facilities.
But in the wake of acute pandemic shortfalls — and amid record-high summer temperatures — many local governments have begun recruiting, training and paying lifeguards more aggressively than ever before. In a 2021 op-ed for the industry magazine Aquatics International, one California pools supervisor warned that swim programs now need to recruit lifeguards "with the same ferocity as the military recruits soldiers."
We have to change the perception that it's just kids having fun at the pool — they're highly trained first responders.
– Becky Kirk, Phoenix's aquatics supervisor
The approach seems to have worked in some places that attempted hard-core recruiting, even as the lifeguard shortage closed pools elsewhere. Several major cities, including Baltimore, Chicago, Denver and San Antonio, fully staffed their pools this summer for the first time in several years. The American Red Cross, which operates one of the country's largest lifeguard certification programs, also says enrollments have increased steadily over the past two years.
"Everyone is realizing that these are not just young kids who are babysitters for the pool," said Juliene Hefter, the executive director of the Association of Aquatic Professionals, a national membership organization for aquatic and recreation program managers — often, the people who hire lifeguards.
"The mentality always was that it's a job for kids. But that's not necessarily the case anymore."
Serious shortages
Hefter, a former lifeguard and aquatic program supervisor, has seen several cycles of lifeguard shortages over her decadeslong career. As a teenager, she said, dozens of applicants would try out for each available lifeguard chair. Now, the opposite is far more likely to be true: At a recent lifeguard training in Brevard County, Florida, two candidates tried out for 50 open positions.
Much of the deficit springs from the COVID-19 pandemic, which forced lifeguard training classes to an abrupt halt. New lifeguards couldn't start work for much of 2020, and returning lifeguards — who are typically required to recertify every two years, on average — couldn't update their credentials. Between early 2019 and early 2020, the number of people certified in American Red Cross lifeguarding classes fell by almost half.
Widespread pool and beach closures cut millions of Americans off from a critical public health resource, said Amelie Ramirez, the director of the Institute for Health Promotion Research at the University of Texas Health Science Center at San Antonio. Pools and beaches can help people stay cool in record-high temperatures. And swimmers are less likely to die of drowning in bodies of water where a lifeguard is present.
"Having access to safe water recreation is really important, especially for underrepresented communities," Ramirez said, "because many are disproportionately impacted by climate change and heat waves like the ones we just experienced."
But while the pandemic closures made shortages more visible, pools and beaches have long struggled to attract enough lifeguards — competing with other part-time, seasonal employers in food service and retail. Today, servers, cashiers and child care workers all make a higher hourly wage than lifeguards, on average. They're also generally not expected to pay for their own training or maintain a high level of physical fitness, as lifeguards are.
In Florida's Brevard County, for instance, lifeguards earn $13.75 per hour and must complete 80 hours of mandatory ocean rescue and emergency medical training, in addition to passing a physical exam. Part-time cashiers make comparable wages — with far fewer qualifications.
"We're facing the same challenges that every other industry is facing across the country trying to recruit staff," said John Cattelan, the vice president of government relations for the Connecticut and Rhode Island Alliance of YMCAs. "It doesn't help that becoming a certified lifeguard is a pretty intense process."
To attract would-be lifeguards to the profession, some lawmakers and parks officials have sought to rebrand it from a fun summer gig to a high-skilled or pre-professional job. "Our City lifeguards are highly-skilled and highly-trained first-responders," reads one Philadelphia press release, announcing a partnership to grant college credits to students who worked as lifeguards.
Dozens of city, county and state governments offered significant wage bumps, cash bonuses and other incentives this year, promising $500 or $1,000 checks to lifeguards who lasted the full season. In Phoenix, which operates one of the country's more generous incentive programs, hourly pay increased to $15.72 from $14 — plus a $3,000 bonus for workers who finished the season in good standing and took fewer than 10 days of vacation.
"That really got people in the door," said Becky Kirk, the city's aquatics supervisor. "We were teaching humongous lifeguard classes after the incentive."
Many programs also have begun paying for lifeguards' training and certification — following the example of Colorado Democratic Gov. Jared Polis, who in May announced a quarter-million dollars of state funding for lifeguard training. Other programs have sought to expand the typical candidate pool beyond sporty high school and college students, even offering benefits such as retirement accounts and health insurance.
Pools and beaches increasingly recruit from among the ranks of first responders, said Wyatt Werneth, the national spokesperson for the American Lifeguard Association. In Massachusetts, Democratic Lt. Gov. Kim Driscoll, a former lifeguard, encouraged older adults to apply for open positions at state beaches.
On the other end of the spectrum, at least two states — Connecticut and New York — loosened existing labor laws to allow more facilities to hire 15-year-old lifeguards. Connecticut, for instance, already allowed 15-year-olds to work as lifeguards in municipal parks and pools, but not in private pools, waterparks or sports complexes. The shortage had disrupted YMCA swim lessons and summer camps across the state, said Cattelan, of the YMCA.
Younger lifeguards have kept public pools open in places such as Wisconsin, which lowered its minimum age to 15 five years ago, said Hefter, of the Association of Aquatic Professionals. The younger minimum age also can give aquatics programs an advantage over retail and food service employers, who can only hire older teenagers.
Connecticut's new age limit, which became law in June, is expected to affect lifeguard staffing next summer.
"We're dealing with very serious shortages here and looking for solutions wherever we can," said state Rep. Henry Genga, a Democrat who co-sponsored the bipartisan legislation.
San Antonio's success
Local and state officials have yet to close the lifeguard gap, however: Across the country, the American Lifeguard Association estimates that as many as a third of the nation's public pools are still affected by the shortage. That does not include beaches, lakes or private pools owned by community and condominium associations, which in many states are not required to staff a lifeguard.
Los Angeles officials cut swim hours by half this year. Houston filled only 57 of 188 lifeguard slots by the start of its season. In Phoenix, even massive bonuses failed to attract enough qualified applicants: The city hired fewer than 400 of the 650 lifeguards it needed and opened 15 of its 29 pools — up from 14 last year.
Kirk, the aquatics supervisor, blames the lingering effects of the pandemic, which slashed her department's retention rate to just 30%. Arizona's teacher shortage also trickled into the park system, she said: Her department once commonly hired schoolteachers during summer break, but many have left that role for year-round jobs.
Now, Kirk is trying to "change the culture" in her department and publicize how lifeguarding can fit into other long-term, full-time professions, she said. Last December, she hosted a polar plunge with former lifeguards who had used the job to launch careers as firefighters and medics.
"We have to change the perception that it's just kids having fun at the pool — they're highly trained first responders," Kirk said.
On average, 371 children under 15 died in pool- or spa-related drownings between 2018 and 2020, according to a report in June from the federal Consumer Product Safety Commission. And some 6,400 kids under 15 suffered non-fatal drowning injuries last year, according to the report.
Without Housing, Communities Struggle to Attract Summer Workers
Ultimately, it may take a range of incentives and cultural changes to lure lifeguards back to beaches and pools, industry and government officials said. But some places have managed it.
Last fall, San Antonio's City Council approved an across-the-board pay raise for city employees, with one of the largest bumps — roughly $5 an hour — going to lifeguards. The Parks and Recreation Department also introduced a $75 uniform stipend, a $500 retention incentive and a free training and certification program for lifeguards.
Previously, lifeguards could not begin the hiring process until they had an American Red Cross certificate. Now, if candidates can retrieve a 10-pound brick from the bottom of a pool's deep end, swim a 300-yard breaststroke and tread water for two minutes, the city will hire and certify them — mirroring paid training norms in other professions, said Allen, the aquatics manager.
On June 17, San Antonio opened 23 of its 24 pools for the regular summer season.
As for that last pool, it should open next year — it's only closed for construction.
---
Stateline is part of States Newsroom, a nonprofit news network supported by grants and a coalition of donors as a 501c(3) public charity. Published with permission via Creative Commons license CC BY-NC-ND 4.0. Stateline maintains editorial independence. Contact Editor Scott S. Greenberger for questions: [email protected]. Follow Stateline on Facebook and Twitter.