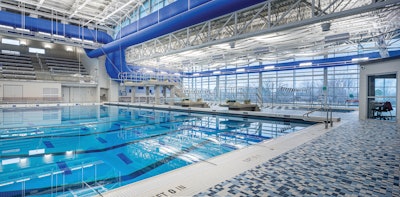 Photo courtesy of Racine Unified School
Misperceptions abound about indoor pools and outdoor pools. One of the biggest has to do with costs to build and operate.
"People think, 'Oh, indoor pools aren't that much more expensive than outdoor pools," says Paul Stewart, vice president of sales, marketing and service at Desert Aire LLC, a supplier of commercial dehumidification systems. "Au contraire. They're 10 to 15 times more expensive to build — and then you need to start talking about maintaining an indoor pool."
While it's true that both indoor and outdoor pools off-gas chloramines — chemicals such as dichloramine and trichloramine that form when chlorine binds with such human organics as urine and sweat — they scatter quickly in the air at outdoor facilities. Inside, it's a different story.
Log in to view the full article