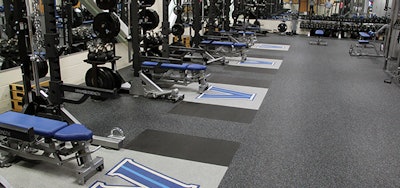 When I was invited by Regupol America to tour several athletic and fitness facilities earlier this month, I had no idea what I was in for. Working for AB, we know how important the right kind of flooring is — it impacts everything from acoustics and aesthetics to cost and usability — but it takes getting out of the office and seeing the details up close to really understand how flooring can make an impact.
With my prior flooring knowledge firmly at ground level, I packed my bags (and my camera) for Philadelphia and embarked on a tour of the following facilities all located near Regupol's headquarters in Lebanon, Pa.: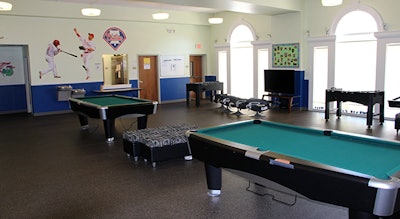 Shane Victorino Nicetown Boys & Girls Club
At AB, we write a lot about the latest and greatest facilities. We often feature the newest, biggest and most expensive. But sometimes, a nondescript building, with limited space and a 100-year history can have just as big of impact on its community. That was what struck me about this Boys and Girls Club in south Philadelphia.

MLB slugger Shane Victorino's days in the city of brotherly love are over, but his impact on youth in the city will last for ages. This once decaying Boys & Girls Club caught the attention of the former Phillies centerfielder and with the help of a few others it was revived into a recreational and educational haven in area otherwise devoid of such offerings.

The building, which is more than 100-years-old, was one of the nation's first Boys & Girls clubs. Today it hosts more than 100 kids every day, ranging in age from 7 to 18-years-old. It features study areas, lounge areas, a basketball court and eating area. Despite the facility's diverse uses, the entire building — everything from the entryway to the basketball court to the recreational spaces, — is covered in flooring donated by Regupol.

According to the facility's managers, the basketball court gets the most use.
"It's packed in here every night," says Libby Lescalleet, the executive program director for Boys & Girls Clubs of Philadelphia.

Not only does the rubber court hold up, it stands out.

"We wanted to make it that bright, Phillies red, which actually hides marks and scuffs better than your typical white or light gray," says John Aten, Regupol's vice president of sales. "We wanted to make a statement with this floor."

Mission accomplished. And more importantly, the facility is making an even greater statement by offering support and recreational opportunities to the community's kids.


Horsham Athletic Club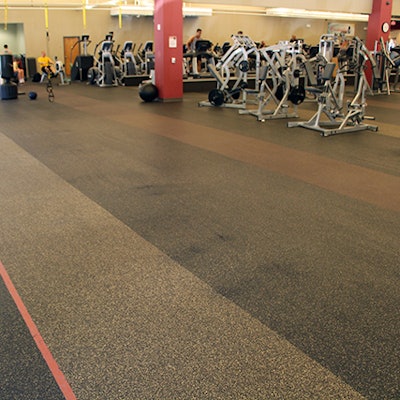 From South Philly we hopped in a van and headed to the suburb of Horsham. Housed in what looks like your typical suburban office park, there is far more to the Horsham Athletic Club than what meets the eye. Once inside, visitors are welcomed by bright natural light, high ceilings, an awesome snack and smoothie bar, and you guessed it, Regupol flooring.

Covering everything from the selectorized equipment area to the gym's functional fitness space, the club is covered in 16,000-square feet of Regupol Aktiv flooring.

"The key here is the color patterns," says Aten. "It adds a bit of visual interest." And he's right. If the floor were all black, it would have a completely different feel. Instead, the colors brightened the space and fit the club's theme.

Villanova University
Villanova's athletic department is perhaps best known for its success in men's basketball. And you don't make 33 NCAA Tournaments, four Final Fours and win a National Championship without access to the proper training and strength facilities. And these days, Nova's basketball players have as good as any in the Big East. The Wildcats' strength and conditioning center is exclusive to the men's and women's basketball teams.

Their space is outfitted in a custom color of Regupol flooring integrating the school's colors into the floor. Another nice feature is that the lifting platforms are seamlessly integrated into the floor, rather than the raised platforms you see in many weight rooms.

"It's easier for the players to move around," says Mick Keelan, the associate athletic director – facilities and operations at Villanova.

The same flooring used in the basketball facility is also used in the recently revamped Villanova Sports Performance center that serves student-athletes for the school's other varsity sports programs.

"It's really changed the entire space," Keelan says of the new flooring. "Our student-athletes love it."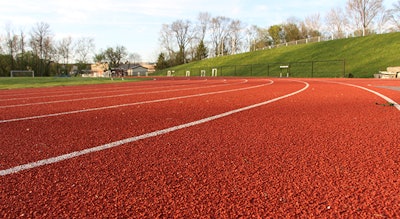 Lancaster Mennonite High School
The next stop was Lancaster Mennonite High School located in the rolling hills west of Philadelphia. Pulling up to the unassuming building in this quiet, historic town, you'd never guess it's home to one of the finest tracks in the country. In fact, when student-athletes from the school step on the track, they are stepping on to the same exact surface on which Usain Bolt has broken world-records.

The track, outfitted in Regupol AG in Relay Red, was installed in 2012 and Aten says it will last more than 20 years. For those interested in the specifics, Regupol AG Regupol AG is made from precision engineered, pre-manufactured recycled SBR rubber granules and a polyurethane binder base mat, adhered to the asphalt base layer. This helps the track maintain its comfort and durability, despite harsh Pennsylvania winters.

Franklin & Marshall College
Just down the road in Lancaster sits Franklin & Marshall College, a small school home to about 2,300 students. Twenty-three years ago, the school's athletic department invested in a Regupol AG running surface and that investment is still paying off.

Despite its age, the northeast weather conditions and the track's heavy use — it is open every day for community use — the track has not needed to be replaced.

According to Regupol, a typical running track needs to be fully stripped and resurfaced after 10 or 15 years. While the track at Franklin & Marshall has had its top surface updated, it has not yet needed a full overhaul.

"I can't say enough good things about this track," says Ted Schmid, director of grounds at the school.

Regupol Manufacturing Plant
As much as I enjoyed checking out the various athletic facilities on the tour, the highlight of the trip was the Regupol factory itself. Regupol began manufacturing at their Lebanon, Pa. plant in 2009.

Unfortunately, no videography or photography of the top-secret operation was allowed, but imagine piles of rubber as high as buildings and trucks hauling it every which way. The analogy Aten made is creating their flooring is like baking a cake. The ingredients, different sizes of rubber and different colors are poured into a giant mixing bowl. They're heated and pressed and eventually, out comes about 8,000-square feet or rubber flooring, or "cake." It's a fascinating process and Regupol has it down to a streamlined science where there is very little waste involved. The company cranks out about 20 "cakes" a day in up to 950 color variations.

After two days, four cities and six facilities, it is safe to say I was floored by flooring. While a typical exerciser might not think twice about the surface on which they're standing, a facility manager knows its impact is far-reaching. And after spending time embedded with the team at Regupol, I know I'll never look at a floor in the same way.