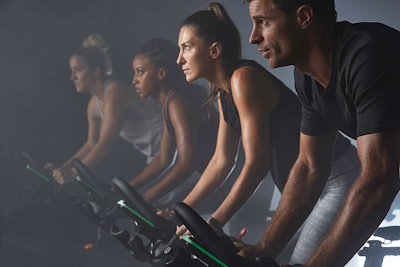 This sponsored content was provided by Matrix Fitness. What is sponsored content?
Though some would say that all exercise bikes are the same, nothing could be further from the truth. Studio cycles have advanced considerably since the low-tech era of the 1980s, as the product and program development processes have pushed every generation further with features and functions that exceed the demands and expectations of riders, instructors and facility operators.
With group cycling being such a popular and established category, Matrix had a unique opportunity to simultaneously develop programming and a complete range of cycles (CXC, CXM and CXP). In the end, the people at Matrix created a package of solutions that supports existing classes while providing exciting new possibilities for how facility timetables are structured and riders are motivated.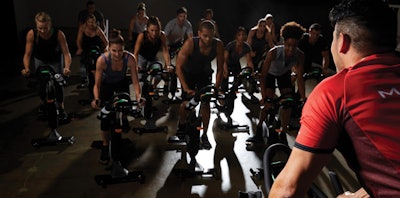 Group cycling with metrics that matter
Matrix Ride is an instructor-led workout that blends classic music-driven group cycling with performance-based metric tracking.
During the research phase of development for the cycles and programming, the same feedback was consistently heard: tracking watts in cycling classes is commonly accepted as the measurement of truth, because when tracking watts, we are measuring how much power the rider can produce over and over again.
That said, this preoccupation with watts is an industry obsession that not all grassroots studio riders can understand or use for motivation. Instructors and riders highlighted that metrics like calories and distance were often the subjects of post-class questions. "How many calories did we really burn today?" "Are we riding farther as we get fitter?"
The Matrix CXP Target Training Cycle answers those questions in real time with a unique Target Training Display that tracks these metrics, helping to motivate riders and drive results. Furthermore, Matrix Ride programming lets the instructor focus on one or multiple metrics in a single class while suggesting individual distance, calorie, heart rate, RPM and watt targets based on the goals and abilities of individual riders. Ultimately, this approach delivers a range of benefits to facilities, instructors and participants.

Benefits to facilities
First and foremost, this new approach to group cycling helps facilities build relationships with people who may be intimidated by traditional cycling classes. Unlike many group offerings, there isn't a stereotypical "type" who will attend this class — elite riders and deconditioned participants can ride side by side and be motivated and challenged in a way that suits them. Since riders can be assigned different personal goals and challenges, participants can join at any point during the program.
This program also differentiates facilities from other clubs, allowing them to promote a new unique selling position and compete with cycling studios by offering a long-term solution. Finally, Matrix Ride helps facilities deliver consistent programming regardless of instructor turnover, because the technology drives the style and content rather than instructors controlling the output.

Benefits to instructors
Instructors can easily create their own programming using Target Training to ensure that there is continuity between classes taught by different instructors. Another major benefit for instructors is found in the colorful LEDs of the CXP Target Training Cycle that provide visual cues to participants and instructors relating to effort and progress. The simple color-coded system removes the guesswork of judging the intensity of a class and empowers both riders and instructors with real-time feedback.

Benefits to participants
Perhaps most important, Matrix Training Cycles and Matrix Ride programming provide the results and motivation riders need to stick with the program. That's because Matrix Ride is based on a proven training system rather than an arbitrary combination of exercises.
The Target Training Display of the CXP provides real-time feedback and an immediate sense that the time spent in class is worthwhile. Furthermore, Target Training encourages the development of community, accountability and workout consistency, a major key to participant retention. Best of all, the use of five different metric targets means the class structure can evolve over time, keeping content fresh and engaging.

Support at every stage
The delivery of new cycles is always an exciting prospect. Yet it also needs to be a seamless transition, with old products being removed and new cycles being put into service immediately. What's more, it's important to educate and inform facility staff and potential participants of the value and benefits. Matrix has put together a comprehensive implementation guide and marketing package to help facilities do exactly this.
---
To learn more about the new Training Cycles from Matrix and Matrix Ride programming, visit matrixfitness.com/cxp today.
---
Steve Barrett, director of global group education and training at Matrix
---
This article originally appeared in the October 2018 issue of Athletic Business with the title "Reinventing the Wheel" Athletic Business is a free magazine for professionals in the athletic, fitness and recreation industry. Click here to subscribe.