A Sacramento County Community Breathes New Life into the "Field of Dreams" Concept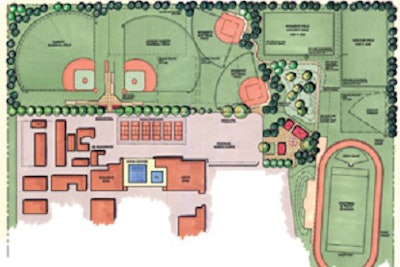 It began as a booster club's fund-raising project to install new seats at Bella Vista High School's Bronco Stadium in Fair Oaks, Calif. But it ballooned into an ongoing seven-year, eight-phase community project. No fewer than four public entities - the Sacramento County Board, the San Juan Unified School District, the Fair Oaks Recreation and Park District and the YMCA of Greater Sacramento - have joined forces with countless parents and private businesses to help develop what has become known locally as the "Field of Dreams."
Proponents say the goal of the as-yet-unfinished project - which upon completion will include upgraded football, track, baseball, softball, soccer, lacrosse, field hockey and swimming facilities - is to create a series of amenities at the school that can be used by the community at large. "I think it's a crime that there are individual parks and recreation facilities, school facilities and other facilities, and none of them are used as often as they could be," says Marlyn Pino-Jones, Bella Vista's second-year principal. "I'm a firm believer in sharing facilities."
And shared these facilities will be, creating one massive athletic and recreation space that Larry Masuoka, chairman of the city's recreation and park district board, says is a first for Sacramento County. "The park district is involved to show the community that we can break down some of the barriers that exist in government," he says. "Average residents don't care about political turf wars. They just want to use the facilities."
The stadium's seats, installed in 1995 as the first phase of the project, were the result of a $250,000 donation from the booster club and $30,000 in contributions from a local construction company. Then came the renovation of an aging swimming pool, a $125,000 project paid for by the YMCA, the recreation and park district and the school district.
Field lighting, a new concessions stand and rest rooms - the most recent improvements to Bronco Stadium - were installed in quick succession in 2001. Plans have already been set in motion to build an all-weather track, add a new soccer field, increase the size of the girls' lacrosse field to accommodate a practice soccer field, install two new softball fields and a baseball field, and eventually expand the school's aquatic center to accommodate a 10-lane, 25-meter pool for conference and league championship meets. The funding for many of those projects is already in place, with financing plans for others well under way. When everything is said and done, the five-acre Field of Dreams project will have cost an estimated $2.24 million - much of it from donations and hotel-tax revenues.
How did a few renovations spiral into an undertaking of such magnitude? "You've got to have a leader from outside the school district, and that's me," says project manager Clay Taft, an independent consultant and the former president of the Bella Vista Bronco Athletic Booster Club. "I've got a lot of passion for this, and a lot of time to do it. The key is making sure everybody has a common vision. I'm just a parent, but I'm the guy who got other parents to help create the vision."
That vision wasn't initially clear. The project's early stages were simply necessary renovations that weren't affixed to any concerted effort - let alone to the ambitious Field of Dreams concept. But then, in 1998, a local soccer organization approached Bella Vista officials and offered to pay for the installation of four soccer fields on school property if the school granted the league exclusive rights to the fields when students weren't using them.
Bella Vista officials balked at the idea, but the concept provided the impetus to develop a facility that would draw users from throughout the county. Taft soon commissioned Fort Worth, Texas-based architect Carter & Burgess' Sacramento office to design new athletic facilities behind the school using existing space. The next step was to come up with creative ways to fund the implementation of that design. Taft brainstormed with other parents and colleagues, including his dentist: Masuoka.
Among the highest priorities was installing lights at Bronco Stadium. When Masuoka caught wind of plans by a local provider of cellular-communications equipment to build new towers on a piece of vacant land, he endeavored to strike a deal. By last April, Bronco Stadium sported four new light poles at each corner of the field (the first football lights in Bella Vista's 40-year history) that also double as cell towers. The $600,000 project was paid for by the tower provider - which also pays Bella Vista $800 a month in rent - and its wireless-service partners.
"In return, the tower company was given full community support for the project, which doesn't always happen when you want to build a cell tower in someone's neighborhood," Masuoka says.
After $125,000 in community and Booster Club donations led to the addition of a heated and air-conditioned concessions stand and permanent rest rooms, Taft began seeking funding sources for an all-weather running track. He put together a proposal to the Sacramento County Board requesting $300,000 in transient-occupancy tax money, a hotel tax typically used to fund community activities and organizations. "It's unusual to use that tax to fund sports facilities at a particular high school," admits Roger Niello, chairman of the county board and the supervisor representing Fair Oaks. "And I personally thought the school might have been asking for a bit too much money. I wasn't sure I would get the support for that from my colleagues. But I aggressively argued for the money in the public session and was successful in convincing the board that this will be money well spent."
The good news is that the board granted the full $300,000 to the school, in part because the booster club was actively soliciting funds (and public support) from other sources. The bad news? The tax money was to be allocated over a two-year period rather than in one lump sum, which would delay the track's completion. That's when the school district stepped in to give organizers an interest-free $150,000 loan. In November, ground was broken for the track, which should be completed early this year. As they have in other construction phases of the project, local businesses and individuals have stepped up to donate time and supplies or offer discounts on materials.
Because the track's surface will include rubber recycled from 8,400 tires, Taft submitted a $100,000 grant proposal to the California Integrated Waste Management Board, which works with local agencies to promote waste-management practices aimed at reducing the amount of waste deposited in landfills. If the grant is approved, the money will replenish the County Board's $300,000 and go toward the new soccer, lacrosse and field hockey fields, also slated for completion this summer.
Taft - whose daughter is a senior on Bella Vista's swim team and whose son, a runner, graduated in 1998 - also plans to find inventive ways to fund the final two phases of the project. Already, local surveyors and architects have agreed to waive their fees (Carter & Burgess is no longer involved) and a web site (www.bvtrack.com/all_weather _track.htm) keeps the community posted on the latest construction updates and fund-raising strategies. Taft has also teamed with Mercy Healthcare Sacramento, which may assist him in writing future grant proposals.
The additional softball and baseball fields are scheduled to be built this summer, while the timeline for completion of the school's swimming facilities remains up in the air. "We just have to take the logical steps that need to be taken. And we have to keep grabbing money and rolling it over," says Taft, who estimates he has spent more than 400 hours on the project since August 2000.
And he and other members of the Fair Oaks community who have devoted themselves to making Bella Vista's Field of Dreams a reality have many more hours to go. Still, they say, the rewards are worth the effort. "It's not like we discovered some magic formula," Masuoka says. "Success just built upon success."