In Cold-Weather Climes, Parks Departments Face an Uphill Battle when Stressing Sledding Safety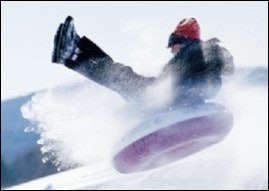 Jill Volkmann never saw it coming. With her inner tube off-course and spinning out of control, the 28-year-old woman slammed back-first into a tree halfway down the popular Currie Park sledding hill in Wauwatosa, Wis. Volkmann, who was making the run with a friend's 8-year-old daughter in her lap, suffered multiple rib and spinal fractures and died of blood loss at a local hospital barely an hour after the accident. The girl - shielded by Volkmann from the tree - survived, although she suffered a concussion and brain swelling.
A full year later, the tragic event remains on the mind of Greg Youngs, deputy director of Milwaukee County Parks. "I just lose sleep over that kind of stuff," he says. "You try to promote parks as being safe places, but when something like that happens… To me, it was personally crushing. It has really bothered me for a long time."
Another thing that bothers Youngs is that Volkmann was sledding on an inner tube, which by design is difficult to control. "I don't think you're ever going to be able to eliminate the use of those cheap sleds that they have nowadays," he says. "I long for the old days when you rode something you could steer. Without that, people get on top of these hills, get other kids to push them over the edge and wherever they go, they go."
That's what happened to Rebecca Taylor just hours before Volkmann's death. While sledding down a hill at another Milwaukee-area park, the 13-year-old's fiberglass, flat-bottom sled strayed off-course and hit a makeshift snow ramp. Although the ramp Taylor encountered was reported to be only 18 inches high, her speed over the ramp was enough to flip her several times before she landed awkwardly and broke her neck. Taylor died two days later.
It's not often two fatalities from sledding occur in the same year, let alone in the same week, but non-fatal injuries are fairly common. The U.S. Consumer Product Safety Commission estimates that hospital emergency rooms, doctor's offices, clinics and ambulatory surgery centers treat approximately 50,000 injuries related to "sleds, toboggans and inflated or plastic tubes and disks used for sledding" each year. And those are just the injuries that are reported. "All sledding accidents that are reported come across my desk," says Youngs. "Honestly, if I get a dozen a year, that's a lot. But I know there are more injuries on these hills than that."
Officials with the American Academy of Orthopaedic Surgeons believe that if sledders simply followed a few rules, most of them could avoid injury. The organization's online brochure is aimed at educating the public about sledding safety (www.aaos .org), with its first recommendation emphasizing the importance of parental supervision for youths age 14 and under, the group believed to be the most often injured. Recreation officials with the city of Romeo, Mich., for example, go so far as to request that parents accompany sledders age 16 and under. "You wouldn't believe the age of kids who come up here by themselves," says Clara Russell, Romeo's recreation director.
Parental supervision can also be helpful in getting children 12 and under to wear helmets, another of the AAOS's recommendations. Youths in this age group are more susceptible to head and neck injuries because they have "proportionately larger heads, higher centers of gravity, weaker necks and lower levels of coordination and muscular strength than older children." A standard cycling helmet will provide ample protection. Even though some youths might scoff at wearing a helmet while sledding, it is nevertheless a precaution Youngs believes is necessary. "The kids should be protected one way or another," he says.
But wearing a helmet will do little good if a sledder is riding improperly. The AAOS suggests a sitting-up position when sledding. "People should ride face forward, not backward, and use something that's steerable," says Youngs, who credits the prevalence of improper riding techniques to the appeal of some of today's more popular sleds. "Inner tubes are great; they really get you going fast and give you a good ride. But you have virtually no control when you're on them."
Since the accident at Currie Park, Milwaukee County Parks - which manages more than 140 parks and parkways - has stepped up efforts to make sledders more aware of the dangers inherent in sledding. Besides publishing a list of safe sledding recommendations in its most recent fall activity guide, the department plans to air a public service announcement on local TV stations this winter.
Keep in mind, though, that no matter how many safety announcements a recreation department makes, none of them can replace the single most important safety aid of all: common sense. "We try to stress to users that they've got to be responsible," says Mike Griggs, parks operations supervisor with the Columbia (Mo.) Parks and Recreation Department. Unfortunately, Griggs has seen what happens when someone doesn't act responsibly. Six years ago, a woman making a nighttime run on one of Columbia's two unlit sledding hills crashed and died from internal injuries.
In the years since the accident, Columbia's recreation department has adamantly enforced daytime-only hours at its sledding hills. "People would go there after work and by then, it'd be dark," says Griggs. "That's when we had most of the injuries. People just couldn't see where they were going."
Day or night, keeping a close watch on public sledding hills can be a daunting task, especially if the hills are near other popular winter recreation attractions such as skating rinks and crosscountry ski trails. At peak hours, hundreds of users can descend upon these areas.
Columbia parks employees patrol that city's two sledding hills once every two hours, and find it difficult given staffing limitations to maintain more order on the hills. "We can check them at 12 o'clock on a Saturday, and at 1 o'clock, kids show up and build a ramp," Griggs says.
Because Romeo's sledding hill is unsupervised, Russell and her staff admittedly have a more difficult time making sure the hill is clear of such dangers. Sledding safety signs posted at the top of Romeo's sledding run prohibit ramp building, but eventually, "it all depends on the kids," says Russell. "They're going to bend the rules as far as they possibly can."
Two years ago, Russell found this to be true at her city's sledding hill when a parking lot was installed at the hill's base, shortening its run by some 200 feet. "Depending on the winter and how good the snow was, you could build up enough momentum and go right into the parking lot," she says. "There was one young boy who actually went right under a car."
To impede future sledders from sliding into the parking lot, straw and snow fencing were placed at the bottom of the run, but some sledders simply converted the straw and fencing into ramps.
Last year, the Romeo recreation department finally decided that no measure would make the hill safe for sledding and closed it for good. Russell had the hill re-landscaped, building a 4-foot-high berm and planting bushes toward the top, moves she hoped would dissuade sledders from attempting to use the run. Instead, the bushes were trampled within a few weeks. "We tried to close the hill, but that was difficult," Russell says of the department's unpopular decision. "I used to sled on it and all of these kids' parents used to sled on it."
Staff with the Winona (Minn.) Parks and Recreation Department found themselves in a similar situation when the addition of several built amenities to a small park - a skating rink, basketball and tennis courts, and a playground - ate into the sledding hill there and eventually rendered it unusable. "We kept it for as long as we could. But the ice skating rink kind of killed things for us," says Winona recreation director Maynard Johnson. "Kids liked to jump the bank that went around the rink. In fact, one kid ended up going on the ice and losing a tooth."
At that point, Winona recreation officials decided to close the sledding hill, which has remained quiet for the past five years. "It's too bad, because kids would come from all over to use this place," says Johnson. "But because of safety, people understood."
The Romeo recreation department, meanwhile, has turned a potential public relations nightmare into a victory. Russell and her staff focused their attention on the sledding hill's south slope, which this past summer was re-graded to create a new and improved run about three times as long and one-and-a-half times as wide as the old one. By design, the run double-dips halfway down, a characteristic that Russell anticipates will have sledders forgetting all about the old hill.
Two subtle features that Russell really likes from a safety standpoint are the run's gradually decreasing slope toward the bottom to slow sledders down ("It's such a long run that there shouldn't be any problems," she says) and its narrow entry point. Only three to five sledders may start at any time on the new run, as opposed to as many as 50 on the old hill, which measured approximately 100 feet across at the top. The run's sides are also lined with snow fencing and hay bales, which are covered with plastic bags to prevent freezing. "Our risk managers aren't crazy about the sledding hill," admits Russell. "But the kids are going to come, so I'm going to make it as safe as possible."