Designing and maintaining a modern soccer complex requires careful planning - and more than a little juggling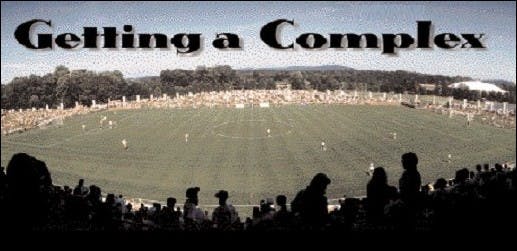 Soccer complexes in the 1990s have become, well, terribly complex. In the first place, many of them aren't just about soccer any longer - they also play host to other field sports, from lacrosse and field hockey to football and track and field. In some cases, what was designed as a soccer facility is also used for marching band camps, grass volleyball tournaments, Ultimate Frisbee, car shows, carnivals or any other kind of event requiring outdoor space and some of the amenities that participants and spectators have come to expect at all recreational facilities.
All these varying uses can present facility managers with a dizzying array of challenges, whether they're trying to design a new soccer complex or maintain an existing one. Meeting those challenges can be tricky, but a little forethought can go a long way toward turning your complex issues into sensible solutions.
If you're starting from scratch, determining the focus and major use of a soccer complex is where planning starts. Assuming for the moment that soccer will be the facility's primary focus, it's safe to say that most complexes will be used for practices, games and tournaments. These multiple uses require the facility design to take into account all of these conditions. Practices will put excessive use on the goal areas. During league play and tournaments, the entire field will endure day after day of constant, brutal punishment. How will you satisfy all these clients, while keeping your fields looking and playing their best? The only way is to plan ahead. You've got to ensure that your complex has a well thought-out, user-friendly design, a coordinated field usage schedule, and the proper equipment and maintenance plan.
Any good facility design begins by using the natural topography of the land to its best advantage. For instance, if lakes, rivers or creeks border or run through the property, the field layouts should be arranged parallel to the water to ensure that water drainage flows toward the sidelines rather than the goals. When you're planning seating, remember that natural or artificial berms and hillsides make nice spectator viewing areas and can reduce construction costs dramatically. In an ideal situation, fields should be laid out running north to south to take advantage of sunlight, but this is not always possible or advisable. Sunlight becomes a more significant factor when it comes to designing a stadium. The main spectator area that also houses the press box and possible camera locations should face east to avoid the late afternoon sun.
Once you've got your terrain scoped out, designing the field is the next major step. Historically, a six- to 12-inch crowned field was the norm. Today, advances in soil enhancement technology have brought a completely flat or slightly crowned field into the realm of possibility. How can you make it happen? Typical soil amendments can include sand, peat moss and calcined clay. All these materials give soil added percolation, heightened moisture retention and increased pore space. Most local soil companies should be able to custom blend a soil mixture that allows for maximum drainage. Once subsurface drainage is maximized, the need for a crowned field is eliminated.
Combined with a high sand-content soil, drain tiles placed in a herringbone pattern will further remove the water from the playing surface. Ultimately, a flat playing surface - the kind coveted by all soccer players - can be attained.
Unfortunately, your beautifully flat soccer fields aren't going to care for themselves. That's your job, and you're going to need the right equipment to do it effectively. Your equipment needs for a large soccer complex begin with a large, heavy-duty, reliable mower. A machine with a 12- to 15-foot mowing swath is ideal, since most of the area to be cut is unobstructed. In addition to a mower, a well-stocked soccer complex also needs an aerifier, a slit-seeder, a fertilizer spreader and a sod cutter. These pieces of equipment will enable the groundskeeper to maintain and repair most normal types of field conditions, from divots and gouges to yellow and bare spots. Nothing is more important than this machinery, and, as such, it should be treated with care. The last thing a groundskeeper needs is for a critical piece of equipment to be sidelined because someone forgot to check the oil, sharpen the blades or grease the fittings. Keeping a maintenance log on equipment repairs, fertilization and chemical schedules is crucial; it also makes good financial sense, enabling you to project costs for the following year.
The ABCs of caring for your natural grass soccer fields begin with a capital "A," for aerification. The importance of regular aerification simply cannot be overstated. Soccer complexes receive heavy use, especially during tournaments. Not only do fields become compacted, but the areas between the fields get abused by spectators and general traffic. Depending on the weather and field usage, core, solid tine or slice aerifying should be done monthly throughout the growing season to aid in supplying air, nutrients and water to the roots.
Speaking of water, let's take a minute to talk about how you're going to keep all that grass watered and healthy. Many facility managers, scared off by steep start-up costs, often strike an irrigation system from a facility design. Without one, however, it is difficult for a groundskeeper to maintain the facility efficiently. The cost of such a system doesn't have to break your budget - it can be reduced if you use a design that utilizes water wheels instead of a fully laid out, gridded system.
The need for field striping equipment varies depending on the number of fields and the amount of staff you have available to stripe them. For a soccer complex of 10 or more fields, aerosol paint cans are more practical than liquid paint. Using aerosol cans to paint the fields takes less time, but you risk overspray problems if it's windy. If you have only a few fields to stripe, liquid paint is the way to go. The results are brighter and the paint tends to last longer. In some cases, a combination of techniques holds the answer - for example, you can use aerosol cans to stripe practice fields and liquid paint for game fields.
Another key element to maintaining a soccer complex involves careful coordination between the groundskeeper and the game/practice scheduler. Obviously, field rotation should be instituted to keep the fields in prime condition. Ideally, at least one of the fields should be taken out of play for three to four months during the growing season. This allows time for the field to rest and the groundskeeper to use his or her expertise to rejuvenate the field for future use. If time is an issue, you can reclaim the goal areas of two fields at once by setting up a field across the middle of both, converting them into a single field.
Because most game activity is focused at the ends of a soccer field, keeping goal areas maintained tends to be a major problem, but it's not an unmanageable one. Ideally, there should be no practice conducted in the goal mouths due to the extensive abuse the turf tends to take. However, at large soccer complexes, a rule like this is nearly impossible to enforce. Soccer complexes that see heavy use may have no alternative but to re-sod the goal-mouth areas every spring or fall. Little steps also help - the addition of grass seed to the goal areas after every practice and game helps keep the turf alive. Use annual ryegrass, as it germinates quickly and is relatively inexpensive. If you're understaffed, recruit some help from the folks who use your field. Have the coaches and players throw down some seed after they practice. Cleat marks help create a good environment for the seed to germinate and grow.
The soccer field may be where most of the important action takes place in a soccer complex, but spectators will flash you a yellow card if you don't carefully consider how you'll lay out the rest of the complex. Permanent structures such as concessions and rest rooms should be centrally located to allow for easy accessibility. During large events it may become necessary to set up mobile or temporary concessions and rest room locations. And don't forget to plan how you'll route the electricity to power them. Numerous electrical outlets should be installed throughout the facility to allow for easy setup of temporary structures.
If the facility features a stadium, it should be centrally located and used as the centerpiece of the complex. Locate maintenance buildings out of the way of main traffic flow to decrease the possibility of someone getting hurt or vandalizing equipment. Provide plenty of parking spaces, and locate parking lots as close as possible to the entrance of the facility to decrease the amount of automobile traffic near pedestrian walkways.
Fields should be laid out no closer to each other than 50 feet, if possible, on all sides. This allows for twelve feet on either side of each field for spectator lines and a 20- to 25-foot walkway/spectator area between. The team benches should be located opposite from the spectator areas. If the fields are set up where the goal lines of two fields are back to back, it is important to install a barrier between the fields to prevent stray blasts from disrupting adjacent games. Mesh fencing that is two to three feet high will stop most grounders or slightly bouncing shots. The fencing itself should run a distance of 30 feet from either side of the goals. And don't just use them for stopping shots - use them to generate a little revenue. These barriers can make ideal backdrops for team signs or paid advertising.
Once upon a time, soccer hovered near the bottom of the athletic department/ intramural priority list, which meant that practices and games were squeezed in during daylight hours, usually on weekday afternoons or Saturday mornings. Nowadays, soccer's popularity has gone prime time, and night games and practices are commonplace - which means there'd better be enough light on the field to accommodate them. The field lighting design of a complex is determined by the primary use of the fields - practices or games. A practice facility requires 35 to 40 horizontal foot-candles per field, while game fields can require as many as 60. Light poles can be placed between fields or on the perimeter. If the lights are on the perimeter, the poles will have to be taller so they project light into the center of the fields. Poles should also be placed at the corners of fields rather than at the side to allow for more backlighting behind the goals. This enables the goalkeeper to have better light to see the ball and also keeps the light poles out of the way. If you are lighting a stadium for local TV or higher-level games, 75 foot-candles is the minimum requirement.
In communities across the country, soccer fields have become gathering places of the '90s, where families and fans can come together to encourage their children, watch their friends or just take in a game. Because of this, everything possible should be done to make the area attractive for the spectators. Little touches like providing a shady area for picnics, playground equipment and plenty of trash and recycling bins can make all the difference in the world. If you can find ways to manage the major facility issues and still pay attention to the details, the goals scored on the field won't be the only ones going into the net - you'll score a few of your own, too.