A new outdoor ice skating facility in northern Indiana takes a Scandinavian turn.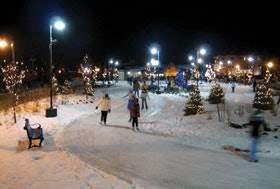 Innovations in recreational ice-skating may be in the midst of a big chill. But in Elkhart, Ind., the confluence of outdoor refrigeration technology, a demand for public skating opportunities, an open-minded rec department and a touch of Nordic inspiration has created a public ice facility believed to be the first of its kind in the United States.
At some point in the mid-1990s, architect Jim Maland, a principal with the St. Paul, Minn.-based firm Bonestroo, was studying refrigeration techniques employed on an ice sheet in Sweden used for the sport of bandy (which resembles field hockey and is played on a rink similar in size to a soccer field). There, Maland noticed something odd - an ice path leading up a hill and through a wooded area, connecting the rink to a locker room building. "I thought to myself, 'What a cool idea to have a refrigerated skating pad leading through the woods,' " recalls Maland. Thus, the key concept behind Elkhart's new NIBCO Water and Ice Park began to crystallize.
Opened in early December, the park features a 14-foot-wide refrigerated ice path that winds through a redesigned city park in Elkhart's downtown. The north end of the modified oval opens up to create a small, more traditional skating area, while dim lighting, creative landscaping and strict prohibitions on organized activities such as hockey make the natural environment the facility's focus.
"This was sort of an attempt to get skating back into the woods," says Maland. "Many of us first learned to skate on ponds and rivers." He suggests the project ties in to recent aquatics industry trends, in which newer facilities feature free-flowing, nature-inspired shapes and contours rather than simply large, rectangular pools.
For officials in Elkhart, undertaking the nontraditional project satisfied two conditions. First, the parks and cultural resources department, at the behest of residents, had for years been investigating the possibility of an outdoor public skating rink. Second, the project's primary donor, the local Martin Foundation, handed over more than $750,000 with the stipulation that the skating facility was to be for passive recreation, not hockey. Says department director Bob Edel, "This design was totally unique. We did look at four or five other facilities, but they were either indoor hockey setups or larger recreational rinks." The city ultimately avoided a bond issue, and chipped in the remainder of the $2.3 million construction cost.
Recreation officials went forward with the plans only after an operational analysis showed some potential for facility-generated revenue. (Says Maland, "Ideally, you can offset some of the significant cost of refrigeration.") Edel says that with the refrigeration capacity to maintain ice in up to 55-degree weather, the city plans to keep skating available in the park from Nov. 1 to the end of March. There is a $1.50 entry fee, and $3 more allows users to rent skates from the department on-site. After some discord, the parks department opted to surround the park with a fence to better control its use.
City officials in Portage, Mich., opened a more traditional outdoor skating rink seven years ago, and have only in the past two years been making enough revenue to nearly offset operational costs. "We're 95 percent self-supporting," Portage Parks and Recreation Department deputy director Barry Bacon says. "I never even thought we could do that, given the track records of most ice rinks." The real money started coming in when the rec department began offering skate rentals. Bacon says attendance shot up dramatically, as up to 60 percent of the park's current users are rental customers.
As is the case with Elkhart's facility, the Portage ice rink is strategically nestled into a downtown commercial corridor. Bacon says the rink attracts recreational skaters and shoppers from as far as two hours away. "We've found that people will enjoy the skating and then go off and enjoy the nearby restaurants and shopping opportunities," Bacon says. "You could say it's Portage's little version of Rockefeller Center."
Likewise, Elkhart's park, which sits at the intersection of two rivers that flow through town, will serve as a centerpiece of the city's Riverwalk corridor, a series of downtown walking paths and parks that have been developed over the past 10 years and that have seduced new retail developments. Before moving forward with the park plan, city officials wanted assurances that the facility could be used year-round - hence the "water" portion of its title.
Though funding was limited, a small spray-pad with a self-activated water feature that feeds off the city's water supply was introduced to the design.
Also included in the design was a building for skate rentals that can be outfitted with a movie screen on its exterior, allowing for potential summer movie series. The 14-foot-wide skate path pad - which Maland says is wide enough to allow side-by-side skaters to be comfortably passed, but narrow enough so it doesn't look like an obnoxious driveway winding through an otherwise scenic city park in the warmer months - can also serve as a support corridor for the city's numerous music and cultural festivals. "You could set up tents on either side, with food and crafts," says Maland. "There is a lot of potential for new revenue streams. It could be a very nice year-round facility."
The combination skate rental and concessions structure is one of three support buildings - the others house rest rooms and refrigeration equipment and an ice resurfacing machine - that are all aesthetically tied together to create a "village center" atmosphere, says Edel. And for several people close to the project, it actually represents a bygone - and consistently colder - time. "When I was a kid, it was so cold that you could just flood the tennis courts and skate all winter long," Edel says. "But we gave up on making ice here about 15 years ago. We would make it, and then we would lose it. It wouldn't hold."
Adds Maland, who's been itching to execute such a plan since his visit to the Swedish bandy rink, "I'm elated. Having an owner that was ready to move ahead on this is so exciting." The architect has since even drawn up models that show the potential for skate paths that are slightly contoured, which he suggests could further simulate a natural environment and add a little excitement to the skating experience.
Portage's Bacon, meanwhile, offers Elkhart Rec officials some sweet parting advice regarding facility-generated revenue: "You have to offer some really high-quality hot cocoa - not that watery hot cocoa."