Despite some operational rough spots, synthetic ice is becoming an increasingly popular choice in recreational skating applications.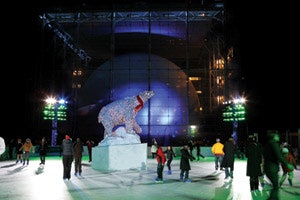 POLAR PLUNGE
Climate change has helped increase the demand for synthetic ice throughout the northern United States and Canada.
A
survey designed to gauge the recreation needs of the residents of Putnam County, W.Va., told county leaders that they needed to provide outdoor ice skating. The county's coffers, meanwhile, suggested otherwise. So, instead of spending potentially hundreds of thousands of dollars to build a new ice rink, they created the best possible approximation of one: a 55-by-42-foot synthetic ice rink.
Putnam County is not alone. With recreation budgets tightening throughout the country, synthetic ice has become a popular alternative to mechanically frozen ice, which requires significant annual expenses for refrigeration and resurfacing. Even community leaders in more northern climes are considering the move to synthetic, as changes in global weather patterns have reduced the amount of time throughout a given year in which outdoor ice is possible.
"The largest number of complaints I get come if our rinks aren't ready on time," Bob Benedetti, mayor of Beaconsfield, Quebec, a Montreal suburb that operates numerous outdoor rinks throughout the winter, recently told
The Vancouver Sun
. "The weather is getting to the point it's becoming very difficult for us to reliably maintain natural ice rinks. Our residents want an outdoor skating experience."
The case for synthetic ice has been bolstered in recent years by improvements in the technology behind the product, giving it glide characteristics closer in performance to natural ice than what was found in synthetic ice of decades past. "The guy doing our skating lessons now was a professional hockey player," says Putnam County's recreation activities coordinator Jim Cumm. "When he first got on to our surface, he said, 'Man, this stuff is a lot better than it used to be.' "
Recreation officials in Killeen, Texas, where the nearest ice rink is more than an hour's drive south, in 2007 invested $80,000 in synthetic ice surfacing, approximately 150 new pairs of rental skates and a skate sharpener (something that is required more frequently with the synthetic surface because it provides significantly more friction to skates than does natural ice). The ice panels were installed in a gymnasium in place of the existing modular flooring panels. And in just a couple months of operation during the early winter season, the city generated $20,000 in revenue from $5 skate rentals and facility rentals for fundraising events and birthday parties, says Megian Douglass, Killeen's recreation superintendent.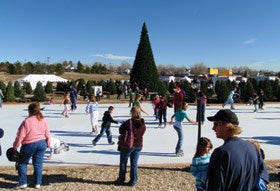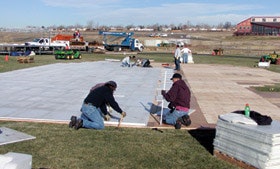 ICE FORMATION
A 4,000-square-foot synthetic ice rink serves as the centerpiece for the annual Winter Fest in Thornton, Colo.
"And we're just now beginning to market it and find the ideal spot for it," says Douglass, adding that the synthetic tiles are covered by a 10-year warranty, which, according to multiple sources, is a fairly standard term for such a product. "No one around us has skating. It's just something fun for people to do in this area, and we are seeing people coming in for it."
Cumm's department spent approximately $55,000 in 2007 on the surface, skates, a sharpener, a support building and outdoor lights. The county has since spent an additional $11,000 to move and expand the rink. Since the surface Putnam chose is solid, oil-based polymer (pure plastic) throughout - as opposed to plastic that is laminated onto another material, such as wood - he believes flipping the tiles over once they show signs of wear will essentially double the warranty-estimated eight-year life of the product.
"We're getting a surface that is virtually maintenance-free compared to ice, which would require a compressor system," says Cumm, adding that familiarizing residents with the facility - and even with recreational ice skating in general - has been one of his department's greatest challenges. "This is not a very popular ice skating area like you would have in Minnesota or North Dakota. It does take some time for it to become popular. But we had five children sign up for our first-ever skating lessons. Those five have already signed up for the next lessons, plus we've picked up about nine more. It is growing."
In Thornton, Colo., the centerpiece of the city's annual Winter Fest event - which features a Santa's Village, craft-making, a food court, an outdoor stage and a 40-foot Christmas tree, among other amenities and activities - is a 4,000-square-foot synthetic ice pond, which set the city back some $35,000. But the city also had to spend approximately $9,000 more to construct a plywood subfloor between the ice panels and the grass, as well as a wooden "boardwalk" around the perimeter of the surface to create a rink-like atmosphere.
Because the plastic used to make synthetic ice can significantly expand or contract based on weather conditions, Thornton parks officials leave a one-inch gap between the ice and the surrounding wood. "One year we installed it a little too tight, and we did have a couple of panels crack in the tongue-and-groove area," says Andy Jennings, the city's parks and forestry manager.
In Putnam County, the parks staff - armed with sledgehammers and blocks of wood - has to check the surface daily in case panels that have expanded need to be hammered back into place, which often can be the case when panels are uncovered and exposed to the elements.
And although they followed the manufacturer's recommendation for creating a wood subfloor to install the surfacing atop county tennis courts, Cumm and his staff would often find gaps in the panels, as weight from skaters would actually move the subflooring. To solve the problem, the county has moved the ice "sheet" to atop a concrete slab in an existing park pavilion. The partially below-grade slab, as well as the roof covering, has done wonders in keeping the panels in place, says Cumm. "We've eliminated the direct sunlight, and we've had hardly any contraction and expansion this year," he says. "Last year, midway through the season, we had to completely remove the surface, readjust the subsurface, lay carpet back down and put the surface back in place - we were basically out four days trying to get that done."
It's also advisable to deal with a manufacturer that has some track record of reliability. "We had a security guard at our event who accidentally drove on the ice and broke several of the panels," says Jennings. "When we went to replace them, the owner of the company told us he'd gone out of business because petroleum prices had gotten too high."
S
ynthetic ice, when used in a seasonal or temporary setting, has handling and storage requirements, such as the need to transport with a forklift palettes loaded with panels. Also, people familiar with skating in controlled rink environments tend to expect certain basic amenities, such as hand-railings and fencing, but dasher boards and other permanent solutions may not be possible when portability is required. For example, says Killeen's Douglass, "It's not really practical for us to install a wall around the rink. We have temporary fencing around the skating area, but that becomes problematic when people think it's permanent - it can come down easily."
In Putnam County, officials learned that residents demanded concessions (Cumm acknowledges that adding a concessions stand has had a noticeable impact on rink-related revenue), and to deter vandalism, the county also felt the need to install a camera monitoring system and protective signage.
These cautionary items aside, those familiar with operating synthetic ice rinks tend to see them as pretty slick substitutes for the real thing. "If you use it like we do, for purely recreational skating," says Jennings, "then I think it's a pretty good alternative to ice."