A New York study claims recycled crumb rubber in synthetic turf poses no threat, but the EPA has yet to weigh in.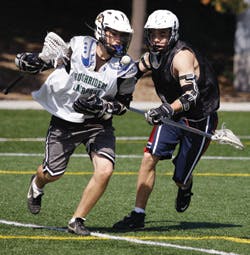 Photo of Lacrosse players chasing the ball on a synthetic turf field
More than a year has passed since the U.S. Consumer Product Safety Commission concluded that athletes are not at risk of suffering health consequences related to lead exposure from pigments used to color synthetic turf fibers. That statement thus assuaged fears of municipalities and school districts, many of which had declared their synthetic fields off-limits, and effectively nipped in the bud a nationwide panic. Nevertheless, turf manufacturers immediately and voluntarily began reducing lead levels in their products to comply with the same strict standards that the Consumer Product Safety Improvement Act of 2008 requires of the toy industry.
In fact, the turf industry has been fighting a two-front battle for more than a year. Still unresolved in the eyes of some observers, the current health issue involves recycled crumb rubber, the most commonly used synthetic turf infill. As many as 25 million used tires are recycled into infill each year, according to the Atlanta-based Synthetic Turf Council, a consortium of industry manufacturers, and the material also serves as a popular playground safety surface. "Rubber tires are made with chemicals that are known carcinogens," Susan Buchanan, an assistant professor of public health at the University of Illinois at Chicago and associate director of the university's Great Lakes Center for Children's Environmental Health, told the Associated Press in May. "The question remains, does that raise the risk for cancer for children? We don't know."
A study jointly released less than two weeks later by the New York State Department of Environmental Conservation and the New York State Department of Health offers some answers. The agencies collected laboratory and field data from a small sampling of fields to "assess the potential impact to both surface and ground waters due to leaching of chemicals, assess potential public health impact from air release of chemicals and evaluate surface temperature and indicators of heat stress." The findings conclude that the "crumb rubber material used in synthetic turf fields poses no significant environmental threat to air or water quality and poses no significant health concerns."
Past studies performed by government agencies in other states have been less conclusive but similarly favorable. "Insufficient information was found to perform a complete formal exposure assessment/risk characterization on crumb rubber for the stated outdoor use at this time," declared a 2007 report prepared by the New Jersey Department of Environmental Protection's Division of Science, Research and Technology. It added that, outside of potential reactions from individuals with allergies to latex, rubber and related products, "there was no obvious toxicological concern raised that crumb rubber in its intended outdoor use on playgrounds and playing fields would cause adverse health effects in the normal population." Another study that year, by the Connecticut Department of Public Health's Environmental & Occupational Health Assessment Program, yielded comparable results.
Still, the Environmental Protection Agency, which does not classify scrap tires as a hazardous waste, recommended in a January 2008 internal memo that the organization take a neutral stance on the issue. The EPA, however, is now conducting a small study of its own in order to determine if the issue warrants greater analysis. Earlier this year, agency officials collected air samples from five synthetic turf sites with rubber infill to determine whether the crumb material is emitting toxins (blade samples also were being evaluated). Results of that small study were expected by summer's end, according to EPA spokesperson Dale Kemery, but "they are not going to provide the definitive answer," he says.
Synthetic Turf Council president Rick Doyle insists that enough data already exists to provide a definitive answer. "The science is clear," he says, adding that he would welcome a statement to that effect from the EPA. "The questions have been asked and answered many times," Doyle says. "We're a little concerned about ideology subverting evidence."
Regardless of what the data shows, industry veterans are aware that the attention paid to synthetic turf's environmental impact may make facility operators leery of crumb rubber infill, also known as styrene butadiene rubber (SBR). As a result, several manufacturers have created a variety of environmentally friendly alternatives (and there are, of course, some turf systems that require no infill).
Among the more traditional alternative-infill offerings are ethylene propylene diene monomer (EPDM), a vulcanized synthetic rubber, and recyclable (but not recycled) non-vulcanized thermoplastic elastomer (TPE). Both are odor-free, high-density materials available in multiple colors. EPDM granules also often contain chalk, processing oils, UV stabilizers, antioxidants, pigments and vulcanization materials. TPE, on the other hand, boasts the fabrication characteristics of conventional thermoplastic (such as polypropylene and polyethylene) and the performance properties of thermoset rubber.
Other toxin-free alternative infills include:
Elastomer-coated sand, which reduces field temperatures and limits/inhibits infill kick-out.
A combination of coconut fiber and cork that is organic and recyclable, and also absorbs humidity.
A blend of organic and inorganic compounds covered with an antimicrobial agent that protects against bacteria, fungi and mold.
While it's difficult to pinpoint the market share for each of these alternatives, their manufacturers claim that they provide playing characteristics comparable to or better than traditional SBR. "I can't project what the market impact will be, but it's an option," Doyle says of these types of materials. "And that's important for those who want to consider something other than crumb rubber, for whatever reason."