Aligning itself with policies already in place in New York City, New York state parks, beaches and playgrounds went smoke-free in April.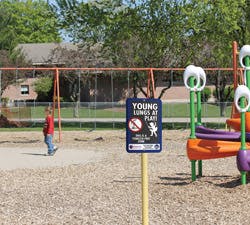 While only three states have enacted legislation limiting smoking in parks - Maine's state park common areas went smoke-free in 2009, and a February decision by Oklahoma banned smoking at all government properties, including parks - the issue is picking up heat on the local level.
More than 600 communities across the country have enacted full smoking bans in parks, according to the Americans for Nonsmokers' Rights Association, with countless more communities limiting smoking to designated areas. The rise in outdoor smoking bans comes in conjunction with an increasing amount of scientific data pointing to the dangers of outdoor secondhand smoke exposure, as well as the movement for improved public health, especially where youths are concerned.
"Some of the discussion to date pertains to the appropriate role for government, why we would introduce more regulations that we can't enforce and why we should regulate otherwise legally permissible behavior," says Vancouver-Clark (Wash.) Parks and Recreation director Pete Mayer, commenting on the Parks and Recreation Advisory Commission's recent recommendation to include a mandatory smoking ban in Clark County's updated parks code. Seven years ago, the county and city instituted voluntary smoking bans, but the commission believes it's time to take those bans further. "In that period of time," says Mayer, "there has been more development of smoking rules throughout the state, as well as more public awareness. It's a burgeoning area of public policy."
While many smokers feel the risks of secondhand smoke in outdoor areas are not great enough to warrant an infringement on their freedom, an increasing body of research shows that even in an outdoor environment, secondhand smoke remains concentrated enough to impact bystanders within a few feet, posing risks comparable to those in an indoor environment.
"Many people are not aware of the fact that there is harm associated with tobacco smoke in outdoor spaces," says Anne Lail, program coordinator for Young Lungs at Play, a statewide program that targets tobacco use at public parks and play areas in Pennsylvania. "The U.S. Surgeon General issued a report that states there is no safe level of exposure to tobacco smoke."
Based on a program started in Richmond County, N.Y., that has since been replicated in other states and counties, Pennsylvania's Young Lungs at Play was implemented in June 2010 to educate community leaders about the risks of tobacco use in parks and playground areas and to encourage municipalities and organizations to go tobacco-free. Since its debut, the program has been responsible for smoking bans in 250 communities and organizations across Pennsylvania, and in May it was honored for its work with a Public Policy Award from the National Association of Chronic Disease Directors. "Children model their behavior on the adults in their lives," says Lail. "If they see adults using tobacco in family-friendly areas, the message to them is that it's okay."
The issue extends beyond health. While ideally discarded in designated areas, the reality is that cigarette butts are among the world's most common pieces of litter. "We've been really focused on the health effects, but we've also acknowledged the maintenance issue of cigarette butts," says Mayer. "We've had some recent large volunteer events, one of which incorporated a competition for collecting cigarette butts in our city parks. Literally pounds and pounds were collected. Ziploc bags have been proffered as exhibits to the city council."
Of even greater concern than park beauty and maintenance are the environmental risks posed by the litter. "If the filter is doing its job and trapping toxic chemicals, when you dispose of your filter on the ground, you're depositing toxic chemicals that can pollute the water," says Lail, also noting the hazards the chemicals pose to curious children or hungry animals. And discarded lit cigarettes can have even more catastrophic consequences - in 2007, a lit cigarette was found to be responsible for a two-day fire that destroyed more than 800 acres of a Los Angeles park. In the wake of last year's widespread drought, Houston and various Southwest communities temporarily banned smoking (as well as other open-flame sources) in parks.
While recognizing the myriad benefits of a smoking ban, many communities remain reluctant to enact legislation. Despite the voluntary smoking ban already in place, as well as the Vancouver City Council's December decision to enact a mandatory ban, the Board of Clark County Commissioners has resisted the recommendation to make the ban mandatory in regional parks. "Some of the concerns are about forcing people to get in their car and leave the park," says Mayer. "There's no place to conveniently or safely go and partake and come back in." As a compromise, the recreation commission suggested creating smoking zones within the parks. "Essentially, our recommendation will be a full tobacco ban in our neighborhood and community parks, as well as our regional parks, unless otherwise designated," Mayer says.
"We allow each municipality to determine the terms of the ban," says Lail of the Pennsylvania program, which also offers resources and templates for communities seeking to implement a ban. "Some communities might want to phase in their tobacco restrictions. We give them the opportunity to designate certain park areas as tobacco-free."
As for enforcement, Lail adds, "Many communities simply state that they will monitor the tobacco-free area, and if they find any person in violation of the policy or ordinance, they'll ask him or her to extinguish or leave the area."
By incorporating a ban into the city's parks code, the Vancouver-Clark Parks and Recreation Department assumed the power to impose consequences, some of which county board members consider overly harsh. "It falls under standard penalties as any violation of park code - littering, driving where you're not supposed to, or having a fire in a non-designated area," Mayer says. "In the rare case that someone would be cited, any violation is considered a misdemeanor, with a maximum fine of $1,000 or 90 days in jail."
But Mayer emphasizes that citation cases are indeed rare and that a ban is more about empowering park users than imposing consequences. "We don't have a smoking Gestapo," says Mayer. "The purpose behind it is to provide another tool to park users, to be able to point to the sign or be able to talk with their neighbors about enjoying the park experience without secondhand smoke."
Recognizing how much power signs can have, the Young Lungs at Play program provides all participating communities with signs at no cost. "The signs are not confrontational and help promote the policy," says Lail. "They help to create awareness but they also help to enforce a policy; if you're a parent on a playground and you see someone smoking, you can point to the sign and say, 'Were you aware of the policy?' "
Ultimately, the decision to enact a smoking ban should be based on the input of those who will benefit most from it. "We've had extensive public outreach on this issue, and a fair amount of feedback from sports participants," says Mayer. "Many park experiences have been diminished as a result of secondhand smoke. Some of our more recent complaints in the county system have been around ball fields."
Lail reemphasizes the importance of input from one of a park's primary user groups - kids. "When I make a presentation to a municipality, I like to bring youths with me. It's very important to see it from their perspective, to hear a young person say, 'I play baseball, and I don't like it when I'm out there on the field and there are people smoking.' "
Parks are, after all, a place for activity. How much tobacco use interferes with that activity may represent the bottom line in any smoking ban decision. "We've been mainly focused on whether it is consistent with our mission as a parks and recreation commission, and I believe it is," says Mayer. "This is really about reinforcing public policy, modeling behavior that is consistent with good health and respecting the space of fellow park users."