David Mellor had just mowed a giant star pattern into the outfield grass and four more smaller versions on the infield turf in anticipation of the 2000 Triple-A All-Star Game in Rochester, N.Y. — much to the amazement of officials from the host Rochester Red Wings. They asked Mellor, who at the time served on the grounds crew of the Milwaukee Brewers and had been retained by Rochester as a consultant, if he could somehow incorporate stars on the infield clay, as well.
Mellor had seen other groundskeepers lay carpet near the leadoff area at first base prior to the pregame watering of their infields in order to keep that part of the infield relatively dry and base-runner footing stable. He thought the resulting contrast in clay tonality — dark where wet, light where dry — could be replicated easily enough. "I just thought, 'Hey, if you have some cardboard, we can cut out some different sized stars to do the same thing," recalls Mellor, now with the Boston Red Sox. "We just watered over the top of them and removed them, leaving the star outline below."
Mellor created star patterns varying in size from a foot and a half to three feet wide out of corrugated boxes the Red Wings had lying around. The team effort between Mellor and Rochester grounds staff of lightly watering over the cutouts, then lifting and relocating them, left a dozen stars scattered all the way from first to third. Granted, the infield design didn't have the staying power of Mellor's turf work, as infields dry and get dragged during the course of a game. But the extra effort to adorn the diamond left its mark in the minds of game attendees. "Safety and playability are our first priority," Mellor says. "But you have one opportunity to make a first impression — whether it's somebody walking to their seats or turning on the TV."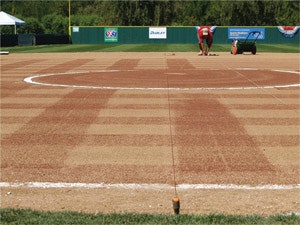 COLOR MAN
First impressions are a top priority for Mike Hebrard, owner of Athletic Field Design in Clackamas, Ore. On several occasions in recent years, Hebrard turned infield dirt into fine art, with softball diamonds providing the largest canvas for his creations.
To simulate the kind of checkerboard patterning one often sees on freshly mowed infield grass, Hebrard marks a softball infield with straight-line strings four feet apart, then applies a two-foot-wide swath of an alternate-colored infield conditioner (typically calcined clay) with a drop spreader, walking backwards as he goes to cover his tracks (not to mention the product drops faster).
He has created more time-consuming diamond patterns after first plotting out small directional color cues in the clay, as well as quicker bull's-eye patterns after mounting on his spreader a three-foot-long pipe extension that scores into the clay the inside edge of the next ring as the current ring is being applied. (The first ring requires measuring and scoring by hand an eight-foot circle around the pitcher's mound.) A circle can be drawn around the mound and a star inserted within, using different colored conditioners to create the desired contrast. Common available colors include brown, gray, red and dark red.
Hebrard admits that "you do build up a little bit of product" and that the amounts of conditioner applied to an infield should be tempered accordingly. That said, after dressing up dirt at the youth softball level some 20 times over the past three years, Hebrard says he has not received a single negative comment regarding an infield's playability. Moreover, this fall he was introduced to a three-foot-wide drop spreader equipped with a divider inside its hopper, allowing equal amounts of different-colored conditioner products to be applied to the field simultaneously, thus eliminating any concern of uneven buildup caused by striping in only one color over a lighter-colored base.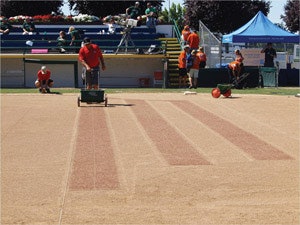 LASTING IMPRESSIONS
The clay on baseball diamonds, with their grass infields, can be dressed up by making the mound and batter's boxes all one color, or by coloring the pie shape created in front of home plate by the turf's arc and the baselines.
But a softball diamond is the medium on which Hebrard excels. His checkerboard work at the 2012 Little League Softball World Series in Portland wowed ESPN2 audiences and ultimately won Field of the Year honors from the Sports Turf Managers Association.
But is this a practical field maintenance approach for the typical recreation department or high school? "For a big game — an all-star game or a tournament championship game, I think it can go pretty quick, depending on your crew," says Hebrard, who has employed as many as four crew members with drop spreaders at once, crisscrossing each other "like bees." The more help, the more accuracy in the design — particularly one as complex as a checkerboard. Conversely, Hebrard says he can complete a bull's-eye pattern by himself in roughly 20 minutes.
"It's a little mundane just to have a dirt infield out there for softball," Hebrard says, in justifying his efforts. "You only have that one first impression. But when you do things like this, people remember it."
---
Centerfield Solidarity

In the aftermath of 9/11, American flags were everywhere. They were stuck in people's lawns and lapels and a staple of cable news screens. Then there were the stars and stripes that spanned the power alleys of Boston's Fenway Park, burnished into the centerfield turf by groundskeeper David Mellor. Marked with line string and triple measured, the green representation of the red, white and blue took on greater significance than would a normal turf pattern for Mellor, one of the true pioneer pattern-makers in the turf management business. "I was very sensitive with what was going on in the United States at the time," Mellor recalls. "We did not want to do anything that someone could find offensive. And so we measured everything out to scale and wanted to be very respectful, to honor America."
This past April, terrorism struck even closer to home for Mellor when planted bombs ravaged the Boston Marathon. "That was a horrific moment in Boston history, but many people rose to overcome adversity and become stronger, and one of the symbols of that — 'B Strong' with a Red Sox 'B' — became visible throughout New England and at Red Sox games," says Mellor, who by the time the 2013 postseason rolled around was asking his superiors what patterns they would like to see at Fenway, thinking perhaps the standard hanging socks logo near home plate. "They asked if we could do the 'B Strong' logo. I had never done something that involved before. It certainly sounded like an exciting challenge, and one that we'd certainly like to try."
Certainly, no one would question why Mellor or the Red Sox would attempt such a pattern. The more pragmatic question: How did they get it done? It started with mowing the turf in one direction, outward toward the outfield wall. For the first time in his career, Mellor employed the type of turf stencil normally used to paint football end zones — a 120-foot-wide guide with perforations every few feet. He set an irrigation flag in each perforation, then carefully removed the stencil, leaving the outline for his lettering. He then employed walk-behind reel mowers, a 75-pound linoleum roller measuring 18 inches wide and water pressure to etch in the design — his crew picking up its feet "like a marching band" as it always does so as to not disturb the purposefully bent grass blades.
To preserve such a logo longer in the face of daily mowing, Mellor only mows in one direction across what he calls the "horizon" — first base to third base, foul pole to foul pole — then mowing in the opposite direction the next day. This allows a logo to stand up to views from home plate and center field for days at a time.
The memory of the effort, and what it meant in its own small way to Boston's recovery, has lasted much longer.
"I was very honored and humbled," Mellor says. "It really gives me chills even now to think about participating in putting the 'B Strong' logo out there with my coworkers." — P.S.
---
This article originally appeared in the January 2014 issue of Athletic Business under the headline, "Dressing Up Dirt."