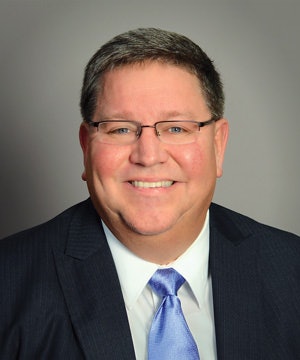 Tim O'Connell grew up the son of a Cincinnati Reds season-ticket holder, following the Hall of Fame careers of Bench, Morgan and Perez (not to mention a guy named Rose) at Riverfront Stadium. Within six years of the 1976 World Series, the second of two straight championships won by that Big Red Machine, O'Connell was working for the organization, rising to director of stadium operations just two years later. Following the MLB players' strike of 1994, O'Connell headed to the University of Dayton, where he oversaw $40 million in athletics facilities improvements during a 19-year stay at the school (though he continued to commute from Cincinnati). This fall, O'Connell returned to the Reds as vice president of ballpark operations. Senior editor Paul Steinbach asked O'Connell to share the backstory of his homecoming.
Q: Why leave the Reds in the first place?
A: Two things occurred: The uncertainty of what was going to happen post-strike, but also Dayton had some needs in terms of the overall management of the 14,000-seat UD Arena. And they were in a period of — I'm going to call it almost like a renaissance. Being able to go somewhere and be at the forefront of change and betterment was very exciting to me. I'd done the stadium-operations thing for 12 years. I was at the peak of my stadium-operations career, and I was a whopping 33 years old. I said, "I need to do something else."
Q: Your fingerprints are on at least nine Dayton improvement projects. Did you expect to do that much in 19 years?
A: It's funny, because I had built nothing in my life. I had problems remodeling portions of my house. So when they came to me and said, "You're going to become a project manager," I was like, "Okay, great. What's that mean?" My first project was a 32,000-square-foot, $5 million expansion to the arena, and that 32,000 square feet cost the same to build as the entire arena did some 35 years earlier. But that was my first project, and I put my hardhat away and thought, "Well, that was a great experience." And then they just kept coming. That was one of the things that really showed the progressiveness of UD athletics, the vision that the university had for its athletics program and what it could do for the UD brand nationally.
Q: How does a novice get his feet wet?
A: We went around to the Midwest and we picked out the people who we thought would have desirable facilities to really look at and benchmark off of. Before we built Time Warner Cable Stadium [baseball] we visited Ohio State, but the one at Miami University down in Oxford really resonated because of the real rich brick look that you can find throughout, which is a standard at the University of Dayton. So that facility took on that type of look. We have a true wood outfield wall. The maintenance people hated it, because they had to keep replacing the boards.
Q: What then brought you back to the Reds, who had already moved into Great American Ballpark since you left?
A: The job is different. My first time with the Reds, there was absolutely no building side of it; it was all event-related. Now, it's not only the operational side, it's the building side, which is what I've come to truly enjoy. I've been here a month, and I found out there's always something going on in terms of making this facility better.
Q: What are the biggest differences between the two Reds venues you've worked in?
A: Riverfront Stadium was very cold; it was painted battleship gray. In the '60s and '70s, fan amenities were really not thought of. It was more about efficiency, and in my opinion, efficiency of building. How can we get the best bang for our buck? There's that cookie-cutter stadium that has some great memories for this city, but then you go into Great American Ballpark, which is a baseball ballpark. That's why it's not called a stadium. Baseball is played in a ballpark. It was built for the site, it was built for the Reds, and it is a very open facility. It's very bright, painted white, and has a lot of fan amenities, a lot of open space on the concourse, a lot of great seats in kind of a horseshoe-type of configuration.
Q: Anything about Great American Ballpark you would change?
A: It's only 10 years old. But what's great about it is, it gives us a lot of flexibility in terms of being able to look at things differently and change out certain areas from what was of interest 10 years ago to something of interest today. For example, there was some space used for gathering areas out in right field behind the seating section — and this is before my time — and they turned it into a fan zone, where kids can go and play on a miniature field and speed pitch and all that kind of fun stuff that kids want to do now. When I was a kid, you went to the ballpark and you sat on your hands and watched baseball. Baseball is still the focus, and that's why people come, but people want to feel that they're getting value for the dollar.
Q: Any difference between the security concerns at an indoor arena compared to a larger, open-air stadium?
A: The biggest challenge that you have outdoors compared to indoors is weather. If you're inside an arena and it starts lightning, it doesn't have the impact that it does if you're outdoors.
Q: What has changed from a security standpoint since you were last with the Reds?
A: I was joking with a colleague recently about the old days, when all we had to do was make sure people weren't bringing alcohol into the ticketed areas. And now we fast-forward 20 years, and we very likely will see Major League Baseball using metal detectors for fans as a pre-entrance requirement this season. The environment has changed, and it changed vastly after 9/11. That opened up everyone's eyes in this business to the possibilities. Whenever you put a large number of people in a confined space, it's risky business. You're a target. It could be a 500-seat facility or a 100,000-seat facility, the concepts are the same, the concerns are the same, the same trainings are used.
---
This article originally appeared in the January 2014 issue of Athletic Business under the headline, "A Return to the Reds for Facilities Operations Exec."