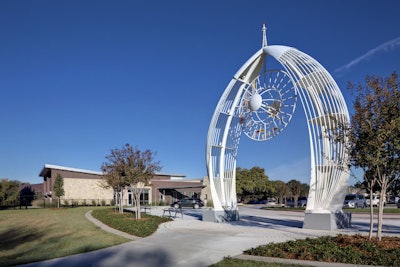 Back in the 1960s, a piece of playground equipment dubbed the "Rocket" was erected at  Heights Park in Richardson, Texas. The sleek and towering replica of a rocket — with four levels of steel bars punctuated with a bright red nosecone, fins and a slide — reflected the spirit of technology and space exploration that helped define Richardson in that era. The city is home to Texas Instruments and birthplace of the silicon transistor and the integrated circuit.
City officials removed the original piece of playground equipment in 2008, citing safety concerns. But five years later, in 2013, they relaunched the "Rocket" at the entrance to the park that, according to a nearby sign, "pays tribute to that progressive spirit by playfully reimagining the rocket as a gateway" to the park and a physical link to the adjacent Heights Recreation Center.
The three-dimensional sculpture, created by Jeff Laramore, replicates the original "Rocket" as closely as possible. Spacecraft shapes flank both sides of the gateway, embellished with a ringed planet in the center to symbolize the city's ongoing technological heritage.
I was on the taskforce that oversaw renovation of the Heights Park playground, and the "Rocket" project took a considerable amount of time and cooperation from several entities to reach completion. But its impact as a local icon should not be overlooked. Just one year after its unveiling, when editors of The Dallas Morning News asked readers on social media which landmark or place most comes to mind when they think of Richardson, the old rocket received the most votes. The "Rocket" sculpture became the identifying image for DallasNews.com's Richardson Insiders blog.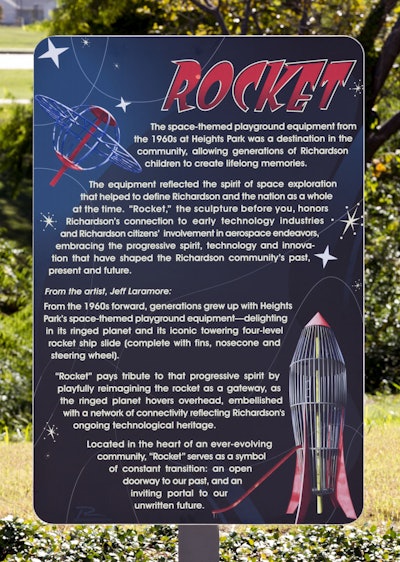 "Art allows people to feel connected in new ways," says Meridith McKinley, a partner with Via Partnership, a consulting group based in St. Louis and New York that develops comprehensive public art strategies and facilitates public art projects. "Art is one way — along with great architecture and landscape design — to give greater authenticity to a place."
Whether it be a sculpture, a mural, an integrated element of the overall project, or something more abstract, art reinforces a community's identity and reflects the nature of the spaces surrounding it. That's why a municipal recreation center or a public park is an ideal location for an installation that reflects the playful spirit of active spaces while also bringing to them new dimension and context.
What's more, it is in those places that local governments can touch the most people — engaging them with art in spaces where they already are, instead of requiring them to travel outside of their normal routine or pay to visit a museum or gallery. It also allows art to be interacted with more intimately and on the observer's timeline, as opposed to the fleeting experience with which many people consume public art.
In addition to the Richardson project, BSW and Via Partnership were involved in the Central Park Public Art Plan in Grand Prairie, Texas. This project included commissioning works for two of the park's many activity zones: a 25-foot-tall stainless steel willow tree designed by Cao Perrot with 80,000 shimmering mother of pearl leaves built on a foundation in a park lake and visible from The Summit — a recreation center designed for active adults age 50 and over. Inside The Summit, five aluminum mobiles hang in the central lobby to create a flowing and welcoming environment.
That said, the impact of a public art installation remains difficult to measure, and that intangibility can become a point of contention among project planners — some of whom might not understand the justification for an art piece in the first place. The key, McKinley says, is to ensure everyone involved understands the significance of and motivation behind the art installation.
Here are five steps to make sure your project's public art piece is part of the process and not merely an afterthought.
1.Budget for the piece of art
In public projects, this typically equates to between 0.5 percent and 2 percent of a project's entire budget, according to McKinley. Anything less than 0.5 percent will likely compromise the quality of the art and minimize its significance.
2. Determine the best location
What goals do you hope to achieve with a public art installation? The public dialogue should begin with this question, McKinley says, and the answer should help determine the location, artistic approach and budget for the project.
3. Engage a broad group of stakeholders
These individuals can include professionals from the local arts community, as well as other people with knowledge of and experience with the site and the audience for the artwork. They can help planners further refine goals and develop strategies — including participating in artist selection and review of the art concept.
4. Choose an artist
Some communities place an open call to all artists interested in submitting ideas, while others choose to invite a short list to submit qualifications or credentials. Regardless of which option you choose, it's critical to evaluate artists' bodies of work and their previous experience. Your group of stakeholders can provide invaluable insight during this process, which eventually will lead to a single artist or a short list of artists who, McKinley says, should be offered a design fee in exchange for their concept.
5. Don't forget about upkeep
In addition to providing the designated piece of art, the chosen artist also should be asked to submit a maintenance plan to the entity overseeing the property on which the art resides. Funds to maintain and repair the installation should be part of the facility's annual budget, according to McKinley. "Your job isn't done once the installation is complete," she says. "A piece of art that's badly damaged is worse than having no art at all, because it reflects really poorly on the community."
It's no wonder that parks and recreation centers are two of the primary locations where municipalities are focusing their interest in public art. "Those projects," McKinley says, "can emerge as public icons for their neighborhoods."