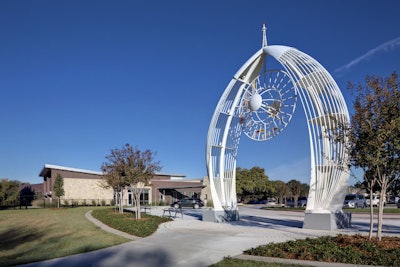 Back in the 1960s, a piece of playground equipment dubbed the "Rocket" was erected at Heights Park in Richardson, Texas. The sleek and towering replica of a rocket — with four levels of steel bars punctuated with a bright red nosecone, fins and a slide — reflected the spirit of technology and space exploration that helped define Richardson in that era. The city is home to Texas Instruments and birthplace of the silicon transistor and the integrated circuit.
City officials removed the original piece of playground equipment in 2008, citing safety concerns. But five years later, in 2013, they relaunched the "Rocket" at the entrance to the park that, according to a nearby sign, "pays tribute to that progressive spirit by playfully reimagining the rocket as a gateway" to the park and a physical link to the adjacent Heights Recreation Center.
The three-dimensional sculpture, created by Jeff Laramore, replicates the original "Rocket" as closely as possible. Spacecraft shapes flank both sides of the gateway, embellished with a ringed planet in the center to symbolize the city's ongoing technological heritage.
Log in to view the full article