Sanjay Patel was on a trip to London when he noticed something unusual. There were kids on the train, and they were wearing soccer gear.
"It was clear that they were using the transit system as their mode of transportation to get to and from soccer programs," says Patel, director of strategic projects with Atlanta's not-for-profit Soccer in the Streets, founded in 1989 with the goal of developing young leaders and cultivating healthy communities through soccer programming. "I'd really been thinking about that given that I'd been using the train system here in Atlanta, and the biggest thing I was noticing was all these unused spaces at train stations."
The result, thus far, is a world first: two soccer facilities right on premises with Metropolitan Atlanta Rapid Transit Authority (MARTA) stations. And there are more to come. Patel says the plan is to build 10 such facilities throughout the city.
"Why not build a league of stations, a network of these facilities?" thought Patel. "Transit would be the glue. We could use soccer to provide not only soccer programming, but development, with the end-goal of employability."
MARTA's Five Points and West End stations are each home to a StationSoccer facility, which came into being with the help of corporate partners such as FieldTurf, Musco Lighting and Atlanta United — the city's new MLS franchise.
The Soccer in the Streets vision of investing long-term in these communities was what drew Musco Lighting to participate, according to southeast regional sales manager Mike Limpach. "It's one thing to have a lot of interest, throw a lot of money at [a project] and build it," Limpach says. "The theory is if you build it, they'll come. Well, they may come once, but if you program it, if you invest in the community, they'll come back."
Co-locating a soccer field within existing transit infrastructure creates incredible challenges. The Five Points pitch literally sits on the rooftop of the MARTA station, and the West End facility has two fields on either side of a train track. There are also neighborhood considerations that don't necessarily exist when the field is confined within a public park or a high school campus.

"All of these StationSoccer projects are facilities that are going to be in communities. They're literally next to neighborhoods, so developing a lighting solution that MARTA would accept" was another unique challenge, Limpach says.
That said, the facilities quickly made an impression on community members.
"The communities were at first taken aback," says Patel. "The partners have not only been mission-driven, they're all providing really top-quality products here. If you were to look at the fields as the hardware, and the programs as the software, just from a hardware standpoint, you're talking about some of the best-quality products out there, and these communities have been blown away by the offering of not only the field, but the programs, which are then free."
The effort required building buy-in not just among corporate partners, but with public agencies. To get StationSoccer off the ground, Patel had to convince Atlanta's transit authority to try something that had never been done before. "It took some hand-holding, but eventually they let us do that pilot project at Five Points, and we haven't looked back," he says.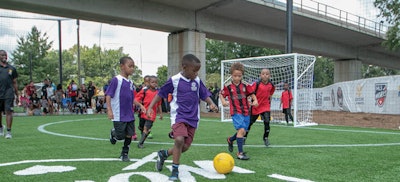 The synergy between his non-profit, the public agencies and the private enterprises has been one of the unexpected joys of working on the StationSoccer project for Patel. "Our visions aligned as far as community engagement programming and processes, and then the fact that we were able to collaborate with MARTA and the City of Atlanta, the planning and design team, that was just something that really doesn't happen," he says. "I think that was one of the best things that I saw coming out of this, outside of all the other things on the ground and in the community, the collaborative process that happened to make this really work.
"I hope this is a call to action to folks within public agencies and private enterprise to kind of help motivate other non-profits and other cities to work together."
According to Patel, within the first 24 hours of the West End station's opening, more than 100 local kids signed up to participate in Soccer in the Streets programming. The effort has been so successful that it's become a jumping-off point for even more social-impact community programming.
"We've got local partners around these stations that want to be involved with the kids," Patel says. "The local banks want to offer a financial literacy program. We're now looking into the addition of community gardens and healthful food, things like that. It's just taking off where it's becoming more than the soccer programs, and now we're talking about social impact and employability."
Cities around the country are taking note. Patel has answered questions from those interested in replicating the success elsewhere, all the while keeping the ongoing success of Soccer in the Streets the top priority of his team in Atlanta.
"We're totally focused on the project at hand," he says. "It could be translated into something that's replicable nationally, but right now we've got a tight project focus and we want to really deliver."
---
This article originally appeared in the May 2019 issue of Athletic Business with the title "StationSoccer brings programming & possibilities to Atlanta communities." Athletic Business is a free magazine for professionals in the athletic, fitness and recreation industry. Click here to subscribe.