There's a reason municipal baseball fields don't look anything like they did 50 years ago. Several reasons, actually. And the same goes for the diamonds on most high school and college campuses. Dimensions of the game played at its various levels haven't changed much over the years, but the game's surroundings sure have.
Today's baseball and softball facilities are increasingly accessorized with products that bring a big-league feel to even the tiniest details — right down to the specialized infield "dirt" a diamond uses, if it still uses dirt at all.
Here's a trip around — and mostly outside — the bases for a look at how the modern ball field has evolved not only aesthetically, but in terms of player and spectator safety, as well.


Fencing
Perhaps in no other organized sport is fencing as integral to the ground rules of the game as baseball and softball, with play in the form of batted balls and errant throws often transcending a field's fair territory. The essential fencing of nearly any diamond is its backstop, curtailing passed balls and pop fouls from its position behind home plate. From there fencing may extend to and in front of team benches or dugouts on opposite sides of the field. Fencing may completely surround the baselines and outfield, and on most levels of organized play, it does.
But there's more to the common chain-link fence than meets the eye. The mesh "fabric" — as it's called — may contain both knuckles and barbs. Knuckled chain link features metal wire that has been folded over to form a relatively smooth edge along the length of the fence. A barbed edge exhibits the Y-shaped intersections of wire that have been clipped without being folder over. It is these edges that can pose safety hazards, and often a fence is delivered with both types of edge.
As a Sports Turf Managers Association past president, Jimmy Simpson has observed countless facilities and their minute details during his extensive travels. "One of the things I see when looking at other fields is that sometimes instead of doing knuckles on the top and bottom of the fence, people will throw those barbs down at the bottom, and not think anything about it," says Simpson, who oversees more than 40 fields, including USA Baseball facilities, for the town of Cary, N.C. "Players will reach for a baseball that's stuck right on the fence, and their fingers could get caught in that barb. I've seen a lot of people trending away from that, which is really a good thing. People are doing knuckles on both sides now. It costs a little bit more, but you can do it."
To address player safety at the top of the fence, an increasing number of municipal, high school and collegiate ball diamonds are employing fence caps. These vary in sophistication from corrugated plastic tubes that are single-slit to fit over chain link, to rectangular box-shaped plastic caps, to actual padding. Regardless, their typical bright-yellow presence (which may encircle the entire field, save for the fence tops that are out of human reach) can add visual appeal and enhanced safety to diamonds at all levels of competition.
Also helping dress up standard chain-link fence are windscreens. Though protection from the elements afforded by windscreens doesn't impact baseball and softball to the extent it facilitates the playing of tennis, their use can serve to make Little League fences seem more like Major League walls, or to help brand a high school — with custom colors and logos, and perhaps lettering that spells "Home of the Owls" along the outfield fence. They can also be used in tournament settings to limit views of the field to ticket-buying patrons only. Finally, they can contribute to the quality and safety of baseball, in particular, by serving as a batter's eye — the dark background beyond and above the center field fence on which a hitter standing at home plate can visually pick up the baseball as it leaves the pitcher's hand.
At higher-level stadiums featuring solid walls, padding may cover the entire field's perimeter, but facilities with chain-link fencing also benefit from padding, which can protect players (think padded posts) and, depending on its location, the chain link itself. "Outfield padding is starting to be a growing thing," Simpson says, adding, "We actually use it on our backstops behind home plate. What we've found is that a lot of times baseballs and softballs hit those backstops and end up bending out the fence. What those pads have done is allowed the balls to bounce off the pads instead of tearing up our fences, and we've actually saved quite a bit of money not having to replace fences by keeping those pads back there."
So significant are the savings, Simpson says, that the pads ultimately pay for themselves.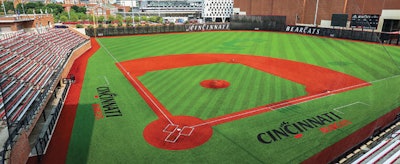 Surfacing
Synthetic turf has been a part of Major League Baseball since the first short-pile carpets were installed in the 1960s. However, a new generation of turf is taking root at all levels of the game, sometimes in tandem with natural grass.
Home plate at Texas A&M's Olsen Field at Blue Bell Park in College Station is surrounded in foul territory by 2,000 square feet of synthetic turf, even though natural grass and clay comprise the rest of the playing surface. "With our stadium layout — it's double-decked, we have a roof — those areas behind home plate in January and February might get an hour of sunlight a day, which just isn't enough to sustain turf growth while under high-traffic use," says A&M assistant athletic field maintenance manager Nick McKenna, adding that he has been impressed by advances in infill mixes, fiber lengths and materials. "Synthetic turf companies have taken the products that they've developed over the years and said, 'Okay, how can we tweak it? How can we make it more realistic for baseball or softball, to where it emulates natural grass and how the ball will perform like it does on the clay?' "
The combinations are nearly limitless. McKenna knows of one Texas school where synthetic turf extends out from home plate some 15 feet before the infield transitions to natural grass. Meanwhile, the foul territory at Southeastern Conference rival Mississippi State is covered entirely in turf. Other venues have taken turf wall to wall, including areas — such as home plate and the basepaths — historically reserved for clay, creating a completely uniform surface delineated only by different fiber colors, while eliminating maintenance concerns caused by migration of infill into the clay and compaction of wayward clay within the turf fibers.
Municipal fields often double as host sites for ball-roll sports, with the transition made quick and seamless by the use of portable synthetic pitching mounds. Synthetic mounds have improved from rectangular ramp-like structures to resilient, antiskid circles that break down into multiple pieces when not in use. These mounds can be used to transition from baseball to soccer in the fall, or for in-season conversions from baseball to softball and back again. In the latter case, temporary sport fencing products can be installed to shorten outfield dimensions. "At some of our parks, we play softball Monday through Thursday, and then Friday, Saturday and Sunday we play weekend travel baseball," says Simpson, who adds that 99 percent of his facilities' mounds are removable. "We can turn baseball into a softball field pretty quickly, and that's what we use those for. We definitely employ those a lot."
Meanwhile, traditionalist facilities still employing natural grass and clay have upped their grounds-maintenance game. More municipalities and high schools are using spot field covers to protect their clay mounds and home plate areas — a reflection, according to both McKenna and Simpson, of the investments being made in premium clay mixes.
"A lot of high school baseball coaches are their own groundskeepers, and they'll ask me, 'What are some simple things I can do to help improve our fields and our facility?' That's actually one of the first things I'll tell them — to invest in tarps for your pitching mound and for your home plate area," McKenna says. "It protects them from weather and helps them hold up better, especially if you get to the point where you're starting to use packing clays and specialty field products."
"From a mound and plate perspective, it does a good job keeping the moisture where you want it. It doesn't allow too much to come in. It doesn't allow the sunshine to bake it," Simpson adds. "The mound and plate clays that are being used now have to have a certain amount of moisture in them so that they're safe, and I think the quality of those products is something that has increased, as well. It's not necessarily an amenity that a lot people can see, but from an athlete-safety perspective, it's definitely something that has come a long way in the past 15 years — just the quality of materials available to maintain these fields to make them safer."
Even bases have become safer. While the upper levels of competition may favor the firmness of a traditional in-ground post anchoring system, softer bases designed to release upon horizontal impact are far more forgiving on appendages and joints — "something that gives way before the athlete's body does," as McKenna puts it.
"You're starting to see injuries at all levels from players diving back into a base and jamming or breaking a finger," he continues. "But when you get down to the Little League level, K through 12, and parks and rec, you're seeing more of the breakaway bases and the double base — where you have the one base on the inside and you have the orange-colored secondary base outside the foul line to avoid collisions. A lot of that goes to player safety and protecting ourselves from litigation."

Netting Major League Baseball recently made headlines by mandating that safety netting extend farther along the baselines in the interest of spectator safety, and that interest is trickling down to other levels of play.
"At the university level, especially facilities that are being built or renovated, and in a lot of these new minor league stadiums, you're seeing more and more netting get used farther and farther down the lines," McKenna says. "We have netting all the way past our dugouts here, and we just installed that five or six years ago. We wanted to get on the front end of it."
At the municipal level, particularly sports complexes that cluster four diamonds in a cloverleaf configuration, netting serves the dual purpose of protecting fans and keeping the foul balls of one game from interrupting play on a neighboring field.
"The quality of netting has come a long way," says Simpson. "Back 15, 20, 30 years ago, the size of the netting and the knots in the netting were so large, there was an argument that it affected people's view. With the new threads and fabrics they're using to make these nets, you can almost see right through these things. It's pretty amazing what they've done with the technology."


Seating
Fans are further protected from batted balls and the sun by shade structures, which can be customized to cover entire sections of seating.
Seating itself is often a reflection of the level of play, with chairback seats growing in popularity at the collegiate baseball and softball levels, which also tend to offer fans standard bleacher and grass berm options — as is the case at A&M's Blue Bell Park.
In Cary, where travel tournaments are held virtually every weekend from February through November, Simpson prefers the flexibility of portable bleacher sections. "We pretty much have the towable-style bleachers everywhere," he says. "We have affixed a lot of them to the ground so they don't walk away, with aluminum prices where they are today. That's one of the things we deal with a lot — vandalism and losing parts and pieces. We don't tend to move them a lot, but we do have movable systems in case we ever need to get into an area. They're not as permanent as you would expect at a permanent ballpark. They're just movable five-row bleacher sections, which are pretty nice."

Lighting
As attractive as these facilities have become, demand for their use has never been higher. For that reason, more baseball and softball diamonds are illuminated for nighttime play than ever before. Pole heights may vary (from 120 feet tall for baseball, for example, to 70 to 90 feet for softball) and pole location must take into account player safety more so than in other, rectangular field sports, but today's spill-control technologies have made the lighting of municipal fields a much easier political sell to neighborhood residents than in the past.

Like many people of a certain age, McKenna recalls the Little League fields of his youth with quaint nostalgia. "We had the backstop and maybe fencing in front of the dugouts, but once you got past the dugouts it was just open space. We didn't have an outfield fence," he says. "There was no designation for a home run. If you made it all the way around the bases, you got a home run."
Times have certainly changed. "Even in the early 1990s, nobody thought to add all these accessories. The youth sports market has become such a big money-maker now that anything people can do to dress up their facilities and fields has started to gain more and more traction. It's about aesthetics, a true stadium-type feel and the look that you can brand and market, whether that's your school or if you have sponsors."
The trend toward employing ever-evolving baseball and softball facility products is a welcome one, as far as McKenna is concerned. "All of these things come into play," he says. "You're just seeing more of a change in truly trying to create a designated ballpark-type setting versus just a ball field."
---
This article originally appeared in the April 2021 issue of Athletic Business with the title "Modern products provide ball fields stadium-like aesthetics, safety." Athletic Business is a free magazine for professionals in the athletic, fitness and recreation industry. Click here to subscribe.