Scottsdale is the site of the first naming rights deal pairing a hospital and municipal rec center.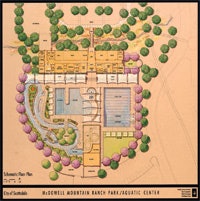 In November 2005, the city of Sioux Falls, S.D., was on the verge of doing something apparently unprecedented. With Sioux Falls voters set to go to the polls Dec. 6 to approve or reject a sales-tax increase to fund a $32.3 million recreation center, the city announced that it had signed a naming rights agreement with Avera McKennan Hospital. The $6 million deal - $300,000 a year for the next 20 years, assuming residents approved the tax increase - would have given the hospital not only the center's name ("Avera Center, Sioux Falls Community Recreation Facility"), but also exclusive rights to provide health-care programs there.
Their partnership, however, did not come to pass. Sioux Falls voters overwhelmingly rejected the proposed rec center, 66 percent to 34 percent.
When the first-ever naming rights partnership between a municipal recreation center and a hospital did come to pass - this past July in Scottsdale, Ariz. - its scope was much more limited. The three-year, $150,000 deal gave the city the fitness equipment it needed to fill the 4,000-square-foot fitness center in a recreation center that opens this month. In return, Scottsdale Healthcare will enjoy a presence within the fitness center (in the form of medical wellness programs such as health risk assessments and health education seminars) and the right to name the fitness center portion of the building. The only thing about the latter partnership that's bigger than the failed Sioux Falls proposal is its enormous name: "The Scottsdale Healthcare Fitness Center at McDowell Mountain Ranch Park and Aquatic Center."
McDowell Mountain Ranch is located close to Thompson Peak, the hospital's third health-care campus, which will open in the fall of 2007. Pauline King, Scottsdale Healthcare's director of community health services, says the partnership is perfect for achieving the hospital's goals.
"We're a growing family health-care system. When I started 10 years ago we had a little more than 3,000 employees, and when we open the third hospital we'll have somewhere close to 7,000," King says. "I'm sure that the naming rights, the fact that we're promoting fitness and wellness, will have an impact."
Health-care systems increasingly view sports as a positive medium to carry their healthy message. Hospitals advertise in professional, collegiate and high school sports venues, and have partnered with various nonprofit organizations to help build recreation facilities and run wellness programs in dedicated suites within them. But the few hospitals that have sought naming rights to municipal buildings have preferred spectator facilities to recreation facilities.
In Sioux Falls, in fact, just weeks before Avera reached its rec-center agreement, Sioux Valley Hospitals and Health System announced a 15-year, $3.2 million partnership with the University of Sioux Falls to help build a football stadium at the school's new athletic complex. That deal gave Sioux Valley Hospitals increased visibility (mainly through signage at the complex), as well as exclusive rights to provide sports medicine for the school and at all sporting events in the stadium. According to the Sioux Falls Argus Leader, Sioux Valley had previously partnered with both the Sioux Falls School District (the hospital at different times helped the district buy scoreboards and synthetic turf) and the South Dakota High School Activities Association (Sioux Valley is in the fourth year of a five-year, $520,000 deal that makes it the official sports medicine provider at all state high school tournaments). Avera McKennan, meanwhile, is in the first part of a 10-year agreement with the University of South Dakota, and was a major sponsor of the 2004 refurbishing of USD's DakotaDome.
Clearly, hospital administrators are conflating the two facility types, choosing to view the football field as a center of community wellness - as opposed to, say, a place where most of the people present are exercising just their eyeballs. But perhaps that is the point, as visibility is the main benefit of a naming rights deal. That's true even at what is now going to be called "Mansfield Independent School District Stadium" in Texas - trustees there in May rejected as too religious the "Methodist Mansfield Stadium" name that was to have resulted from a 10-year, $500,000 deal with the Methodist Health System. In theory, 11,000 pairs of eyes will presumably come away from each game with warm and fuzzy feelings about the hospital after viewing the Methodist corporate logo, a circle with a cross inside, which was allowed to remain on the stadium's exterior.
Considering that the largest such naming rights deal (at Tyler, Texas' Trinity Mother Frances Rose Stadium) topped out at $1.92 million, you might think that Scottsdale Healthcare's $150,000 buy was easy to put together. King, however, noting that "these things take time," says that discussions were ongoing for nearly a year.
"Our community health department and the city have collaborated on programs in one capacity or another for 15 or 20 years," King says. "But what really made them a key partner was a community assessment survey we did in 2003 called `Getting Healthy Together,' in which we found that 54 percent of Scottsdale adults were overweight or obese, yet 98 percent thought they were in good health. Those results helped us decide how to focus our dollars appropriately so that we could really impact the community."
Still, it wasn't the hospital that approached the city, but the other way around. The city hadn't budgeted for fitness equipment, and came to the hospital needing to make a deal (the director of parks and recreation, Judy Weiss, told The Arizona Republic at the time that rejecting the sponsorship would delay the fitness center's opening). It was King who pushed the city toward fitness equipment featuring an interactive component - she says this also was Technogym's first foray into a city-hospital partnership - because of what she saw as a need to engage "individuals who struggle with the regular gym."
"We get a lot of patients who come through our cardiac or rehab therapy facilities, and they only have so many weeks but want to keep going," King says. "They're scared to take that step and just go to a gym and be on their own. This equipment works really well for those patients."
Whether the naming rights deal works well for the hospital seems almost beside the point, given the sum involved. King herself goes out of her way to diminish its importance in the grander scheme of helping the community. Characterizing that part of the negotiation, King says it was the city that named not only the terms of the agreement, but the fitness center, too.
"They asked us if we'd like to have the room named, and it wasn't a big issue for us, so they just named it very simply," King says before correcting herself. "Well, I wish it had been a little shorter, but that's the way they wanted it to be, and we were fine with that." Similarly, she says that even if a purpose of naming rights is to build brand awareness, the hospital is leaving all advertising decisions up to Scottsdale Parks and Recreation.
"It'll be totally the city's deal," she says. "We've come in to help them with the equipment and with providing classes. We're really in the business of trying to keep people healthy. Yes, we're a hospital, and we're here when you need us from an in-patient perspective, but beyond that we really do want to help people live longer and healthier lives."