The individuals with disabilities who will call it home are not the only people excited about Louisville's new MVP Zone.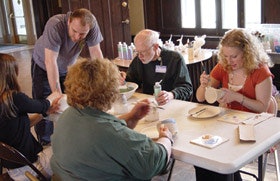 BJ Levis is ready to make her move. Actually, the Louisville (Ky.) Metro Parks recreation administrator has been poised to relocate from her current office at the Douglass Community Center since 2005, when a local nonprofit foundation proposed a partnership to build a state-of-the-art recreation and sports complex for people with disabilities.
Philip and Denise Clements, co-owners of a physical rehabilitation care practice and founders of the Integrity Foundation, have committed $3 million of the $12 million it will cost to build the MVP Zone (MVP stands for Most Valued Person). The facility will replace the small and ill-equipped Douglass center as the home of Metro Parks' Adapted Leisure Activities program, which serves 4,000 people with mental and physical disabilities. "We started meeting with the Clementses two years ago. I started packing two years ago," says Levis. "We just praise them for helping make this possible. It's an unbelievable gift. This is like Christmas."
But perhaps the Clements' greatest gift isn't the building itself, but what it represents. The public-private development of the MVP Zone demonstrates how sports and recreation programs for special populations are steadily making their way from the fringes of society to the mainstream. The two-story, 68,000-square-foot facility is the first major rec center planned for the city's landmark Floyds Fork Greenway project, a 3,000-acre corridor of open space, trails and parks currently being established along Louisville's eastern border. Even though it won't break ground until this fall, the MVP Zone is already considered a national model for inclusive recreation. "A facility like this just doesn't exist," says Levis, making the claim based on her active involvement in the National Recreation and Park Association. "It's very important to our department that we don't have a community center that serves only people with disabilities. Inclusion is the key." Levis estimates that individuals with disabilities will comprise 80 percent of the facility's patron flow, leaving plenty of room for able-bodied participants. "That's the beauty of the concept - we will have people with and without disabilities participating in programs together," she says. "To me, the ultimate way to educate people is when they're having fun."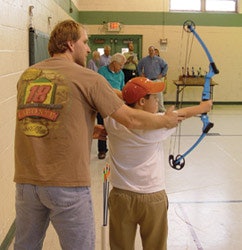 Education is what first led the Clementses to approach Metro Parks back in 2005. Philip and Denise's adult son initially hoped to build an accessible golf teaching facility. Yet, soon after they began working with the parks department, the family realized the need for all types of sports and recreation facilities for individuals with disabilities living in Louisville and beyond. For instance, participants in Metro Parks' wheelchair basketball programs hail from all over Kentucky. "With wheelchair basketball, our biggest challenge is finding a gym for athletes to practice in," says Levis. "The same thing goes for pool space. We have only one indoor pool in our parks system and Special Olympics has to use that pool for a lot of its competitions."
The hope is that by early 2009, Special Olympics and other organizations serving athletes with disabilities won't have to share any space with other Metro Parks programs. The MVP Zone will include an Olympic-size swimming pool, a zero-depth-entry pool with a lazy river, a therapeutic pool for rehab sessions, a gym, four bowling lanes, a movie theater, a dance studio, a fitness room, computer labs, family locker rooms and an indoor synthetic turf field designed to accommodate football, soccer and golf practice. Outside will be several sports fields, a track, an adapted baseball/softball diamond, and a synthetic-turf, wheelchair-accessible golf course. Says Levis, "This facility will be your one-stop shop."
Contrast that prospect with Adapted Leisure Activities' difficulties of the past decade, during which time staff members often have been compelled to take their show on the road. Only a limited number of programs are hosted at the Douglass center, which has a gym, teen room, game room, computer lab and small weight room. The remaining programs are offered at locations throughout the area. "We have to go all over metro Louisville offering programs," says Levis. "We might go to the Center for Accessible Living. Because they have a support group that meets at 11 o'clock, we'll do activities for them at 1 o'clock. We do programs at other community centers as well, just so we can reach people a little easier."
One advantage the Douglass center has over its future replacement is a central location, just four miles from downtown Louisville. A site has yet to be selected for the MVP Zone (a prominent Louisville businessman will donate $2 million to Metro Parks for its purchase of an anticipated 15 acres of land somewhere along the Floyds Fork Greenway), but it's expected to be built nearly 20 miles east of the heart of the city. Yet, because the business loop of an interstate freeway runs parallel to the greenway, there is potential for the MVP Zone to serve a greater number of patrons. As it is, Adapted Leisure Activities program participants regularly travel from towns located an hour's drive away or more - some from as far as Nashville, Tenn., three hours to the south.
There will be an opportunity, too, for the MVP Zone to host national and international sports events. The facility is being designed to meet competition standards for Special Olympics and other organizations serving athletes with disabilities. Since the project was made public in May, Levis has been pleasantly surprised to learn how many different groups wish to be a part of the MVP Zone. "They're coming out of the woodwork - it's amazing. Agencies that I might not have heard from or worked with in a couple of years are now our best friends," she says, without a trace of bitterness. "It's exciting because it just means we'll be able to build on those partnerships and offer more."
In the meantime, a capital campaign spearheaded by the Integrity Foundation is well under way (in addition to the Clements' initial gift, in next year's budget Louisville mayor Jerry Abramson has allocated $1 million to the project). Donors won't have long to wait before they can see the tangible results of their efforts. The foundation intends to begin construction even before it raises the remaining $8 million. "We're going to take a different approach so that instead of saying, 'This is what we're going to do,' we can tell people, 'This is what we are doing,' " says Integrity Foundation executive director Shannon Main. "Yeah, it's bold. But I'm pretty confident that we can make it happen."