Funding for five new community rec centers was attached at the last minute to a new Orlando Magic arena deal.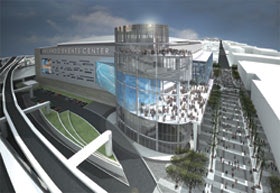 What's that behind your ear? Could it be a 20,000-square-foot recreation center?
Five new community recreation centers will soon pop up in Florida's Orange County. And as a proposed statewide property tax cut has for months been foiling new municipal construction plans throughout Florida, their appearance, if not magical, at least reflects a bit of political sorcery.
The centers are part of a $1.1 billion deal between Orange County and Orlando Magic officials that will bring a handful of massive developments to downtown Orlando, including a $175 million renovation to the Citrus Bowl and a new $375 million performing arts center. At the heart of the deal is a $480 million, 20,000-seat arena that will serve in part as home to the NBA's Magic.
Most of the funding for the plan is coming from Orange County's tourist development tax, a 6 percent surcharge on county hotel stays. The Magic franchise has, however, pledged to pay $50 million upfront for the arena construction, in addition to a per-year fee to rent the building.
Some critics of the plan argued vehemently that the Magic organization - which had for years been lobbying for a new arena to replace the undersized Amway Arena, built in 1988 - was not contributing enough to the new plan. In response, franchise officials in November signed a contract requiring the organization to find $25 million - half of which will come directly from Magic coffers, the other half from outside sources - to fund the construction of five new rec centers to be run by the ever-growing central Florida county.
Before the ink on the contract had dried, Orange County commissioner Mildred Fernandez hailed the rec center addendum to the deal as a "dream come true" and a "first-class project," according to the Orlando Sentinel.
Fernandez's zeal seems appropriate given the recent financial challenges to local government agencies throughout the Sunshine State. In October, Florida lawmakers firmed up a constitutional amendment that has been widely estimated to save residents $12.5 billion worth of property taxes over the next five years by doubling homestead exemptions from $25,000 to $50,000. The amendment is awaiting a Jan. 29 public vote. In anticipation of the change and what it may mean to government spending power, municipal and county government leaders have been increasingly wary of moving forward with construction plans. In Orange County alone, for example, at least 18 new school and municipal building plans have been put on hold until voters weigh in on the proposed amendment, according to Sentinel reports.
"Capital improvements are the easiest place to cut back," Orange County Commissioner Fred Brummer told the paper in November. "Until we see what's going to happen Jan. 29, it's impossible to predict the future of these projects."
Given such tenuous circumstances, the rec center supplement to the downtown Orlando plan seems, at least to five communities, to be a kind of capital funding miracle. Not so, according to residents of Winter Park, who were reportedly far from spellbound by a plan that would have given them a $5 million, 24,000-square-foot rec center on the site of a city park. Initially, county commissioner Bill Segal thought "the world was in sync and everyone was jumping up and down about having the gym," according to the Sentinel. But Winter Park residents came to community meetings in droves to voice opposition to the possible loss of green space coupled with increased traffic.
Still, with the other four communities apparently on board, the opposition in Winter Park means only that county leaders must find a new location for the fifth center. According to the Sentinel, Winter Park mayor David Strong told the commission, "Next time you have $5 million lying around, don't forget us."