A la carte upgrades can help tired-looking outdoor spectator venues get with the times.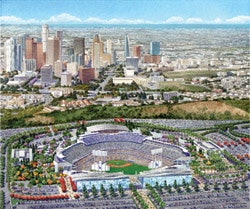 ESCAPE FROM L.A.
Against the backdrop of downtown, the updated Dodger Stadium will represent a more natural destination point.
L
ater this year, Dodger Stadium in Los Angeles will undergo a series of upgrades to give Major League Baseball's third-oldest park a fresh look in time for its 50th anniversary season in 2012. Plans include a new tree-lined "front door" outside center field and a "green necklace" of landscaping surrounding the entire stadium, with the hope of keeping the facility viable for another half-century. When announcing the "Next 50 Plan" last April, team owner Frank McCourt stated, "We're creating a new stadium without tearing down the old." Added legendary broadcaster Vin Scully, "We will not allow this great home to crumble. We will not allow it to be replaced."
In a city known for face-lifts, this one's a doozy, carrying a price tag of $500 million. That's $70 million more than McCourt paid for the team, the stadium and its surrounding area just five years ago.
You don't have $500 million, but the spirit of renewal in L.A. can be applied to your outdoor spectator venue - only on a smaller scale. Products designed to enhance the appearance of ballparks and stadiums at all levels of competition are in no short supply, providing facility owners and operators with a veritable à la carte menu of upgrade options, without breaking their budgets.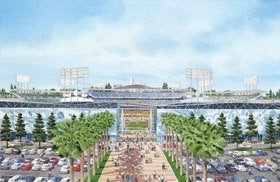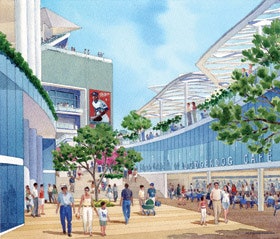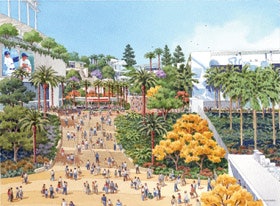 DODGER GREEN
Landscaping in the form of tree-lined plazas has been a top priority of designers looking to extend the ballpark's longevity.
First impressions are made at the perimeter of any venue, but they are particularly important for outdoor spectator venues - where the entire game-day experience takes place in the open air. As evidenced by the Dodgers' priorities, the impact of landscaping cannot be overstated. Inclusion of trees, shrubs and flowers can create a park-like setting around smaller outdoor sports facilities and complexes, or lend human scale to larger stadiums. Investment can vary widely - from the transplanting of mature trees to the planting of seedlings. It all depends on how much one is willing to spend and how quickly one seeks the desired look. Facility operators must also appreciate the ongoing maintenance and corresponding equipment required of landscaping, and plan accordingly. Simple landscapes that are well maintained will better serve a venue aesthetically than a complex design gone wild. Perhaps a renewed commitment to the vibrancy of existing landscaping is all that's needed. Nothing says "old facility" more clearly than a thicket of dead organic material on its grounds.
Parking lots shouldn't be given short shrift either, particularly if they are used for tailgating. Trash receptacles can be purchased to match pedestrian benches, and some can be customized with team logos or sport-specific themes. Even the concrete bollards that dictate vehicular access can now take the form of three-dimensional knee-high sports balls, complete with bas-relief seams and laces.
Upgrades to a facility's exterior lighting can help it step out of the dark ages. State-of-the-art fixture technologies allow for greater cutoff of glare from tall poles overlooking parking lots and walkways. More aesthetic - and more expensive - lamps can be specified to match the architectural style of nearby surroundings, as is often desirable on a college campus. And landscape lighting standing 24 to 42 inches off the ground can effectively illuminate not only walkways at night, but ornamental vegetation, too. Trees can be lit from below or above by fixtures and weatherproof wiring actually mounted in the tree. Finally, lighting can be used to accent an outdoor sports venue featuring a signature facade, and LED technology will allow for the control of various color effects, if desired.
Daytime wayfinding is enhanced by mounting colorful banners to light poles. These can be integrated with larger graphics printed on windscreen-grade vinyl mesh and affixed to chain-link entrance gates and bleacher system scaffolding, allowing otherwise nondescript or even undesirable focal points to be effectively camouflaged. Some graphics providers even offer portable framing systems for the placement of large-scale graphics where no chain-link fence exists, or where temporary pedestrian and vehicular traffic control is required. Graphics themes and color schemes can continue past the turnstiles to enliven concourses (in larger venues) and the seating bowl (on field-level perimeter fencing or in the form of player entrance canopies and bench banners). In fact, all exterior and interior signage - both permanent and temporary - can be integrated to great effect. And some graphics delivery systems allow for occasional updating of the displays themselves, as with new records or retired numbers.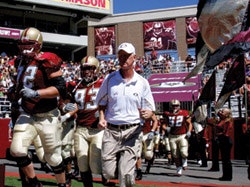 BANNER YEARS
Integrated graphics accent Boston College's near-century-old Alumni Stadium.
Even solid-colored windscreens can lend a clean look to a facility's perimeter fencing on game day, while serving the dual purpose (if the fence is high enough) of discouraging loitering by non-ticket-buyers. The appearance and safety of chain-link can be further enhanced with the installation of corrugated plastic fence caps. Particularly popular in baseball settings, different-colored caps can be used to help define fair and foul territory, with highly visible yellow being the preferred choice on outfield fencing. If the outfield is surrounded by an actual wall, vinyl wall padding featuring larger than life photo imagery and other graphics can further dress up the field of play (the same applies to wall padding in football venues). Significant cost savings can be achieved merely by recovering otherwise functional padding and backer boards with new vinyl, adhering new vinyl directly to the existing vinyl or securing new vinyl over the old via rope ties and grommets located at the top and bottom of the padding. Customized on-deck circle, tarp cover and dugout roof graphics can add further, affordable sparkle to most baseball diamonds.
T
he largest visual element of any outdoor spectator venue's superstructure is the actual spectator seating. Venues fortunate to be outfitted with aluminum bleachers realize the benefits of their low maintenance and clean, uniform appearance from one row to the next. That is, unless they have been painted, which can make the stands susceptible to the degrading impact of the sun's rays and the public's feet. Wood bleachers - and there are still plenty out there - are particularly prone to unsightly damage. Thus, there are few things that operators can do to improve the look and comfort of a facility more than by upgrading its seating.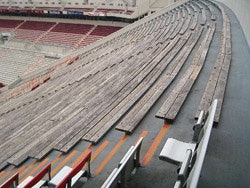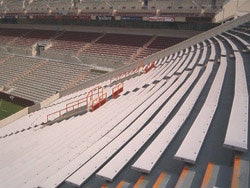 PLANK CALL
Purdue University improved the look and functionality of Ross-Ade Stadium seating by capping antiquated wood bleachers.
This can be done in several ways. One is to cover existing bleachers (provided they are structurally sound) with caps that combine the strength of PVC with the UV-resistance of acrylic, at a fraction of the cost of replacing the system plank by plank. In the event a plank requires replacement, the caps are outfitted with a steel understructure and attached to existing supports. Bleacher caps are available in custom team colors, and several colors can be incorporated into the seating design to delineate certain sections, reproduce a team initial or spell out entire team names. Their insulating quality also helps take the chill out of aluminum in cold-weather climes.
The next level of fan comfort can be realized by retrofitting bleacher planks with chair-back seats. The molded plastic chairs attach directly and permanently to existing bleachers, and are designed to ensure comfortable legroom even in rows spaced as close as 2 feet apart. Some schools are creating fundraising opportunities by designating a lone section of chair-back seating, usually at the 50-yard line, as premium seating. Seats can even be affixed with the holder's name in recognition of his or her donation.
Once a game is under way, spectator attention naturally turns to the action on the field. A close second in terms of fan focus is the action on the scoreboard. By now, it's no secret that LED technology has made the simplest scoreboards more energy efficient and easier to enjoy from a greater range of angles than their incandescent predecessors. But when the clarity and color range of LEDs are turned loose on video and ribbon boards, there can be no greater "wow" factor for a facility in need of renewal.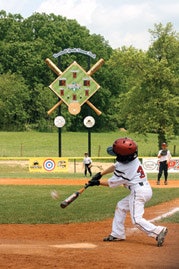 OUTSIDE THE BOX
Customized scoreboard hardware can lend a bit of big-league ambiance to any ballpark.
But for ballparks and stadiums that can't support such auxiliary visuals - financially or structurally - scoreboard manufacturers are thinking outside the rectangular green box. Today's scoreboards are being accented with lattice-mounted logo panels and analog clocks, and some are flanked by brick columns. One manufacturer has created a patented line of customizable boards in the shapes of game balls and playing fields. The baseball diamond, for example, can be specified with a protruding pitcher's mound and bases set against a photographic backdrop of actual grass. Another board set to debut this year takes the form of a 70-foot baseball bat featuring a photo-quality wood-grain finish. The manufacturer estimates that 70 percent of its scoreboards are installed in existing venues as replacements or upgrades. Moreover, it's not all that uncommon for venues with perfectly functional year-old scoreboards to donate that board to another venue and buy a snazzier model (usually at a cost that's 10 percent or so more than the original purchase).
R
egardless of the level of competition, today's fans increasingly expect that their outdoor sports venues seem as energetic as the events they host. It doesn't take an outdoor venue with the prestige of Dodger Stadium, or one nearly as old, to warrant a reexamination of how the facility has weathered the years. And it might be the case that the venue doesn't need major reconstructive surgery, but rather a nip or a tuck. From landscaping to scorekeeping, there are plenty of ways to lift the face of a tired facility so that it looks fresh to visitors for years to come.