A roundup of groundbreakings and grand openings.
Groundbreakings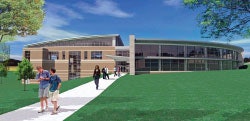 The Cougars of Columbus State University celebrated an October groundbreaking for a $26 million student recreation center that is expected to become a major hub of student life. Designed by St. Louis-based Hastings & Chivetta Architects and Atlanta-based Lyman Davidson Dooley Inc., the 98,000-square-foot facility will house two basketball courts, a fitness center, multiple group exercise rooms, an indoor jogging track, a multipurpose court, two racquetball courts, an indoor soccer field, volleyball courts and a large events area. The project also includes the construction of a natatorium with a 25-yard lap pool, a leisure pool, a therapy pool and saunas. The facility is expected to open in October 2010.
Grand Openings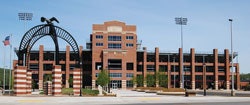 In less than a year's time, crews completed the renovation and expansion of Roger Harring Stadium and the Veteran's Memorial Field Complex at the University of Wisconsin-La Crosse. The approximately $16 million first phase of the project included stadium press boxes, suites and bleacher seating for some 6,200 spectators, nearly doubling the seating capacity of the previous stadium. The synthetic turf football field is surrounded by a 10-lane track, and other stadium amenities include new locker rooms, a fitness center, and the relocated and redesigned Veterans Hall of Honor. The adjacent multiuse sports complex features a soccer venue, a football practice field, and lighted intramural and recreation fields. . .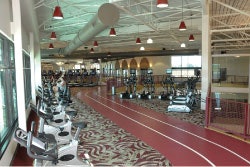 This fall saw the opening of the Bruce and Graciela Redwine Student Recreation Center on the Wichita Falls, Texas, campus of Midwestern State University. The $13.5 million, 52,000-square-foot center includes cardiovascular and weight training spaces, an indoor jogging track, group exercise rooms, locker rooms, administrative offices and a break room. The building also incorporates a health center with its own main entrance, parking area and restrooms. Amenities within the health center include exam rooms, X-ray areas, offices and staff locker rooms. An outdoor recreational pool supports aquatic fitness programming. Sited on the edge of campus near a lake and other outdoor recreation facilities, the center was designed to fit naturally with the style, scale and materials found in existing campus buildings. . .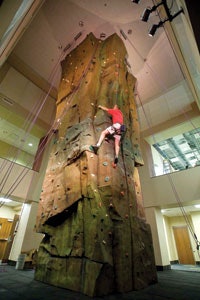 A 33-foot-tall climbing tower provides a visual centerpiece for the newly expanded and renovated Recreation, Fitness and Wellness Center at the University of Southern Indiana. With an additional 44,000 square feet, the center nearly doubled in size. A 3,860-square-foot lounge complete with welcoming furniture, computer stations, café tables and a large-screen television now greets students entering the center. Other additions resulting from the $7.7 million project include a rentable "quiet lounge," group exercise rooms, a third gymnasium, numerous 52-inch televisions and state-of-the-art exercise equipment.