The University of Oregon has broken ground on a $50 million expansion of its Student Recreation Center. The current center, built to accommodate 2,500 students daily, sees 6,000 visitors.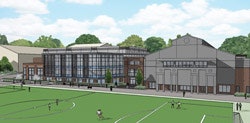 The University of Oregon has broken ground on a $50 million expansion of its Student Recreation Center (right). The current center, built to accommodate 2,500 students daily, instead sees 6,000 visitors. The expansion will provide an additional three-court gymnasium and devote twice as much space to cardio, strength training and exercise areas. An aquatic center with a 12-lane lap pool, a recreation pool and a spa will replace the current 55-year-old pool, which will be repurposed to store gray water for reuse. Robert Sherwood Architects of Eugene, Ore., is working with RDG Planning & Design of Des Moines, Iowa, and Poticha Architects of Eugene, Ore., on the project.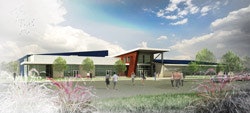 Construction of a Reed Recreation Center is under way at Reed-Keppler Park in the West Chicago (Ill.) Park District. The $15.5 million facility (right), designed by Sink Combs Dethlefs of Chicago, will provide a much-needed centralized space for the district's indoor recreation programs. Complementing the park's existing outdoor recreational and athletic amenities, the indoor center will include three gymnasiums, a multipurpose activity court, a walking track, fitness center and spaces for dance and aerobics.
Southern Illinois University's Carbondale campus has broken ground on Richard "Itchy" Jones Stadium. The $3.6 million project is expected to be completed by next March and will feature a synthetic turf field, lighting, permanent seating, a new press box and restrooms. The design, from Kansas City, Mo.-based 360 Architecture, will incorporate the existing clubhouse.
First Pitch
The University of Minnesota has presented a master plan for $190 million in athletic facility projects to its Board of Regents. The first phase of the two-phase plan would include construction of a new indoor practice facility and renovation of the school's existing indoor football facility, all part of a bid to keep pace with other schools in the Big Ten Conference. Kansas City, Mo.-based Populous designed the plan, which would take six to eight years to complete. Funding for the project will be raised entirely through private donors... The University of Nebraska Board of Regents has approved a $20.4 million plan to construct a soccer and tennis complex. The complex will be built over 28 acres and include one outdoor lighted soccer field with seating for 2,500, 12 lighted outdoor tennis courts and six indoor courts. Construction is expected to begin in April 2014... Roanoke Rapids High School in North Carolina is set to begin construction of a new athletic complex pending funding availability through the state's Brownsfields Program. The complex would include fields for baseball, football and soccer, a track, tennis courts and parking, all built on the 23-acre site of a former mill... A coalition of community groups is raising funds to construct a recreation complex in Amarillo, Tex. The group hopes to raise $6 million of the anticipated $36 million to $38 million cost, asking the city for a bond election to fund the remainder.
Grand Openings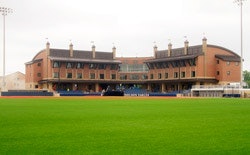 Cornerstone University's newly revived baseball program celebrates the opening of its new baseball stadium this month. The lighted DeWitt Field (right) is constructed of synthetic turf, including the pitcher's mound, batter's boxes and warning track, currently one of two such fields among western Michigan schools. The $8 million project, designed by GMB Architecture and Engineering of Holland, Mich., and Visbeen Associates of Grand Rapids, Mich., also incorporates a student dormitory with views overlooking the field. The complex will include indoor training areas, a weight room, a clubhouse and conference rooms, as well... The Arrillaga Outdoor Education and Recreation Center opens this month at Stanford University. A complement to the Arrillaga Center for Sports & Recreation on the east side of campus, the 75,000-square-foot west-side facility features three courts for basketball, volleyball and badminton; spaces for yoga, dance and weight training; a climbing wall; and a 50-meter outdoor pool. The school's cycling organization will also have a space of its own within the center, which was designed by Hoover Architects of Palo Alto, Calif... The Monmouth County Park System in New Jersey celebrated the opening of its first indoor recreation facility last month. Located in Tinton Falls, the 21,000-square-foot center offers a gymnasium, a game room, a commercial kitchen, a media room, classrooms and a 50-square-foot kids pool. A 3,500-square-foot outdoor pool will open in 2014... A new athletic complex opens this month at Nashoba Valley Technical High School in Westford, Mass. Included in the $2.6 million project are a new track, a multipurpose synthetic turf field, new spectator stands, baseball and softball diamonds and tennis courts. Energy-efficient lighting will be added, and an existing barn will be renovated into a dance and art studio... Life Time Fitness opens its largest athletic club in the Washington, D.C., region this month. The 115,000-square-foot facility in Reston, Va., is the company's sixth location in the D.C. area and represents its first "diamond-level" facility, featuring higher-quality finishes. The large space will allow the club to offer a range of fitness options, including cardio equipment and free weights; studios for group fitness, Pilates and cycling; a Kids Academy; basketball courts; indoor and outdoor lap pools; and an outdoor leisure pool... Students returning to school this fall at Eagle Hill School in Hardwick, Mass., will enjoy a new sports and fitness center. The $15 million facility, a design-build project headed by Stanmar Inc. of Wayland, Mass., includes a natatorium, a fitness center, a walking/jogging track, a multipurpose room, squash courts, a climbing wall and a three-court gymnasium. The single-story facility, located on top of a hill, features large windows to allow for natural light, as well as offer full views inside and out.