BREAKING GROUND
The University of Missouri-St. Louis (above) has begun construction of a new $36 million recreation and wellness center. Located just south of the student center, the 94,000-square-foot facility will include a three-court gymnasium, a swimming pool, training rooms and an elevated jogging track. The center, designed by St. Louis-based Cannon Design, is expected to be completed by fall 2015.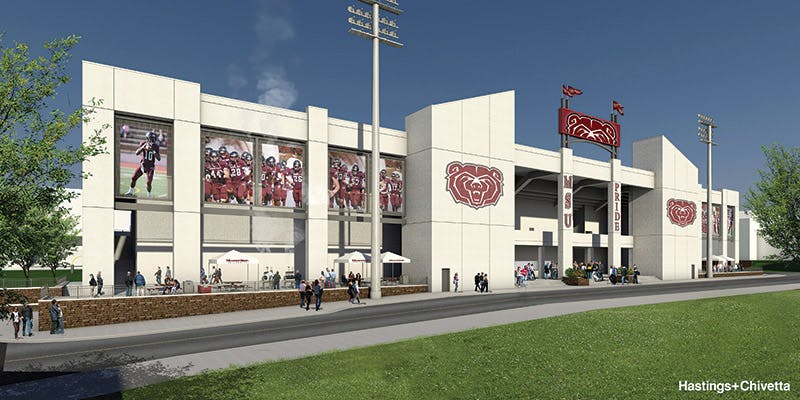 Renderings Courtesy of Hastings+Chivetta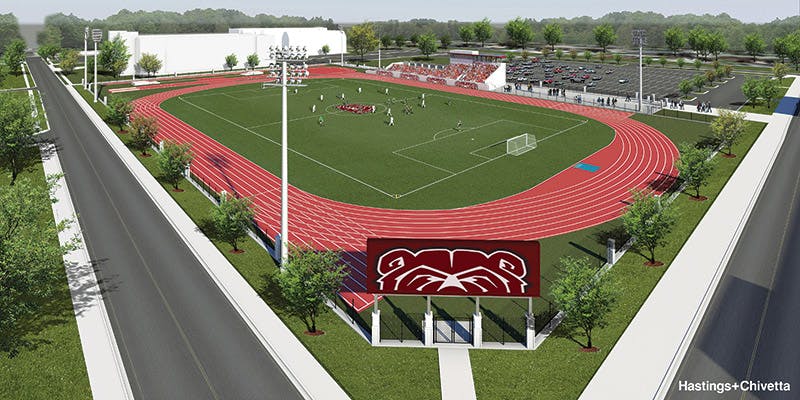 Missouri State University (pictured) has kicked off $22 million in construction and renovation of its recreation and athletic facilities. The project, designed by Hastings+Chivetta Architects of St. Louis, will address four areas of campus. Plaster Sports Complex will see the greatest changes, including replacement of a dilapidated student seating area with a 4,000-seat concrete structure, a raised patio, and new concessions areas, restrooms and ticket windows. The existing football field will be moved slightly closer to the west bleachers to improve the fan experience. The existing field near Glass Hall will be developed into an NCAA-regulation soccer field and surrounded by a new synthetic track and 1,000-seat grandstand. A new field hockey and lacrosse field also will be constructed, as well as a pair of sand volleyball courts. All of the work is expected to be completed by the fall semester. 
Construction of a new recreation center is under way in Fort Walton Beach, Fla. The $8 million center will take the place of the city's existing aging recreation centers. Spanning 30,000 square feet, the facility will include a gymnasium, multipurpose rooms, a dance studio, racquetball courts and areas for games and afterschool programs. The project, designed by DC Architects Inc. of Fort Walton Beach, will also include construction of 10 athletic fields, a walking trail and a concessions stand. Construction is expected to be completed by September. 
Faith Lutheran Middle and High School in Las Vegas has broken ground on an $8.75 million athletic complex. The complex is the first part of the schools' Build Faith campaign, which aims to expand the schools' campus by 50 acres. The athletic complex will include a gymnasium, a weight room, locker rooms, offices, concessions stands, bathrooms and storage areas. The second phase will include construction of tennis courts and relocation of existing soccer fields.
---
GRAND OPENINGS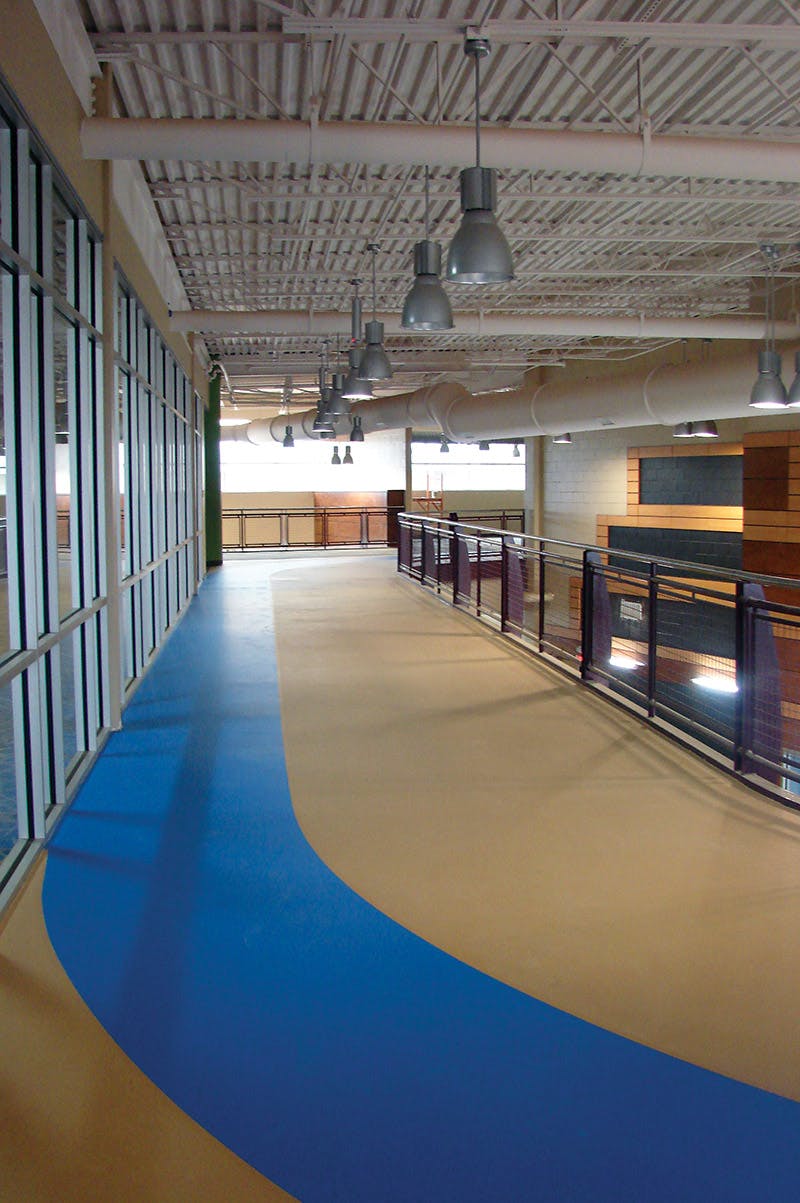 Photos Courtesy of Mitch Park YMCAAlga Norte Community Park is now open in Carlsbad, Calif. The 32-acre park features lighted athletic fields, basketball courts, a skateboard area, a dog park, a fully accessible playground, a fitness room, locker rooms and a concessions area. The centerpiece of the $40 million project is a new aquatics complex, which features a 56-meter competition pool, a 12-lane instructional pool, a hot tub and a sprayground. Solar panel heating in the pool and special lighting at the skatepark are among the project's green initiatives. Wimmer Yamada and Caughey of San Diego created the master plan for the park, working with a team that included Carlsbad, Calif.-based Aquatic Design Group and Action Sport Design + Stantec, among others…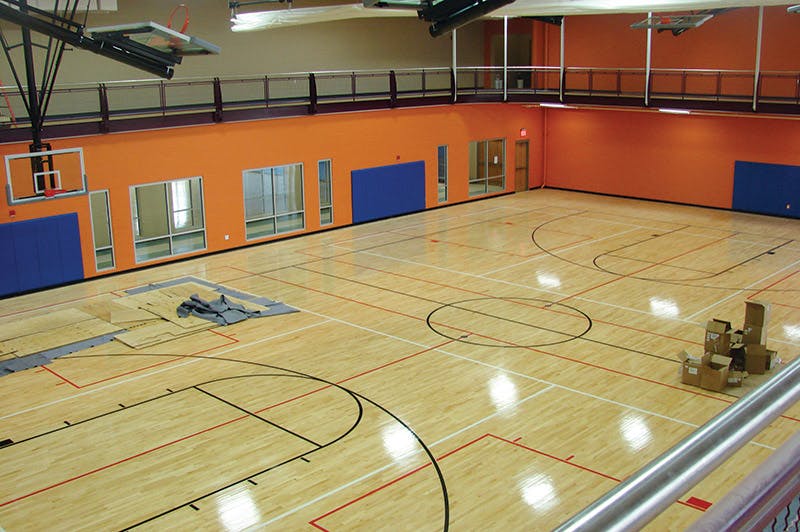 Photos Courtesy of Mitch Park YMCAThe YMCA at Mitch Park (pictured) opens this month in Edmond, Okla. Representing a partnership between the city, Y and school district, the $22.5 million facility includes a wellness center and group exercise spaces, a full gymnasium, an elevated walking track, a leisure pool, and social and event spaces. The natatorium, featuring an Olympic-size pool and seating for 800, will be used by the school district's aquatic programs and host competitive events, starting with the state high school championship swim meet this month. Crafton Tull of Tulsa, Okla., served as architect of record for the project, with Brinkley Sargent Architects of Austin, Texas, serving as design architect…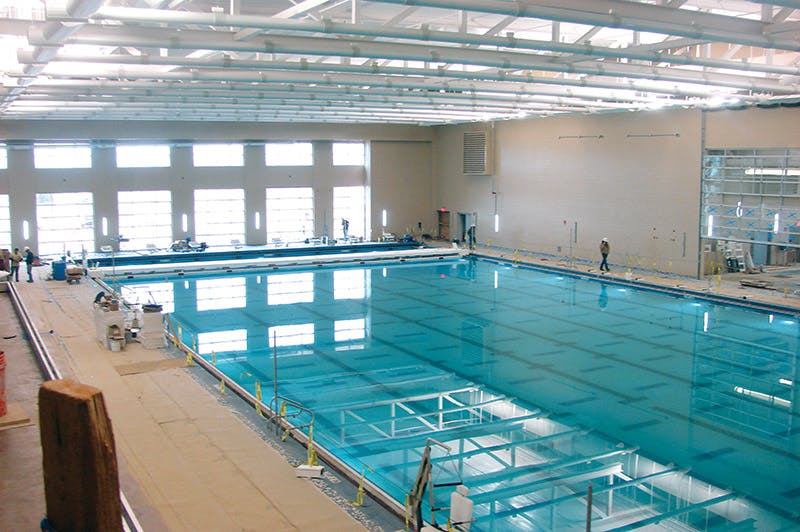 Photos Courtesy of Mitch Park YMCAThe Eric Snow Family YMCA opened last month in downtown Canton, Ohio. The 26,000-square-foot facility replaces an outdated and oversized structure that closed in 2008 and features a recreational pool, a gymnasium, a wellness center, a youth center and five locker rooms… The Greater Latrobe (Pa.) School District's new $9 million athletic complex is now open. Designed by Axis Architecture of North Huntingdon, Pa., the complex includes two synthetic turf fields, a field house, a weight room, a concessions stand and a press box.
---
FIRST PITCH
The University of Arizona athletic department has announced a plan for renovations to its McKale Center, including a new video board, upgraded seating and a new floor. Installation of the new scoreboard is already under way, while the other elements of the project are expected to begin in May, pending approval from the board of regents. The $30 million in renovations represents the first phase of an overall $80 million renovation project at the center… The University of North Carolina-Wilmington Board of Trustees has approved the first phase of an outdoor enhancement project for its athletic facilities. Improvements will include renovations of the existing intramural fields and installation of synthetic turf, as well as construction of restroom facilities… Miami-Dade County commissioners have given officials the go-ahead to begin scouting sites and negotiating with developers for the construction of a new MLS stadium in Miami. The stadium will be privately financed by former MLS soccer player David Beckham… The City of Torrington, Conn., has approved the selection of Gale Associates of Glastonbury, Conn., to oversee the planning and design of renovations to the high school's athletic facilities. The $2.7 million project will provide the first upgrades in more than 20 years, including replacing the track and bleachers, installing a synthetic turf field and improving lighting… The University of Colorado Board of Regents has approved a $142 million athletics facilities plan for its Boulder campus. The plan includes a 173,000-square-foot addition to Folsom Field that will house a high-performance sports center, an indoor football practice facility and two outdoor fields. The department now begins fundraising efforts, with the goal of beginning construction as early as this summer.