A $223 million plan to upgrade the University of Wisconsin-Madison's lagging recreational sports facilities passed in a landslide student vote that ended Wednesday, the Wisconsin State Journal reports.
Over a three-day voting period, UW-Madison students voted 12,070 - 1,914 in favor of a facilities plan which will improve the school's aging fields, gyms, pools and tracks. UW's rec facilities have long been considered to be the worst among Big Ten schools. The university currently has more than 43,000 students, but only 15,000-square feet of fitness space. For comparison, Ohio State has 49,000-square feet of fitness space.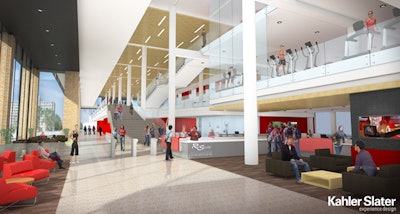 The approval of the new facilities plan will come at a cost to UW-Madison students, however. Students will be on the hook to pay for 57 percent of the $223 million cost through student fees. Currently, student fees amount to $565 a semester, with $37 of that supporting recreational sports facilities. The increased fees will eventually bump that $37 cost to $145, but it won't take effect until the new facilities open.

The remaining costs will be covered from donor gifts ($56 million), state funds ($30 million) and the school's athletic department ($7 million.) The contribution from the athletic department had been the subject of debate in recent weeks as one university group described the $7 million contribution as "measly."

More than 34 percent of students voted in the election. Look for AB's in-depth comparison of the Big Ten's rec facilities in our April issue.