Breaking Ground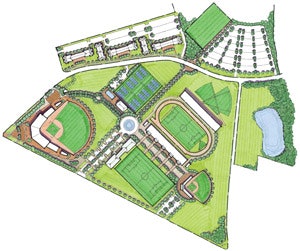 Anderson University has begun construction of a softball field and tennis center, part of a new athletic campus (right) that will be developed over the next several years. The softball field will feature synthetic turf and hopefully attract NCAA and conference events. The projects are expected to be completed in February, along with a recreation pool. DP3 Architects of Greenville, S.C., is providing design services for the projects that includes future construction plans for a new baseball stadium, seating and a track around the soccer field, an auxiliary gymnasium and more recreation facilities for students. The timeline for these projects is contingent on fundraising efforts.
Construction of the Kent County (Del.) Recreation Center gets under way this month, built in conjunction with the Greater Dover Boys & Girls Club. The 62,000-square-foot building will be split into two sections connected by a common entrance. The Kent County side will contain a large gymnasium primarily for basketball and volleyball, but also will host other recreational sports, including pickleball, tennis, soccer and lacrosse. The Boys & Girls Club will feature a game and activity room, a computer and teen room, and five classrooms. The Boys & Girls Club will have access to the gymnasium when not needed for county use. The 16-acre site also includes a parking lot, a maintenance building and a multipurpose synthetic turf field. Construction of bleachers, restrooms and a concessions stand is also planned.

Construction of the Mesa High School Regional Aquatic Center (below) is now under way in Arizona. Designed by Saemisch + Di Bella Architects Inc. of Mesa, the $6.6 million facility will include an eight-lane, 25-yard lap pool, a dive tank and a zero-depth-entry recreation pool with a lazy river and space for swimming lessons. Shade structures and bleacher seating will also be included in the construction, along with a building to house restrooms, lockers, and office and classroom spaces. The project is expected to be complete in April 2015.
Columbus State University breaks ground this month on a $1 million renovation of its 44-year-old baseball stadium. When it reopens as Burger King Stadium at Ragsdale Field in 2015, the stadium will feature a new brick-face facade, a new roof over the seating area, 750 chair-back seats, a plaza area, a new press box and ticket booth, an updated scoreboard and a picnic terrace for group events.
---
First Pitch
The Riverview Hospital Association of Wisconsin Rapids, Wis., and the South Wood County YMCA have partnered to construct a new 100,000-square-foot facility adjacent to Riverview's medical clinic. The new $20 million YMCA will consolidate existing facilities in Port Edwards and Wisconsin Rapids. A fundraising campaign is currently under way, with construction expected to begin in 2015... Officials in Richland County are pushing to build the largest water park in South Carolina. The proposed $20 million, county-owned park would be located in Northeast Richland as part of an effort to boost tourism in the area. The park would be funded through an existing hospitality tax as well as a 30-year loan, though a private company would be hired to operate and maintain the park. Officials are currently reviewing proposals for firms interested in designing and building the park, after which the project would need to be approved by the county council.
---
Grand Openings
The Alaska Airlines Center opens this month at the University of Alaska Anchorage. The $110 million, 192,000-square-foot arena seats 5,600 and will host UAA athletic competitions, high school and college graduations, concerts, youth camps and other community events. The naming rights deal with Alaska Airlines builds on the company's previous support for UAA athletics and includes a scholarship endowment and travel sponsorship for UAA's athletic teams, alleviating one of the program's most significant expenses. Designed by Hastings+Chivetta Architects of St. Louis and McCool Carlson Green of Anchorage, the arena also includes an auxiliary gym, a gymnastics gym, a fitness center, a training room, a hall of fame, athletic administration and coaches' offices, and locker rooms for athletic teams. The university's previous arena, Wells Fargo Sports Complex, will continue to be used for recreational and educational programming... Another set of Hastings+CHIVETTA ARCHITECTS-designed projects debuted at Missouri State University this fall. Improvements to Plaster Sports Complex made up the bulk of the $27 million project and included removing the track to bring the football field closer to seating, replacing the east-side student seating section with a 4,000-seat concrete structure and raised patio, and constructing new concessions and ticket windows.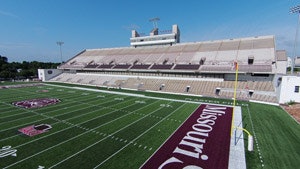 Also included in the project was construction of the Betty and Bobby Allison North and South Stadiums. Allison South Stadium will be used for soccer and track and features a lighted synthetic turf field (with seating for 1,500 and a press box) surrounded by an Olympic-sized running track and field event areas. Allison North Stadium will be used for field hockey and lacrosse and also features a lighted synthetic turf field, as well as storage areas for club and intramural sports usage. Also included in the project are two NCAA-regulation sand volleyball courts. The facilities will be used for recreational programs when not in use by the school's athletic teams... Athletic teams at Sacred Heart Catholic High School in Hattiesburg, Miss., finally have facilities to call home. The Sacred Heart Athletic Complex provides a grass practice field, a lighted football and soccer field, and diamonds for baseball and softball. The complex is owned and operated by the non-profit San Antonio Foundation Inc., and leased by Sacred Heart, as well as Grace Temple Church and the Mississippi Youth Football Association.
---
This edition of "New Projects" originally appeared in the October issue of Athletic Business.