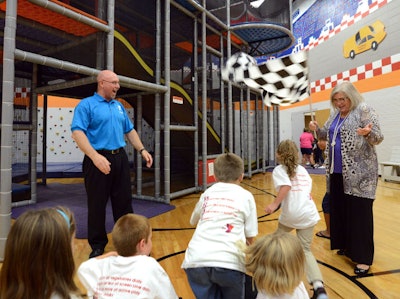 If there's one phrase kids universally loathe, it's "Don't run indoors!"
The lucky kids of Bristol, Tenn., however, are going to be hearing those three words a lot less frequently.
On Tuesday, the Bristol YMCA opened a $125,000 indoor playground, named after former general manager of Bristol Speedway Jeff Byrd.
Children can now climb, jump and run indoors on the racing-themed, two-storied playground, which offers equipment choices that include a wave slide and a rock-climbing wall.
Claudia Byrd, Byrd's widow, said the YMCA's efforts with the indoor playground exceeded her expectations. She said her husband would have been satisfied because the playground, which is unique to the area, provides a safe environment where kids can have fun.
"This new playground has helped us elevate our Kids' Gym and we look forward to seeing the youth in our community enjoy this exciting addition to the Y for many years to come," said the YMCA's CEO Chris Ayers. "We are always looking for ways to enhance our offerings, and this project would not have been possible without the generous support of our donors."
The opening of the playground is just a part of the YMCA's $3 million dollar renovations. With those renovations almost complete, the YMCA has announced the closing of their Wellness Center, which they took over from Wellmont in 2009.
Wellness Center classes will move to their primary facility when the center closes its doors on October 31. "By the time that's closed down, we will rearrange our aerobic schedules here to include all but about two of the classes that were there at the same time," Ayers said.
The YMCA knew from the time that it took over the center that the lease would be temporary. As of Wednesday, a spokesperson from Wellmont said they don't have any plans for that building.
YMCA indoor playground a great opportunity for our community's children! pic.twitter.com/jDz7vO0QPs

— Gary Lilly (@BTCS_Director) September 16, 2014