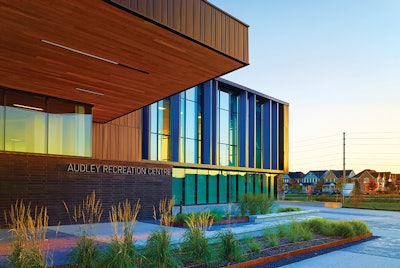 Audley Recreation Centre |
Ajax, Ont.
More than one judge expressed appreciation for the execution of Audley Recreation Centre's straightforward design, as well as its role as a town centerpiece that still fits perfectly within its surroundings.
The modern look of the facility is enhanced by wood ceilings and abundant glazing allows sweeping interior and exterior views while providing an open, luminous, connection between all elements of the recreation center and surrounding park. The LEED Gold-certified facility also features an interactive lobby display, highlighting the building's many sustainability features.
"Outstanding connection and integration to site features," said one judge. "One of my favorites."
View the full photo gallery>>
Judges' Comments:
Sensitive scaling for this building, which feels comfortable in its residential neighborhood.
— Jeff Piette
Simple and clear. Handsome composition of minimalist materials.
— Clarence Mamuyac
Well-organized. Beautiful presentation inside and out.
— Stephen Springs
ARCHITECT OF RECORD
MacLennan Jaunkalns Miller Architects | Toronto, Ont.
Cost: $24 million (Canadian)

Square Footage: 54,600

Funded By: Government funds

Major Facility Components: Gym, indoor pools, youth and multipurpose rooms, flow-through lobbies, public art gallery, library, outdoor skate park, playground

More 2014 Facilities of Merit:
Chinguacousy Sports Park Redevelopment | Auburn University Recreation and Wellness Center

The 2014 Athletic Business® Facilities of Merit™ awards were selected by a panel of sports and recreation facility architects during two days of judging in Madison, Wis. The 10 winners are being announced during these two weeks, and profiles of all 10 will appear in the November issue of Athletic Business. The awards will be presented to the facility owners and architects at the Athletic Business Conference & Expo in Orlando on Friday, Nov. 14.