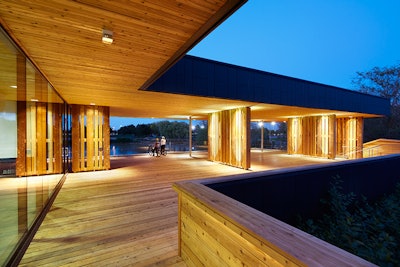 Chinguacousy Sports Park Redevelopment |
Toronto, Ont.
The word "materials" was mentioned by six of seven judges, who were impressed by the cohesive appearance of the redeveloped park's structures and relationship to the park itself. "Artful" and "elegant" were also used to describe the overall design, which overcame the challenge of integrating separate volumes serving specific purposes.
The goal was to create a welcoming community hub capable of sustaining yearlong recreational activity, and to transform the park into a beautiful sequence of indoor and outdoor spaces. Each building has a series of terraces and shaded deck areas overlooking the park activities.
One judge called this project "responsive and connected to the outdoors," and, perhaps more important, "my favorite."
View full photo gallery>>
Judges' Comments:
Fantastic use of exterior building materials that blend seamlessly into the overall site.
— Colleen McKenna
A very consistent pallet between the different facility types. Exceptional use of materials.
— Erik Kocher
Exceptional project that provides for both summer and winter sports park usage while providing an abundance of wonderful social spaces.
— Darryl Condon
ARCHITECT OF RECORD
MacLennan Jaunkalns Miller Architects | Toronto, Ont.

Cost: $14.65 million (Canadian)
Square Footage: 37,350
Funded By: Government funds
Major Facility Components: Ski chalet/clubhouse, outdoor volleyball complex, boat pavilion, skatepark, BMX trails, tennis and curling club


More 2014 Facilities of Merit:
Audley Recreation Centre | Auburn University Recreation and Wellness Center

The 2014 Athletic Business® Facilities of Merit™ awards were selected by a panel of sports and recreation facility architects during two days of judging in Madison, Wis. The 10 winners are being announced during these two weeks, and profiles of all 10 will appear in the November issue of Athletic Business. The awards will be presented to the facility owners and architects at the Athletic Business Conference & Expo in Orlando on Friday, Nov. 14.