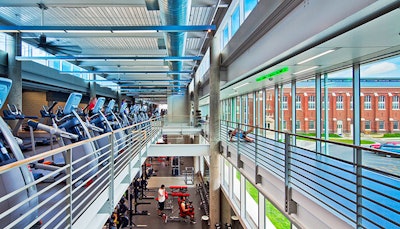 How many basketball courts does your facility really need? Is racquetball still popular? Is anyone using your locker rooms?

Fifteen years ago, Athletic Business and RDG Planning & Design collaborated on a study of collegiate and nonprofit recreation centers to find the answer to these questions and more. As we celebrate 100 years of collegiate recreation, we realize many things have changed — new questions need to be asked and answered.
Once again, Athletic Business and RDG Planning & Design are collaborating on an industry survey, the results of which will be published in the April issue of Athletic Business. The survey focuses on best practices in facility design, fitness, wellness and emerging technology. Your input is needed, and appreciated! Need an incentive to participate? Take the survey, and you will be eligible to win a large-format flat-panel TV courtesy of RDG!
A sneak peak of the survey results will be incorporated into a large group discussion during the 2014 Athletic Business Conference & Expo's preconference seminar, Recreation: Past, Present, Future.Sign Up Now.