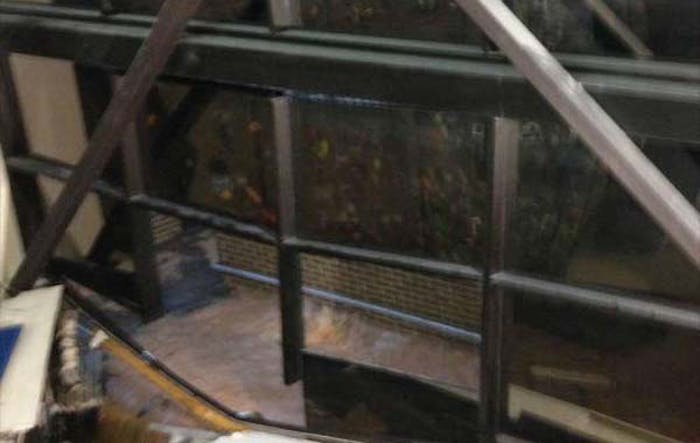 Sam Houston State University has some serious cleaning up to do after heavy rains caused a glass wall at the Student Sports Recreational Center to break, flooding the first floor of the center with 14 to 16 inches of water.
@weatherchannel Flooded Rec Center at Sam Houston State in Huntsville, TX pic.twitter.com/FV6FtLNPCA

— Michael Mora (@MichaelMuhMora) April 17, 2015
Witnesses estimate there was about six feet of standing water outside of the glass wall before it gave in from the pressure. The glass broke right next to the climbing wall, which was not in use at the time but there were students very close by the area. 
Keith Jenkins, associate vice president of student services, said the glass wall gave in because there was "such a large volume of water the drains weren't able to drain."
In addition to the flooding inside the center, the pool behind the building also overflowed. 
According to staff, the building will likely not open again before the end of the school year in two weeks, but they do expect it to be ready by the time summer school begins.
Video from rec center on #SHSU campus where a wall collapsed under pressure from flooding #abc13storm pic.twitter.com/2OrusOfwJd

— Houston News (@abc13houston) April 17, 2015
RELATED: Flood Emergency Provides Lessons in Crisis Management