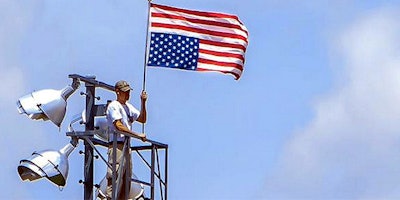 Authorities had to close an aquatic center and cancel events at several recreation facilities in Surprise, Ariz., a suburb of Phoenix, on Thursday after a man climbed to the top of an 80-foot light pole at Surprise Recreational Field and refused to come down for more than three hours.
Emergency crews negotiated throughout the afternoon with Michael Lewis-Arthur Meyer, a 36-year old from Tucson, who stood on a platform at the top of the pole with an upside down American flag.
Law officials were eventually able to convince Meyer to come down. A mental health check was performed on the scene, and medical personnel determined that Meyer was not suffering from an sort of mental-health crisis.
Army veteran Edwin Alex Cordero said that Meyer climbed the light pole to raise awareness for veterans and that Meyer has been helping him since he returned from the war.
After the incident, Meyer was arrested and taken to a local jail. He faces charges of criminal trespassing in the third degree and disorderly conduct.
All of the canceled recreation events have been rescheduled for other times.