Whether designing a new facility from the ground up or looking to renovate an existing building, attention to interior details will be essential to establishing a character and identity unique to that facility and its users. Graphic elements serve a variety of vital functions within a facility — encouraging particular feelings and emotions, establishing visceral and visual connections, clarifying wayfinding and identifying program spaces. Following are six ways in which simple color and graphic concepts can be used to define and enhance the design of any facility.
1. COLOR BASICS
Color shapes environments and creates specific feelings or attitudes. Red, for example, is an emotionally intense color, while blue is calming and peaceful. When selecting environmental colors, consider the activities occurring in each space. A fitness room where yoga will be practiced will have a completely different color application than a cardio or weight room.
Rather than using color as an accent only, painting an entire space creates an overall environment. This approach is most successful when using colors with a mid-range level of saturation, as opposed to brighter colors, which over an extended period of time can be visually exhausting or even agitating.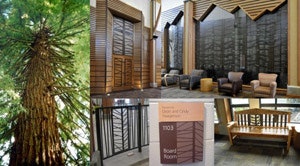 2. ICONIC ELEMENTS
Almost every community contains easily recognizable and identifiable natural or cultural elements, such as a distinct geographic feature, a specific agricultural crop raised in the area, a festival or event, a mascot, native plants or animals, historic events or landmarks. Incorporating these features into a facility's design bolsters the sense of belonging to a particular location and creates a place in which the community comes together to socialize and recreate.
3. PHOTOGRAPHIC IMAGES
The use of large-format digital prints is another method to add color and graphic imagery to facility spaces. Nature photography in particular is easily re-created into decorative elements to establish themes and create identities for areas or rooms (the Aspen Room, the Columbine Room). These graphics are especially compelling when the user can make a connection between the photo and the actual location portrayed.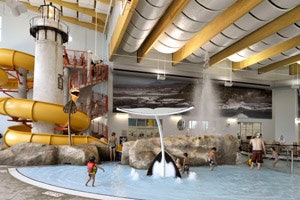 4. THEMING FOR VARIOUS USERS
Facilities should be fun and engage all ages within the community. Theming in a facility — focusing on a single element that is easily understood and then designing this element to appear throughout a facility or area — is particularly useful for engaging different age groups.
5. ACTIVITY GRAPHICS
Recreation centers are hubs of activity, and the actions and movements of users make for perfect design features. Photos of actual patrons using the facility can help to not only create a personal connection, but serve as motivation to see easily relatable figures doing the same activities — swimming and diving, weightlifting, group exercise classes and cardio workouts, as well as boxing and gymnastics enhance specific areas of the facility. Enlarging and cropping images transforms them from mere photo documentation into signature design features. Graphics can even be fabricated into acoustical panels or other rigid materials and then mounted onto walls or silhouetted onto large window sun shades, thus serving as graphic identifiers for areas of a building and as signs to announce activities or events.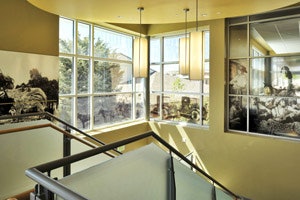 6. HISTORICAL ELEMENTS
Incorporating a community's history is a simple and direct way to link the past and the present. Such graphics can be informative, educational, emotional and decorative but are appreciated by visitors and locals alike. A simple method to accomplish this graphic application is by having high-quality drum scans done of original photographs and then enlarging, manipulating, cropping or collaging them into a composition that tells a story.
Color and graphics are great design tools to help shape spaces and create unique and expressive facilities that truly represent their location and users. It's never too early or too late in the process to consider the interior design elements of your facility as an integral part of its success. Whether you have a large budget or are looking for an economical solution, some simple graphics and strategically placed color will not only help to draw patrons into your facility and help them to navigate it, but also serve to establish a connection between them and the building, encouraging their likely return.
---
Marcia Hocevar is principal-in-charge of interior design at Denver, Colo.-based Barker Rinker Seacat Architecture.
---
This article originally appeared in the July/August 2015 issue of Athletic Business with the title "INSIDE JOB"