Renovating, expanding or building a new campus recreation center? More than likely, the topic of a climbing wall is going to come up. What was once a point of differentiation for campus recreation programs has become nearly standard in facilities across the country, driven in part by the college arms race but fueled by a growing interest in climbing.
"Universities used to be the place to learn how to rock climb because there was nowhere else to go," says Adam Koberna, sales manager of Walltopia's Pittsburgh office. "But those people have graduated and go to big climbing gyms, and they take other people to those gyms. Now you have a generation coming to college and saying, 'This isn't a climbing gym.' The notion of what indoor climbing is has changed dramatically."
As a result, many recreation centers are finding that their 20- or 30-year-old walls — once seen as cutting-edge — are no longer meeting expectations, and something needs to be done. "Schools that had initially started off with walls are doing renovations right now," says Marleigh Hill, sales coordinator at Boulder, Colo.-based Eldorado Climbing Walls. "A lot of them are larger schools that had state-of-the-art recreation facilities back in the '90s and want to catch up with the game. Everybody who's renovating around them right now is putting in new walls, and they need to update again."
CHANGING PERCEPTIONS, PROGRAMS
Changes in climbing wall design reflect the greater range of users' abilities and interests, says Hill. "A lot of the walls we're building are bouldering, top-rope and lead-climbable. But we're also doing a lot of bouldering walls for smaller schools or schools with smaller budgets. It's more accessible, entry-level. You don't need to be belay-certified or have a lot of equipment."
Interest in climbing as a competitive sport is also having an effect, as more emphasis is placed on function over aesthetics. "It's becoming more accepted that these walls don't have to look realistic," says Todd Chester of Bend, Ore.-based Entre-Prises Climbing Walls. "It's a sport; we consider these playing fields. Ours happens to be a vertical playing field."

Just as a synthetic turf field doesn't have to be green, a climbing wall doesn't have to look rocky. "We still see a good share of realistic rock projects, but we're starting to see that transition over to wood products," Chester says. "Those products lead to a higher t-nut density and route-setting, which allows for a more diverse configuration of handholds."
On the operator's side, "ease of use, ease of maintenance, versatility are becoming higher priority," says Michael Moore, director of sales for Nicros Inc. in Minneapolis. "Larger, flat-expanse walls allow them to mount some of the larger extreme handholds on the market and reinvent the wall through a series of different types of handholds."
The changes in wall design are also the result of programming discussions happening earlier in the construction process — and getting the right people involved in them. "On-campus climbing programming has evolved so that programmers have a larger role," Koberna says. "We're being asked to do things that help programming — a multi-pitch climbing class, rappel class, gear-placement class — which in turn makes the wall more popular."
Having a clear vision of how a wall will be used before the actual design process begins is leading to more practical wall designs that have more value to the end-user. "When campuses first started bringing walls, some were more of an aesthetic piece in atriums," Chester says. Now, he sees three different aspects driving design: recreation and fitness; program-specific uses, such as outdoor education and correct climbing technique; and competitive climbing.
"If you have just a bouldering wall, you can say, 'Yes, we have a climbing wall,' but you can't teach a rappel class," Hill says. "That's a conversation I encourage the facility directors, the students and outdoor directors to have with the architects."
Think beyond the traditional climbing programming, Hill adds. "You can take a kinesiology class to a climbing wall and teach them movement. You can have boy scouts and girl scouts come in and use the wall."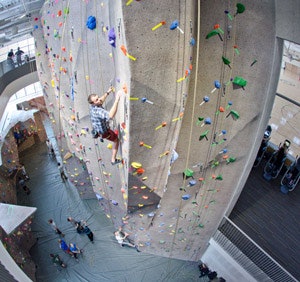 OPTIONS FOR OLDER WALLS
So what happens when a facility looks at its existing climbing wall and realizes that it's no longer meeting programming needs?
Extra space is a rare commodity in many campus recreation centers, and expanding the area devoted to a climbing structure can be particularly troublesome, as many walls were built to the specifications of the existing space to begin with. In some cases, a larger facility renovation or expansion can create an opportunity to add more wall space. "If the school is adding space as part of a renovation, then we can expand," Hill says. "For the most part, though, it's an existing area where they're doing some small demo stuff."
Completely demolishing an existing wall and replacing it is one — often unsavory — option. "The cost can be anywhere from $10,000 to $50,000," Hill says, depending on what the wall is made of, how large it is, and how easy it is to access.
"We have done a few retrofits where we've done some teardowns and rebuilds," adds Moore. More often, the work involves renovating only a portion of the structure, he says. "There are times when we're able to save some of the primary steel structure, depending on the new design elements or what additional features they're looking for."
Some facilities may find that just replacing the surface with more of a performance-style material is enough to bring new life to the wall. For others, the wall itself may need reworking to create more of a challenge. In its renovation of the climbing wall at California Polytechnic State University, for example, Entre-Prises was able to take the existing wall panels and reconfigure them with newer pieces to create an expanded wall.
Another project Chester is working on also includes a specific request to reuse as much of the existing wall as possible. "They don't want to junk it," he says. "To get rid of something 100 percent and start from scratch is a lot of money and landfill. We don't want to see that."
---
RELATED:
Climbing Gyms Proliferate as the Sport Takes Hold
Climbing Wall Companies' Latest Work Reflects Industry Reaching Higher
An Effective Mission Statement Aids Climbing Wall Operation
---
Another option is to leave the current wall and look elsewhere for space, as Oregon State University did a few years ago, incorporating a second climbing area into an expansion of its McAlexander Fieldhouse. "Their classes were overbooked and they were turning away students," Chester says of the school's existing wall at Dixon Recreation Center. "They knew they were going to be building a new sports facility, so they made sure to encompass the climbing facility, as well."
Moore says that his company sees a lot of requests for bouldering wall additions separate from the original walls, and that while older walls may no longer meet all programming demands, they still serve a purpose. "The introductory climbing walls — the large aesthetic tower and realistic rock — those are still important as a stepping stone for people who have not been climbing."

WHAT'S NEXT?
For as big of a role as collegiate climbing walls have had in driving the growth of the sport, the time spent resting on their laurels is catching up with them. "In a way, the university climbing sector is being left behind a bit," says Koberna. "Colleges and universities were driving design, and the private sector wasn't doing anything. Now it's shifted. The only way for the public sector to catch up is to commit to more dedicated space. That might happen. As the popularity of indoor climbing rises and it becomes more accepted, it might switch back again. That's the crossroads we are at right now. The passion for climbing from the people who do it is there, and they want to push it."
---
WALL EVOLUTION AT TEXAS TECH
The first climbing wall at Texas Tech University was a small, plywood structure erected sometime around 1989, estimates Kevin Hoffman, coordinator of outdoor pursuits for Texas Tech's recreation department. It was replaced during a 2000 renovation of Robert H. Ewalt Recreation Center with something a little more substantial.
"This wall stood in the center of our rec center at 50 feet in height and included nearly 2,800 square feet of climbing with a small stand-alone boulder approximately 8 feet tall," Hoffman says. Comprised of a steel-and-iron frame with heavy stucco texture and natural-rock-looking features, the wall was similar to others built in the past 15 years.
But after 15 years, it was starting to show its age. "We started looking at a wall resurface or facelift in fall of 2014," Hoffman says. "Much of the hardware — worn t-nuts, lead climbing lanes and teaching anchors — required service or needed to adapt to our class and program offerings."
A redesign wasn't in the plan, at least at first, says Hoffman. But the the time and resources needed for a redesign were fairly comparable to those needed to resurface, and the price was still within the budget. "After we started discussions about a potential redesign of the structure, the key points focused on the ability to set difficult routes for competitions and how many of the angles on our structure could be improved for this means," Hoffman says. "We also had some issues with our standalone bouldering feature. It really wasn't tall enough or steep enough for the bouldering population to appreciate."
With the help of a general contractor and Eldorado Climbing Walls, Texas Tech had the old wall torn down to the structural steel base installed in 2000. The new 53-foot-tall wall opened this past May, stands roughly in the same footprint and offers more than 2,900 square feet of climbing. Other new features include a 64-square-foot training wall at ground level, a rappel ledge to teach multi-pitch climbing concepts, four additional belay bars for a total of 16, all with lead-climbing lanes underneath.
"We're just starting to see the influx of incoming students and with it increases in membership and usage," Hoffman says. "We've had increased demand for basic belay classes during the summer months, which are usually slower, and our roped climbing and bouldering hours are exploding with users as the Fall 2015 semester begins."
The new wall is an integral part of the growing climbing program at Texas Tech. "I and my directors have a vision to expand the climbing facility beyond a one-time attraction used for freshman orientation and special rentals," Hoffman says. "Class offerings at the wall have a progression that keep our regular climbers coming back to learn new skills."
---
This article originally appeared in the October 2015 issue of Athletic Business with the title "Searching for the Summit"