An effective mission statement can help climbing wall operators reach new heights.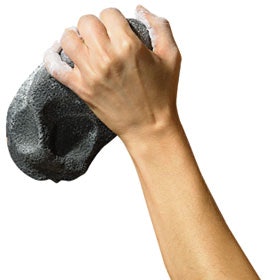 Increased local competition means many health club and municipal and college recreation center operators no longer provide the only climbing wall in town - a reality that is forcing them to become more marketing savvy as they fight to engage both new and experienced climbers. But, like participants in any other recreational or fitness activity, types of climbers vary greatly, creating marketing challenges when targeting potential climbers regardless of age or experience. Complicating matters is that some people climb for the sport's social aspects, preferring to stay on routes with lower degrees of difficulty, while more-serious climbers use indoor facilities to practice for outdoor excursions or train for competitions. Others want frequent changes in routes or bouldering opportunities. Like a health club that caters to professionals by setting up shop in the middle of a business district or a high-end suburban rec center with a full slate of children's programming, climbing facility operators - both in stand-alone buildings and in facilities where walls are just one of many amenities - must determine the qualities that separate their businesses from others. Climbing combines elements of fun and adventure with fitness, making walls popular both with parents wanting to provide their children with an alternative birthday party experience and serious climbers preparing for their next big adventure. In order to determine where a particular facility's strengths lie, operators need to identify specific goals in the form of an effective mission statement. Find A Mission
If a climbing facility's mission statement is vague - "to provide a facility for climbers to climb," for example - that facility won't stand out from other climbing centers in the area or the general-purpose health club down the street, because those types of facilities presumably adhere to the same mission. On the other hand, a specific mission statement - say, "to impassion climbers to improve overall performance and fitness through climbing" - gives everyone from climbers to employees an objective. Determining a solid mission statement that answers the question of "who" is a key step in this process. The above example identifies the "who" as "climbers" - that is, anyone who attempts to reach the top of a wall. The "mission" of the facility, "to impassion climbers to improve overall performance and fitness through climbing," states the activity's desired outcome. Around this, you can build operating procedures, programming options, instructional clinics and other activities. Of course, it's crucial that you actually meet the expectations proposed in your mission statement, which is why you must ask yourself a number of questions about both the interior and exterior of your facility when determining its mission. Look around your climbing space and view it from the perspective of a visitor. Here is a checklist of questions to consider:
Who are your primary users, and do they represent your desired target markets?
What are your goals for the users' experience?
Do those goals reflect the style of outdoor climbing popular in your region, as well as the progression of the sport?
How do your facility's design and space limitations affect those goals? For example, are the walls too high for beginners? Are the routes not challenging enough to entice more experienced climbers?
What does your facility offer that others in the area do not?
Is the overall environment friendly and inviting to climbers of all skill levels?
Do instructors communicate in a way that climbers understand and appreciate?
Do business hours, and clinic and program schedules, fit the needs of the wall's typical users?
Do you provide related services (such as gear rental and sales) and customer service to climbers?
Does the music played in the facility appeal to the typical climber?
Does the facility's atmosphere encourage both performance and socialization?
Is your building conveniently accessible both from the street and the parking lot? Is it even easily identified as a climbing facility?
All of these factors will influence who comes through the doors. Once you have answered these types of questions, you can fine-tune your mission statement. Perhaps you'd like to retain your current members but also add services geared toward other user groups. For example, if your vertical walls have several holds on them that primarily attract young climbers, a mission that strives "to challenge youths to develop their climbing and rope safety skills while encouraging them to embrace the sport as a lifestyle" could work wonders for your facility's community profile. You can still offer adult memberships and services but you've now established that your main focus is kids. Indeed, from here, you can create parent/child climbing experiences that could even become your niche. Foster Diversity
In Santa Cruz, Calif., the Pacific Edge climbing gym has successfully bridged often diametrically opposed goals to great effect. The facility offers challenging routes for avid sport climbers, regularly scheduled climbing competitions, a junior climbing team and an after-school climbing program. Yet on the weekends, the facility hosts birthday celebrations in a separate climbing room designated for parties and beginners' programs and clinics. This arrangement is ideal for maintaining the loyalty of experienced climbers who prefer not to contend with noisy kids, while at the same time introducing young people to a new and potentially lifelong activity. By observing other members climbing in the facility's main room, the birthday child and his or her friends can see that there is more to the sport than simply getting to the top. (This is really no different than offering bouldering opportunities separate from the rope areas, allowing different types of climbers to have their own space.) That kind of flexibility remains vital to a climbing facility's success. In addition to parties and memberships, many facilities will offer retail sales and rentals of climbing gear and equipment, introductory and advanced programming, and outdoor climbing and instruction. The trick to optimizing these services is finding a balance. If your facility becomes renowned for birthday parties, for example, you must consider how that segment of your business will affect other users. Staggering different services throughout the day can improve the flow of business in a given facility. For example, a women's-only league could be scheduled on a typically quiet weeknight, or a bouldering league can operate during peak birthday hours on the weekend, thus keeping regulars busy even though several of the rope routes might be in use for the party. Leagues are ideal opportunities to turn your facility into a social center. They target specific skill levels, meet during off-peak times and require little supervision. Climbing races and competitions, slide shows featuring photographs from members' outdoor adventures, and climbing-related yoga classes that help users stretch affected muscles also are ways to provide climbers additional incentives to visit your facility and interact with each other.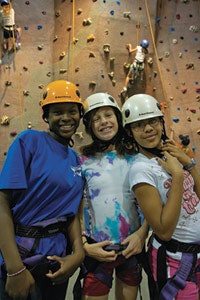 The same goes for youth programming, although such scheduling may require a little more research. For example, a popular local soccer organization may hold games on Tuesdays and Thursdays during the summer, which means climbing programs scheduled for those days will directly compete for kids' (and their parents') time. After-school programs that teach basic techniques and safety lessons provide children with alternative activities to mainstream sports, but just like adults, those kids will likely need to be divided into groups, based on their climbing skill level. Eventually, as the children move into adulthood - assuming you've provided a memorable and rewarding experience for them - they will have fewer reasons to find another climbing facility. Get Specific After you consider user types, flow of business, and program offerings and scheduling, your members will help do the rest. If, for example, your mission remains empowering climbers to improve their performance, you should set climbing routes that challenge users, play music that encourages and motivates them, hire effective instructors and staff members who are both skilled at teaching techniques and interested in climbers' progress, and create spaces where climbers can talk shop or relax. A climber who sees success in his or her routine, enjoys using your facility and buys into its mission statement can be a powerful promotional tool by spreading the word and bringing in new business. Conversely, if you have failed to create an environment that inspires success, climbers will eventually find another place to climb - one that challenges them to improve. Consistently changing route settings (in some cases, every month; in others, every three days) is among the easiest ways to garner repeat business. Beginners need enough hold options to reach the top of a wall, but don't hesitate to build in "tricky" moves that encourage strategic thinking - such as requiring climbers to make consecutive moves with the same hand. Another option involves applying tape to specific handholds. Tape can both challenge the technical ability of experienced climbers by restricting the number of holds available to them and help beginners follow a predetermined climbing pattern. Effective route settings - and frequent route changes - help keep the activity fresh. But finding competent route setters can be difficult in some communities, so ask your regular advanced climbers to assist with that task. Better yet, incorporate it into the regular programming of climbing leagues. Other approaches to enhancing a facility's climbing services include hosting movement clinics and advanced instructional programs. Doing so, however, requires skilled staff and complicated routes, which can be prohibitive in a small facility lacking a wide variety of challenging angles. For example, the walls in some small climbing facilities are simple vertical slabs that can be beneficial to teaching balance and proper toe placement but limit more creative climbing. The lack of steeper walls also makes it difficult to teach advanced movements, such as flagging and heel and toe hooking. Wall developers at The Dalplex Rock Court at Dalhousie University in Halifax, Nova Scotia, overcame the slab challenge by designing wall sections in a racquetball court conversion that undulate into shapes like a ship's prow. The walls emerge from different directions and meet in a flattened arête feature (designed to resemble a sharp-crested ridge on a rugged mountain) that allows climbers to use either or both sides at one time. This enables the facility to offer more climbing surface area and provides users with a variety of angles and opportunities for movement instruction.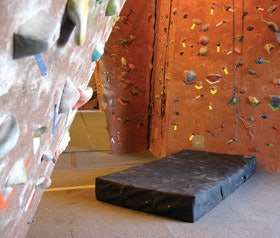 Flooring choices also can have a serious effect on the success or failure of climbing programs. If a climber is distracted by fears of falling and landing on a hard surface, encouraging them to climb - never mind teaching them new techniques - is difficult. Climbing instructors at Hampshire College in Amherst, Mass., where the predominantly vertical climbing wall is surrounded by little more than gymnastics mats, have created an acceptable alternative in an adjoining bouldering cave, complete with 24-inch-thick, open-cell foam mats. Not all climbing facilities are ideal for all climbers. Similarly, not all climbers are right for any one type of facility. A comprehensive mission statement can provide a framework from which you can develop and manage your climbing operation and programs. Likewise, the natural strengths and limitations of your facility's design can help you mold a mission statement that's more specific and attainable. And a clear understanding of the climbers you serve can assist you and your employees in sustaining and improving the offerings and environment within your facility - which, in turn, motivates users to keep coming back. After all, happy climbers are the key to any successful climbing business.