Climbing wall companies' latest work reflects an already innovative industry reaching for even greater heights.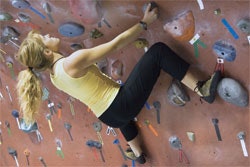 It's a little late in the game to characterize as "renegades" the people who over the past two decades have made climbing walls a multimillion-dollar, global enterprise. They're savvy entrepreneurs whose trade involves re-creating mountains on a smaller but no less functionally challenging scale. As the industry has grown, wall manufacturers have become more innovative in their design solutions, more sophisticated in their fabrication methods and more adaptable to their clients' various needs, as demonstrated by the recent installations appearing below.
ENTRE PRISES CLIMBING WALLS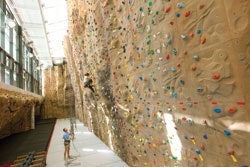 Tremendous variety characterizes the new climbing wall at Whitman College in Walla Walla, Wash. Combining 3D Imprint™ panels and hand-shaped Freeform™ features from ENTRE PRISES CLIMBING WALLS, the wall comprises 7,000 square feet of total climbing area that includes flat planes for unlimited route-setting capabilities, cracks, flakes, pockets and a variety of other interesting features.
Constructed on the outside of the original recreation center and then enclosed, the climbing wall replaced what was at one time an outdoor climbing pit that featured holds bolted to the building and a bouldering wall. The wall had to satisfy the specific requirements of the small college's well-established climbing program, and the company's combination of wall systems allowed the client to get the maximum square footage of realistic-looking climbing surface within its limited budget. The bouldering wall is 98 feet wide by 12.5 feet high, while the central feature of the main wall is a 104-foot-wide-by-40-foot-tall Imprint panel system that offers more than 45 different 3-D molds to enable the creation of a near limitless variety of topographies that closely resemble the look and feel of real granite.
ROCKWERX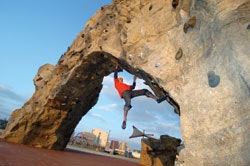 Offering bouldering, top rope and lead climbing, the Whittier Peninsula climbing wall opened in Columbus, Ohio's Scioto Audubon Metro Park in November. The climbing-wall equivalent of a skate park, Whittier Peninsula was built by the Columbus and Franklin County Metropolitan Park District for free public use. Because it is not a closely supervised venue, all climbers must obtain a belay certificate to show park rangers on duty.
Built by ROCKWERX, the Whittier Peninsula climbing wall is fabricated from the company's Natural Rock, a composite polymer with fiberglass backing attached to a welded steel frame that is constructed using molds made from actual rock faces and boulders. The natural-looking climbing surface, a synthetic concrete that looks and feels like the real thing, spans more than 7,000 square feet, which is larger than many full-size indoor climbing gyms. In its Seamless Natural Rock form, the product offers undulating curves, corners and cracks, and no panel lines or artificial edges, which give the appearance of a true product of Mother Nature.
BREWERS LEDGE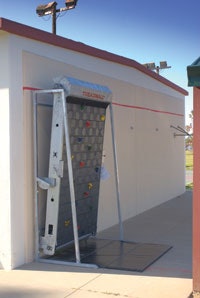 Intended to complement an outdoor cross-training circuit at the U.S. Marine Corps' Camp Pendleton in California, this Treadwall installation is beefed up with a galvanized finish, a low-profile wall-mounted frame and stainless steel hardware. Manufacturer BREWERS LEDGE mounted the frame of the rotating climber directly to a preformed concrete wall to prevent movement while all of the weight was still supported by the Treadwall's own feet. This allowed the machine to be placed precisely where the client needed the wall. The galvanized frame is being counted on to resist rust and protect the machine from any abuse that could be doled out by recruits training on it.
Even with the wall-mounted frame in this rare outdoor application, the climber is still able to allow for limited angle adjustment. Utilizing the easy-to-use crank, the lower portion of the wall moves closer to or farther from the concrete wall as the wall's center section rotates about the top axis, providing climbers with settings of either 5 degrees positive or 5 degrees negative.
NICROS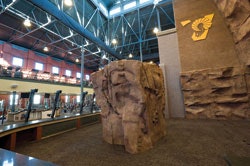 NICROS, which actively promotes environmentally conscious manufacturing processes, as well as construction practices that follow the LEED Green Building Rating System™, says it is the first manufacturer to introduce the use of an environmentally conscious, corn/soy-based resin into its Super-Mix™ handhold recipe and fiberglass climbing wall systems. The resin is used in place of standard petroleum-based resins in all of Nicros' climbing handholds, training tools and the Nicrolite™ family of climbing walls.
By being involved early in the design phase for Virginia Commonwealth University's Cary Street Recreation Complex, which opens this month, Nicros was able to optimize the climbing wall design while maximizing the functionality of the climbing space and minimizing on-site material use. Introducing the use of corn/soy-based resin and environmentally conscious practices in these products allowed VCU to obtain valuable LEED credits.
ELDORADO WALL COMPANY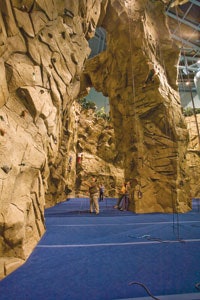 Peaking at 60 feet tall, this REALRock™ climbing wall installation is among the tallest and largest in any university environment. Built for a private university in Pensacola, Fla., this was an architecturally driven project in which aesthetics were as important as performance. Through a highly collaborative design process, ELDORADO WALL COMPANY created a unique, realistic setting that manages to achieve the client's aesthetic and performance goals.
The client's vision was to create a massive indoor climbing environment indistinguishable from rock formations found in nature. The project includes arches, bouldering caves, a chimney, two belay ledges and a large less-than-vertical beginners' section - 15,000 square feet of climbing area in total. The scope of terrain dictated that the company build a much larger GFRC (glass fiber reinforced concrete) mold library than was commercially available in the architectural rock industry. By producing the molds and panels in-house, and thanks to a good balance between natural and modular handhold placements, the company has introduced a system that will climb as well in five years as it did the day it opened.