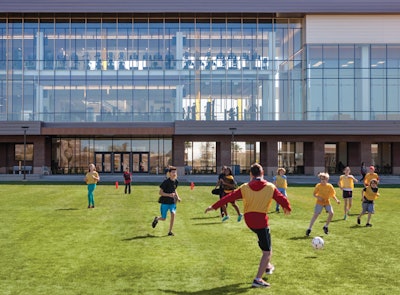 Sun Devil Fitness Complex West | Arizona State University | Glendale, Ariz.
Judges responded to this building's three-story configuration, which houses a variety of "fitness neighborhoods" and creates not only visual but audible connections between interior spaces. Students played a major role in programming the building, which completes a new campus quad and further represents the school's evolution from a commuter campus.
A contemporary statement within a formal, red-brick-and-colonnade context, the fitness complex on ASU's West Campus spoke to panelists with its generous use of exterior glass overlooking an adjacent recreation field and an outdoor pool.
Said one panelist, "I loved the exterior materials and rich rhythm of shape and color against the desert landscape. The facility as a whole stands as a true testimony of architectural creativity, signaling all to come and play."
View the full photo gallery>>>
---
Judges' Comments:
"One of the inspirations for the clever organization of this complex is the face of an iPhone to create fitness neighborhoods. This is sensitively combined with architecture that reflects the campus vocabulary in a successful design." — Anita Moran
"The concept of the building facade as a display case of fitness options overlooking a recreation field creates an impressive presence on campus that is sure to inspire and attract users to the facility." — Chris Sgarzi
"The building integrates nicely into the landscape while bringing life to the larger interior activity spaces." — Tom Poulos
---
Architect of Record:
HOK | Kansas City, Mo.
Associate Architect:
Architeckton | Tempe, Ariz.
Aquatic Design Engineer:
Counsilman-Hunsaker | St. Louis, Mo.
Cost: $18.5 million
Square Footage: 66,000
Funded By: Student fees
Major Facility Components:
Two-court gymnasium, three-lane track, multipurpose fitness studios, exterior exercise terraces, racquetball courts, outdoor pool, alternative-medicine studios, fitness-assessment studio, demonstration kitchen
---

A big thank you to our seven judges: James Braam, HOK; David Edmunds, GEC Architecture; Steven Flanagan, LPA Inc.; Anita Moran, Dewberry; Tom Poulos, Williams Architects; Chris Sgarzi, Sasaki Associates Inc.; and Mark Williams, HKS | Sports & Entertainment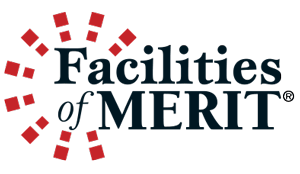 The 2015 Athletic Business® Facilities of Merit® awards were selected by a panel of sports and recreation facility architects during two days of judging in Madison, Wis. The 10 winners are being announced during these two weeks, and profiles of all 10 will appear in the November issue ofAthletic Business. The awards will be presented to the facility owners and architects at the Athletic Business Conference & Expo in New Orleans on Friday, Nov. 20.
More 2015 Facilities of Merit:
Sun Devil Fitness Complex Tempe Renovation and Expansion