Breaking Ground
The University of Missouri has begun construction on a $16 million softball stadium (pictured).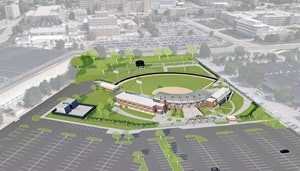 The 1,700-seat facility, designed by Lempka Edson Architects of Overland Park, Kan., will feature a concourse with a full-field view, an outfield plaza, an outfield lawn area, a press box, heated dugouts, a team lounge and rehabilitation facilities. The project also includes construction of a new practice field for the band, whose current field will be turned into a parking lot to make up for parking that will be displaced by the new softball stadium. Construction is expected to be completed by December 2016.
Suffolk County Community College has broken ground on an $18 million athletic complex on its eastern campus in Northampton, N.Y. The 48,000-square-foot Health and Wellness Center, included in the master plan created for the school in 1973, will house an Olympic-size pool, a group exercise room, strength and weight training equipment, a climbing wall and a gymnasium with a three-lane track. The facility will be used by students and the community, and will be paid for by county and state funds.
Construction is under way on Niagara Community Center in Niagara Falls, N.Y. The $2 million facility will include a 20,000-square-foot field house with synthetic turf field and classroom space. Built in partnership between the Niagara Falls Boys & Girls Club, Niagara Catholic High School and Niagara University, the community center will be used by Niagara Catholic students as well as local youth groups. Designed by CannonDesign of Buffalo, N.Y., the facility is expected to open next summer.
The University of Memphis held a ceremonial groundbreaking on a 58,000-square-foot basketball practice facility, designed in partnership between Memphis-based Looney Ricks Kiss and AECOM. The $10 million project is part of the athletic department's $40 million Time to Shine Campaign, which also includes renovations to the Billy J. Murphy Athletic Complex and a new football indoor practice acility. The football projects are being handled by Fleming Architects of Memphis and Heery International. The basketball training facility will include coaches' offices, an academic support center, locker rooms, a weight room and training and practice facilities.
---
First Pitch
Fundraising is under way for a project that will bring a 110-acre youth sports complex to Colorado Springs, Colo. The first phase of Scott Hall Field of Dreams, expected to cost $20 million, will include baseball and softball diamonds and turf fields. A second phase would add an indoor facility and additional outdoor fields... Plans for a new arena in Washington, D.C.'s Ward 8 have been announced. Built in partnership between the district and the Washington Wizards and Washington Mystics, for whom the $55 million arena will serve as a practice arena and home court, respectively, the project is expected to have a $90 million economic impact. Construction is expected to begin in 2016 with completion in fall of 2018... The Oakwood (Ohio) City Council and school board have approved the construction of a new $2.5 million stadium to serve the city and school district. Featuring a synthetic turf field and eight-lane track, the facility would be built adjacent to the Old River Sports Complex and host lacrosse, soccer and various community events. The city is now in the process of seeking an architect to handle the stadium's design... Tennessee's State Building Commission has approved designs for a new recreation complex at the University of Memphis. The $62 million facility, designed by The Crump Firm of Memphis, will replace the existing Student Recreation and Fitness Center with a 700-foot-long, two-story facility that will include a jogging track, four indoor basketball courts, racquetball courts, fitness studios, areas for strength training and an eight-lane, 25-yard pool. Construction bids are expected to be issued by July 2016.
---
Grand Openings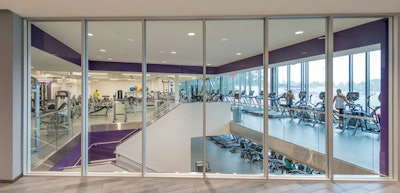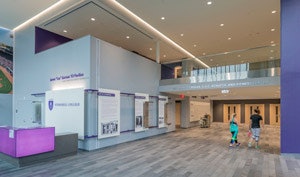 The expanded Sally Blair Ames Sports Complex (pictured) at Stonehill College opened in October. Designed by Sasaki Associates of Watertown, Mass., the $15 million addition included construction of Rev. Mark T. Cregan, C.S.C. Athletic and Fitness Center and provides additional fitness space for all students, locker rooms for the school's athletic programs, a strength and conditioning room, athletic offices and other support spaces... Utah State University's Aggie Recreation Center opens this November. Formerly known as the Student Recreation and Wellness Center, the 105,000-square-foot renovation included a fitness center with new locker rooms, an indoor track, a climbing wall, cardio and weight rooms, three full-size athletic courts, group fitness studios, a multi-activity court, student lounge space, and offices for the outdoor recreation program, campus recreation and club sports. AJC Architects of Salt Lake City partnered with HOK on the design of the $30 million facility... King Louie's Sports Complex is now open in Louisville, Ky. The first phase of construction on the 14-acre site included a $2 million, 24,000-square-foot athletic facility with a synthetic turf field, a second-level viewing area, and a meeting and rental space. Pending city approval, additional phases of development will include outdoor sports fields, an amphitheater, a training center and a restaurant. The complex will cater to youth and adult sports leagues and host lacrosse, soccer, flag football and field hockey, as well as camps, clinics and other development programs... A new volleyball training facility opens this December inside a converted warehouse in Jacksonville, Fla. The Jacksonville Junior Volleyball Association's Volleyball Training Center features 12 indoor courts, including two indoor sand courts, as well as a pro shop, a fitness center, a therapy room and concessions. The 75,900-square-foot facility, four times the size of the JJVA's existing facility, will be used for practices, adult leagues and tournaments.
This article originally appeared in the November | December 2015 issue of Athletic Business with the title "Forward Progress"