This article appeared in the January/February issue of Athletic Business. Athletic Business is a free magazine for professionals in the athletic, fitness and recreation industry. Click here to subscribe.
Breaking Ground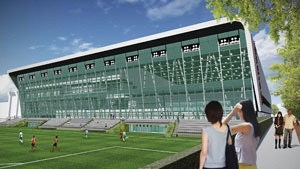 Ames Racquet and Fitness has broken ground on a new 52,000-square-foot facility in Ames, Iowa, to replace its original facility. Designed by Roseland Mackey Harris Architects PC of Ames, the new facility will house a 150-meter indoor track, new strength and conditioning equipment, group exercise spaces, a sauna, a steam room and a kid's gym. The organization's original facility is being sold and will close after the completion of the new facility in 2017.
The Meadowlands Area YMCA has begun renovations of the former PNY Center in East Rutherford, N.J., which it will lease from the current owners, the Brooklyn Nets. The $3.5 million renovation will give the YMCA its first physical facility — programming for its 12,000 members is currently hosted at various community locations. The 65,000-square-foot facility will include a gymnasium, multipurpose rooms, a wellness center and fitness studios, a day care center, a welcome center, physical therapy services, locker rooms and administration spaces. Construction of a competition pool is contingent on the success of a $7 million fundraising campaign. DMR Architects of Hasbrouck Heights, N.J., is overseeing the project.
The New Jersey Institute of Technology broke ground last fall on a new $10 million Events and Wellness Center to house its athletic teams and host campus events. When completed in 2017, the 200,000-square-foot center will feature a natatorium with an eight-lane, 25-yard competition pool and diving well, a running track, a 3,500-seat competition arena, an indoor practice field, athlete training and fitness centers, academic areas and team locker rooms. The new facilities are a major contributor to NJIT's move from an NCAA Division I independent school to the Atlantic Sun Conference. Designed by international architectural and engineering firm AECOM, the facilities will be built on the site of the school's soccer field, which will be rebuilt on the site of the school's old gym after it is demolished.
---
First Pitch
Ripon (Wis.) College has secured a $14 million loan for a planned renovation and expansion of its J.M. Storzer Athletics, Health and Wellness Center. Renovations to the center, estimated to cost between $18 million and $22 million, will include an indoor field house housing an NCAA-regulation track and performance courts, an integrated cardio and weight training space, exercise studio spaces, classrooms and meeting spaces, and a student center.
The Oakland University Athletic Department is planning a $6.9 million renovation of its Lepley Sports Center in Rochester, Mich. The project would repurpose the obsolete pool space into a basketball practice court, two classrooms, a nutrition area, offices and a lounge for athletes. The center, built in 1962, has not been used in a decade.
The Rochester (Minn.) City Council is exploring financing options for the construction of a multipurpose ice arena. Projected to cost between $55 million and $75 million, the facility would seat 4,000 to 6,000 spectators and potentially attract a new United States Hockey League team, as well as host concerts, ice shows, trade shows and other professional events.
The Yakima (Wash.) City Council has approved a joint-funding agreement with the Yakima Family YMCA to construct a $9 million indoor aquatics center. The city will pay half the cost of the aquatics center construction, which will be connected to a separate fitness facility funded by the YMCA. The aquatics center will include a lap pool, a recreational pool and a warm-water therapy pool, as well as a slide, a lazy river and interactive play features. The YMCA will have until December 2017 to reach 80 percent of the funding needed for its portion of the aquatics center and the fitness facility.
---
Grand Openings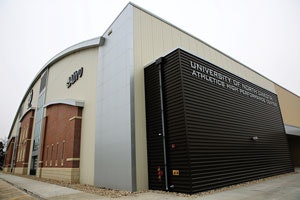 The first phase of the University of North Dakota's High Performance Center is now complete. The $17.8 million facility, designed by Icon Architectural Group of Grand Forks, features a 100-yard football field with 60-foot-high clearance and an eight-lane, 300-meter track with spectator seating for 1,500, as well as separate field event areas. A second phase, contingent on fundraising, will see construction of a sports medicine center, an academic center and locker rooms and office spaces for the school's athletic programs.
The renovated Watertown (N.Y.) Municipal Arena will open in February. The home of the Watertown Wolves minor league hockey team will feature seven locker rooms, including a larger Wolves team locker room, as well as changing areas for local youth teams and clubs that use the facility. Designed by Rochester, N.Y.-based Stantec Consulting Services, the $10.4 million renovation also includes a new lobby area, a larger concessions stand, first aid stations and collapsible bleachers.
In February, construction will wrap up on a new athletic complex for the Sterling City (Texas) Independent School District. The $6.3 million practice facility features a synthetic turf field for football and soccer, as well as a running track, tennis courts and a covered basketball court with player and officials seating, shade structures and spectator bleachers. A one-mile fitness trail with exercise stations is also included, as well as various site improvements. The project was designed by Parkhill, Smith & Cooper of Lubbock, Texas.
Conestoga College in Kitchener, Ont., opens its new Kenneth E. Hunter Recreation Centre in January. The $16 million (Canadian) project converted an aircraft-hangar-style ice rink and features three new gymnasiums in addition to two refurbished gymnasiums, a fitness center wrapped in windows, a 240-meter track and social spaces. The facility was designed by MacLennan Jaunkalns Miller Architects of Toronto.
This article originally appeared in the January/February 2016 issue of Athletic Business with the title "Forward Progress"