This article appeared in the April issue of Athletic Business. Athletic Business is a free magazine for professionals in the athletic, fitness and recreation industry. Click here to subscribe.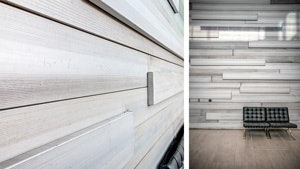 Recycling can take many forms, some more aesthetic than others. Take the entrance wall paneled in aluminum bleacher planks at Wilmington College's Center for Sport Sciences. The center's expansion encroached upon an outdoor practice field and led to the dismantling of non-compliant outdoor bleacher systems.
Dozens of 24-foot-long seating planks were salvaged and affixed to one side of the building vestibule in a pattern that extends into the lobby, bisected by a glass wall. Planks were cut into 65 portions and attached to cleats on plywood painted black to disguise any gaps. Roughly 20 rows of the 10-inch-wide planks were needed to cover the wall between the floor and clerestory windows above. Additional planks were then screwed to the first layer in select spots to add dimension. Ultimately, donor plaques made of sheet aluminum will grace the bleacher wall, as will a plaque explaining the story behind it. "From a distance it has the look of weathered wood, which we thought was really cool," says Brian Baker, project architect at MSA Architects in Cincinnati. "We kept all the markings and blemishes that were on the bleachers. The design intent was to show that these actually came from a field."
---
This article originally appeared in the April 2016 issue of Athletic Business with the title "Design Details"