This article appeared in the September issue of Athletic Business. Athletic Business is a free magazine for professionals in the athletic, fitness and recreation industry. Click here to subscribe.
Breaking Ground
Centerbrook Architects and Planners of Connecticut have collaborated with Pennsylvania-based Murray Associates Architects to design a multipurpose athletic and education facility for Lancaster (Pa.) Country Day School. It will house integrated spaces for health and wellness, including new student and faculty locker rooms, a fitness center, sports medicine and training rooms, a multipurpose studio, five squash courts with seating and a two-story lobby for the two adjacent gyms. Groundbreaking is anticipated this fall.
The University of Memphis has begun construction of a 58,000-square-foot training facility for its men's basketball program. The $20 million project, designed by AECOM of Kansas City, Mo., and Looney Ricks Kiss of Memphis, includes coaches' offices, an academic support center, locker rooms, a weight room, and training and practice facilities. Replacing the team's Larry O. Finch Center, the new facility is expected to be completed by the 2017-18 season.
Construction begins this month in West Fargo, N.D., on an $18 million ice arena to serve its West Fargo and Sheyenne high school hockey teams, as well as community teams. Accompanied by locker rooms and concessions stands, the main rink offers seating for 830 and a mezzanine, and an auxiliary ice sheet accommodates 400 spectators. The design, from JLG Architects of Fargo, leaves room for a future third rink.
To meet the needs of its increased membership base and adapt to changing trends in fitness and wellness, the Anderson (S.C.) Area YMCA has broken ground on an 11,800-square–foot expansion. This increase in space will provide dedicated spaces for CrossFit, TRX and yoga/pilates, as well as a state-of-the-art cycling studio and expanded cardio and circuit training areas. The project, designed by McMillan Pazdan Smith Architecture of Charleston, S.C., is expected to be completed by the third quarter of 2017.
Sporting Kansas City, U.S. Soccer and Children's Mercy Hospital have broken ground on the National Training and Coaching Development Center in Kansas City, Mo. The $62 million complex will feature five full-size soccer fields and 12 outdoor youth fields. An 80,000-square-foot indoor component, designed by Populous of Kansas City, will include locker rooms, classrooms, meeting spaces, a player lounge, a kitchen and a 12,500-square-foot gym containing various sports labs. Scheduled to open in November 2017, it will serve as a training site for Sporting KC, as well as a training and education center for U.S. Soccer coaches and referees.
---
First Pitch
The common council of Madison, Wis., has approved funding a feasibility study for a sports complex to be built in cooperation with the Ho-Chunk Nation on 48 acres of tribe-owned land. The tribe would build the indoor complex, while the city would use the surrounding land for 12 outdoor fields with lighting and grandstands to serve the unmet demand for sports fields in the community.
Northwestern University's Welsh-Ryan Arena will be getting a $110 million overhaul, the athletic department recently announced. Renovations will include reconfiguring the seating areas, modernizing the concourses, adding premium suites and upgrading the locker rooms. The project will be funded by donations and is expected to break ground in March 2017.
The City of Cleveland and school board have approved a land swap that will allow for construction of a $36 million high school and an adjacent $9 million recreation center at Frederick Douglass Park. The recreation center will have an aquatic center, workout space and meeting rooms, and share a gymnasium with the 149,000-square-foot school.
The Gonzaga University Board of Trustees has approved a $24 million Center for Athletic Achievement. The 51,000-square-foot center will house a new practice facility, a strength and conditioning center, an athletics hall of fame, an academic support center and a 5,000-square-foot multiuse event space.
---
Grand Openings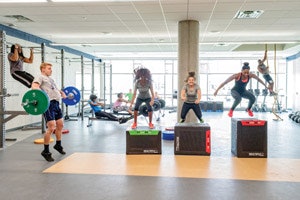 The Leonard J. Kaplan Center for Wellness opened last month at the University of North Carolina Greensboro. At 216,000 square feet, the $91 million facility spans three levels and is twice the size of the existing recreation facility, bringing together the university's Recreation and Wellness programs into one department. Features include more than 20,000 square feet of space for weights and fitness, seven basketball courts, lap and activity pools, a 54-foot-tall climbing wall, and programming for nutrition, outdoor activities and aquatics. Designed by Des Moines, Iowa-based RDG Planning & Design and Walter Robbs Callahan & Pierce Architects of Winston-Salem, N.C., the facility will also be used by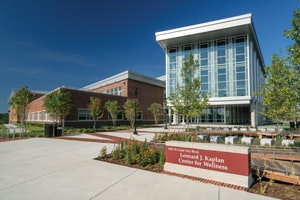 various academic departments.
The Ford Center at The Star in Frisco, Texas, officially opened last month. The $200 million project, a partnership between the Dallas Cowboys, the City of Frisco and the Frisco Independent School District, includes a 12,000-seat indoor arena and event center that will be used by the city's eight high schools, the Cowboys' new World Headquarters and a training facility. The sports complex, designed by Gensler of Dallas, spans 25 acres of a 90-acre site, which will also include mixed-use development and a hotel.
The new Winston Family YMCA opened last month in Jacksonville, Fla. The $21 million facility covers 72,000 square feet and includes an indoor track, two indoor pools, fitness studios, a gymnasium, a spiritual wellness center, and family friendly amenities including a kids' zone, family lockers and a café area. The facility was designed by RS&H architects of Jacksonville.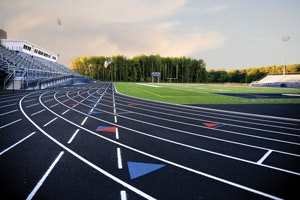 North Ridgeville High School is kicking off its football and soccer seasons in the new Ranger Stadium this fall. The $4.5 million stadium, designed by ThenDesign Architecture of Willoughby, Ohio, includes a synthetic turf field sized to host professional soccer and surrounded by a track, a 1,000-square-foot press box, and seating for 4,500, including nearly 300 molded-back seats with armrests for season-ticket holders.
This article originally appeared in the September 2016 issue of Athletic Business with the title "Forward Progress"