This article appeared in the October issue of Athletic Business. Athletic Business is a free magazine for professionals in the athletic, fitness and recreation industry. Click here to subscribe.
Breaking Ground
Virginia Tech breaks ground this fall on a $36 million athletics-improvement project. At the center of the project is a major overhaul of the baseball venue, English Field at Union Park. Seating will be reconfigured, and new club and social areas will be added. A second floor will house a new press box, broadcast facilities, gameday operations space and suites. The project will also include a new practice facility for softball and major improvements to Rector Field House. CannonDesign of Arlington, Va., is leading the project.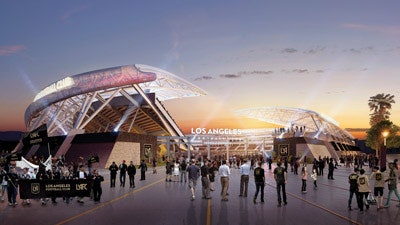 The Los Angeles Football Club has broken ground on a new stadium at Exposition Park (right). The 22,000-seat stadium will replace the LA Sports Arena, which closed earlier this year. Designed by Gensler of Los Angeles, the $250 million open-air stadium will include retail and dining opportunities, as well as a conference center and soccer museum. The club hopes to have the stadium finished in time for its March 2018 home opener.
Following a vote by the board of alderman to help fund the project, developers have broken ground on Gateway Village, a $300 million youth soccer complex in Grandview, Mo. Expected to be the largest such venue in the state, the project will include 14 lighted synthetic turf fields, as well as three hotels and retail spaces. The project, led by Kansas City-based Populous, is expected to be completed in 2022, though the fields should be ready much sooner.
The Greater Fort Wayne (Ind.) YMCA has broken ground on its new 73,000-square-foot Jackson R. Lehman Family YMCA. A partnership between the YMCA, Parkview Health System and the AWS Foundation, the facility will include two gymnasiums, several multipurpose rooms, a wellness center, an elevated track and lockers. The Y will also include a teaching kitchen, accessible swimming pools and a sensory room designed to help individuals on the autism spectrum acclimate to their surroundings. Designed by Bona Vita Architecture of Roanoke, Ind., the project is expected to be complete in May 2017.
---
First Pitch
The Alvin school district south of Houston has purchased 98 acres to build a new 10,000-seat stadium to host football, soccer and band concerts. The $41.5 million Central District Stadium, slated to open in the summer of 2018, will feature a red-brick facade and include offices for the district's athletic department, locker rooms for the home and visiting teams, and an alumni center.
The State of Wisconsin has approved $4.9 million in funding for a new soccer complex at the University of Wisconsin-Green Bay. Construction is expected to begin in January 2017 and will provide tournament-quality fields and amenities for soccer.
Councilors in Edmonton, Alb., voted to explore construction of a new soccer complex in partnership with the Edmonton Soccer Association. The city will pursue more details on pricing and location. Once a business plan is approved, the city would provide the land and the initial funding, which would be repaid by the soccer association through its registration fees and revenue streams.
As part of its planned transition to NCAA Division I athletics, Grand Canyon University has announced a plan to construct 10 new athletics facilities over the next two years. The $1 billion "GCU 10 in 2" initiative was launched in August with the opening of GCU Stadium (football). The nine other facilities include baseball and softball stadiums, a basketball practice facility, a student-athlete development center, a tennis facility, a beach volleyball stadium, an athletics equipment room, additional practice areas for its golf course and an athletic training center addition to the Lopes Performance Center.
---
Grand Openings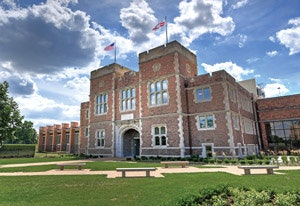 Washington University's Gary M. Sumers Recreation Center opens this month in St. Louis, adding more than 60,000 square feet to the Athletics Complex. The $54 million renovation and expansion features a three-court gym, an elevated track, multipurpose studios, a fitness center, a wellness suite and a sports medicine suite, as well as team locker rooms and intramural offices. The unique stained designs of the three gymnasium courts celebrate different historic facilities on campus used for the 1904 World's Fair and Olympic Games. The project was designed by Hastings+Chivetta Architects of St. Louis and Philadelphia-based Bohlin Cywinski Jackson.
The highly anticipated Golden 1 Center opens this month in Sacramento, Calif. The $507 million multipurpose arena is home to the Sacramento Kings and will host professional and college sporting events, concerts, trade shows and other large gatherings. Designed by AECOM, the arena sits on a 1.5 million-square-foot plot that also includes retail and office space, residential units and a 250-room hotel. The 17,500-seat arena features large operational hangar doors to allow for natural cooling, one of many features contributing to a LEED Gold-certification goal.
Construction of Rogers Place ice arena in Edmonton, Alb., wrapped up last month. The new 18,500-seat home of NHL's Oilers is the anchor of a larger $613.7 million (Canadian) "ICE District" development that includes Winter Garden, Downtown Community Arena, office and retail spaces and a pedestrian corridor. HOK of Kansas City, Mo., led the design team, which also included Architecture Tkalcic Bengert of Edmonton, and global design firm Stantec, which will be moving into the new Stantec Tower office building set to open in the District in 2018.
The Class of 1965 Arena at Colgate University opens this month in time to open the 2016 hockey season. The new facility, designed by Sasaki Associates of Watertown, Mass., provides a 2,000-seat state-of-the-art competition ice arena that includes enhanced concessions, a VIP suite and an expanded press box. The program also includes new locker facilities for men's and women's lacrosse and soccer and a satellite training space with hydrotherapy pools, a full administration suite for coaching staff. A grand lobby welcomes visitors, spectators and recruits.
This article originally appeared in the October 2016 issue of Athletic Business with the title "Forward Progress"