This article appeared in the November | December issue of Athletic Business. Athletic Business is a free magazine for professionals in the athletic, fitness and recreation industry. Click here to subscribe.
Breaking Ground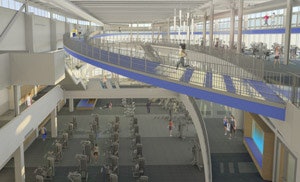 The University of Memphis breaks ground this fall on a $53 million Student Recreation and Fitness Center to replace its current recreation center. The Crump Firm of Memphis has partnered with HOK of Kansas City, Mo., on the design, which calls for a 192,000-square-foot recreation center housing five full-size courts, five group fitness studios, strength and cardio areas, and a new indoor pool. Outdoor amenities will include sand volleyball courts, basketball courts, tennis courts and a multipurpose athletic field. The facility is expected to be completed in late summer or early fall of 2018.
California-based fitness chain VillaSport Athletic Club and Spa broke ground this fall on a 130,000-square-foot location in Cypress, Texas. Set to open next spring, the resort-style health club will offer indoor and outdoor amenities such as swimming pools and an NBA-regulation-size hardwood court. The club will also offer a complete kids club area, as well as a full spa. The facility is being designed by Berkeley, Calif.-based ELS Architecture and Urban Design.
The University of Georgia breaks ground in November on a $13 million renovation project that includes Sanford Stadium, Stegeman Coliseum and Boyd Golf Center. Stadium improvements will include updated safety systems and new LED ribbon boards, to be installed following the end of the football season. Renovations at Stegeman Coliseum include improvements to seating, lighting, the sound system and scoreboards, as well as installation of a display wall honoring those instrumental in the creation of the school's gymnastics and basketball programs.
The first phase of construction begins in December on Brown University's Berylson Football Complex at the Olney-Margolies Athletic Center. The $12 million complex, designed by New York City-based 1100 Architect, will provide expanded locker rooms, athletic training areas, a team meeting space, a multimedia room and a renovated office suite to serve its athletic programs.
---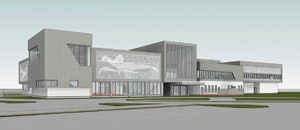 Construction begins this fall on the Springville Aquatic Center in Springville, Utah. The $18 million facility, designed by VCBO Architecture of Salt Lake City, will replace the city's 40-year-old pool with a 10-lane multipurpose pool, a recreational pool with a current channel, a toddler pool and two slides exiting into a "splash down" pool. A dry-programming facility will offer a workout area, a basketball court, an indoor track, multiple fitness classrooms and a daycare. The aquatic center is expected to be completed by the end of 2017, with future expansion options including a splash pad.
---
First Pitch
The Franklin (Wis.) Common Council has approved the creation of a tax incremental financing district to fund up to $26.8 million for a new baseball stadium and mixed-use development. Ballpark Commons would include a 2,500-seat outdoor baseball stadium to serve a minor league team as well as local university and community programs.
Final approval is expected in November for the construction of Seaview Park and Community Center in Palm Beach, Fla. The revised plan calls for additional tennis space, including a spectator pavilion, seven tennis courts, a new playground, a new soccer field and an expanded parking lot. Fundraising events are now being planned, with the goal of breaking ground in June.
Trustees at the University of Arkansas have approved up to $120 million in funding for upgrades and an expansion to Donald W. Reynolds Razorback Stadium. The project will enclose the north end zone and add premium seating for a total of 4,800 additional seats. The Broyles Athletic Center will be rebuilt as part of the expansion.
---
Grand Openings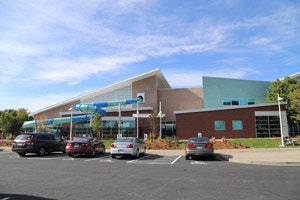 The Windsor (Colo.) Recreation Center has doubled in size with the completion of a 40,000-square-foot expansion. Designed by Barker Rinker Seacat of Denver, the $16 million expansion included a natatorium housing a pool with a water slide, a lazy river and a hot tub, as well as an additional gym, a walking track and fitness and aerobics rooms.
The Sanford Health Athletic Complex opens this fall at North Dakota State University. The project includes a renovation of the former Bison Sports Arena, as well as a 100,000-square-foot expansion. The new 5,700-seat Scheels Center arena will serve the basketball and wrestling programs, complementing the Nodaka Mutual Basketball Performance Center, which opened in November 2015.
Wisconsin Athletic Club's newest location is now open in Brookfield, Wis. Replacing one of the club's smaller locations in Waukesha, the 60,000-square-foot facility includes group fitness rooms to accommodate 550 classes each week, as well as strength training and cardio equipment areas, an indoor/outdoor aquatic center with three pools, a gymnasium, massage rooms, locker rooms and lounge areas. The design/build project was led by Briohn Design Group of Brookfield and represents the renovation of an existing property. The aim was to preserve elements of the previous building's architecture, including a mezzanine used for film projections.
The Midco Aquatic Center celebrated its grand opening in October in Sioux Falls, S.D. Featuring a 10-lane, 50-meter pool that will be used by swimming programs at Augustana University and the University of Sioux Falls, the $24 million facility also includes a warm-water recreational pool with a waterslide, a large play structure and a current pool. Designed by TSP of Sioux Falls, the facility also includes locker and multipurpose rooms, an outdoor sun deck, a concessions area and stadium spectator seating for 500 people.
The new $20 million Whitaker Family YMCA at Hamburg Place opened in Lexington, Ky., in October. The 62,000-square-foot facility features a 10,000-square-foot wellness center, a youth development wing, an aquatic complex, three group exercise studios, a full-size gymnasium and a walking track. Designed by Brandstetter Carroll Inc. of Lexington, the facility also includes an aquatic center with a 25-yard lap pool, a recreational pool with spray features, a two-story waterslide and a spa area.
This article originally appeared in the November | December 2016 issue of Athletic Business with the title "Forward Progress"